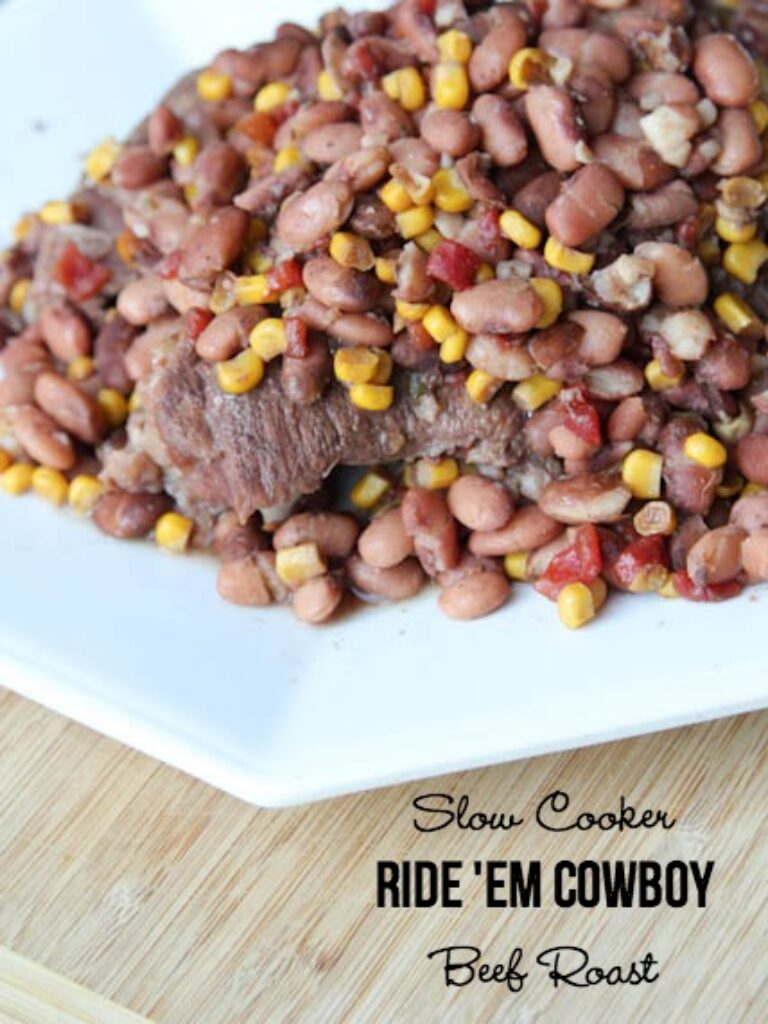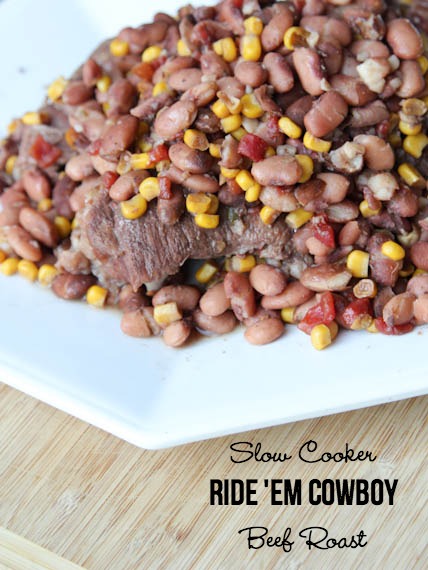 Can you see the beef peeking out from underneath the mountain of beans, corn and zesty tomatoes?!!?
This is the perfect 'clear out the pantry' meal…and the perfect 'I'm rushing out the door and don't have time to make dinner' meal. Because the hands on time on this is about 4 minutes.
Minute One. Place beef roast in the slow cooker.
Minute Two. Add seasoning to the roast, put seasonings away.
Minute Three. Open all the cans and lightly drain.
Minute Four. Pour cans over top of the beef. Toss in trash. Put lid on slow cooker. Continue on spinning throughout your day.
I love slow cooking with chuck roasts and highly encourage that you keep your eyes peeled for sale prices. Meat prices have risen this summer due to drought and herd shortages, so you definitely need to be on high alert for sales!
We all really enjoyed this. AND we had quite a bit of the bean, corn mixture leftover. I decided to scoop it all into a plastic freezer baggie with "Beans, Corn, Tomatoes for Chili" written on the label. Next time I want to make chili, I've got a great mixture to add with the ground beef and some tomato sauce. Just an easy way to repurpose these leftovers!
We have just 2 more recipes after this in our 31 Days of Slow Cooker Meals series…I can't believe how quickly these fly by.
Have I told you yet what series we're doing for August?!?Â
While we took a break in June between the 31 Days of Gluten Free Meals and this 31 Days of Slow Cooker Meals, I decided that we needed to press on into August with a 31 Days of School Lunchbox Ideas series.
WHOOP!
I've been secretly assembling & photographing lunchbox ideas throughout July and will start sharing on Friday! Stay tuned…you aren't going to want to miss a day of this!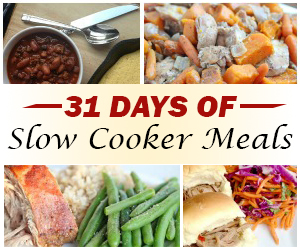 Welcome to our 31 Days of Slow Cooker Meals! July is a HOT month for most of us and one of my favorite ways to keep the kitchen cool in the summer is by using my slow cooker. Each day for the next 31 days, we'll be sharing tasty and easy slow cooker recipes with you. Be sure to bookmark this page as all of the recipes will be automatically added each day.
Enjoy and be sure to share all of our favorite Slow Cooker meals with your friends and family!
Ingredients
1 1/4 to 1 1/2 lb. beef roast

1

Tbsp

ground cumin

Salt and pepper

2 15 oz. cans pinto beans, drained

1 15 oz. can corn, drained

1 10 oz. can diced tomatoes with green chilies, drained

Side Dish Ideas: Salad, Rice or Bread, or as a taco!
Instructions
Add the beef roast to the base of the slow cooker. Add the ground cumin over top of the beef roast. Sprinkle with a little salt and pepper as well.

Add the beans, corn and diced tomatoes with green chilies over the top as well. Cook on low for 8 hours.

Shred the beef and mix with the corn-bean mixture. Serve as is, or within a taco.

Prepare other side dishes.

Serve Slow Cooker Ride 'Em Cowboy Beef with preferred side dishes.