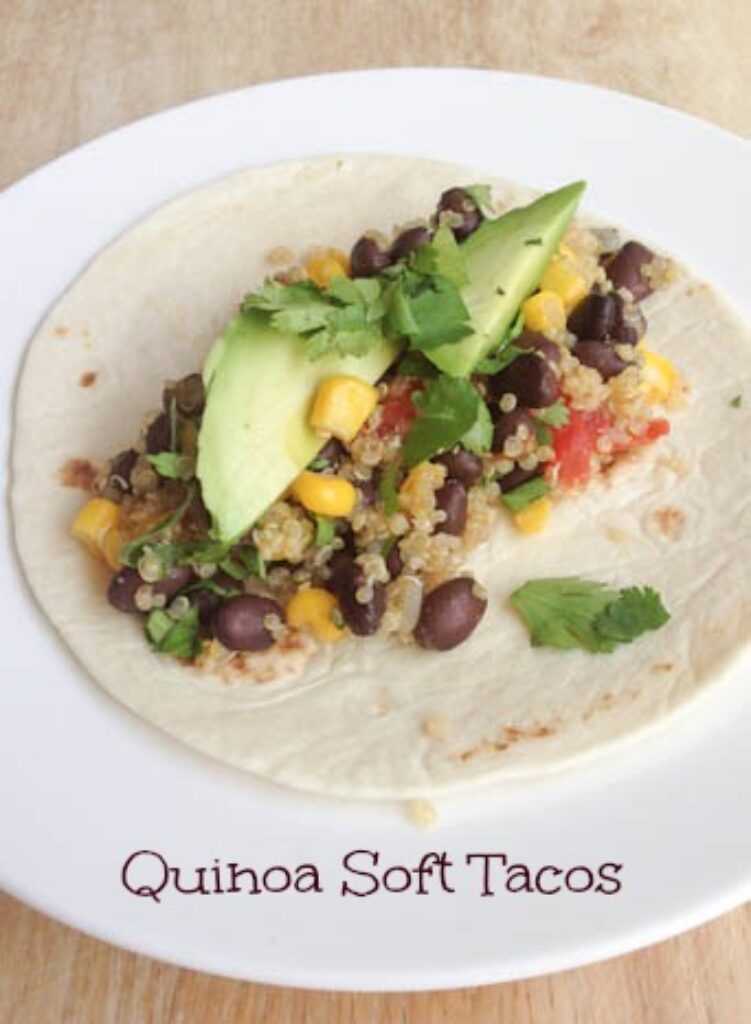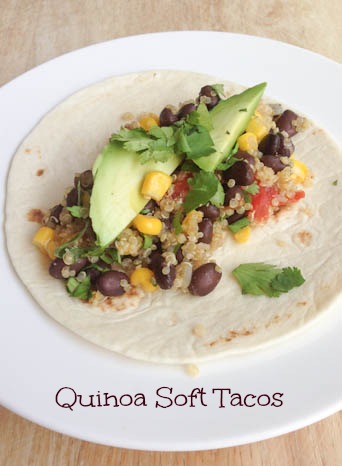 Move on over beef and chicken…there's a new protein in Soft Taco Town…Quinoa!
Everyone at our dinner table is a fan of quinoa…one more reluctantly than the others. Tyler wasn't quite convinced about this new ingredient in his tortilla, but I was able to convince him that it was like "tiny rice" and he took a bite, then another, and so on. Then he made me giggle by complaining about the "green thing on my green avocado"…he didn't want to eat the cilantro piece that was stuck on his avocado slices. Silly little dude.
I'm flagging this one as a "pantry staples" recipe because the only ingredients that I had to add to my shopping list were tortillas and cilantro. (And possibly avocados for you…but I buy those every week, since they are considered a staple around here!)
You can tell by the looks of the photo, that this recipe is pretty straightforward.
Cook the quinoa.
Mix in the beans, corn, tomatoes.
Top with avocado slices and cilantro.
Spoon, wrap, eat.
Let me know what you think about the new protein in Taco Town!
(Need a GF version? Leave out the tacos and eat as a "quinoa taco salad!")
A delightful pantry staples recipe!
Ingredients
1

cup

white or red quinoa

1

Tbsp

store bought or homemade taco seasoning

15

oz

can black beans, drained and rinsed

15

oz

can corn, drained

15

oz

can tomatoes, drained

1

large

or 2 small avocados, sliced

Small bunch cilantro, chopped

8

Flour Tortillas
Instructions
Cook the quinoa with water (or chicken broth if you want more flavor), as directed on the package. Add the taco seasoning while it's cooking. Once cooked, stir in the black beans, corn, tomatoes and combine together.

Spoon the quinoa mixture into the tortillas and top with avocado slices and chopped cilantro.

Serve Quinoa Soft Tacos.