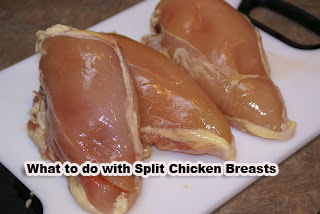 Save SANITY by doing all the chicken meal prep and getting your freezer loaded with amazing MyFreezEasy chicken meals!
For the first 25-ish years of my life I was a "boneless skinless snob." It was THE only cut of chicken that I bought in college, after college, and for the first 3 years I spent in the Dominican Republic. I would travel over an hour one way to the "American grocery store" for a few packages of B/S chicken!
One HOT afternoon in the Dominican Republic, I thought I'd be brave and try to get past my "squemish-ness" issues and get past my B/S snobbish-ness. I walked straight past my fruit and veggie guy at the local open air market to the chicken counter. I looked nowhere other than the chicken man's face, as I was afraid of what I might see. (There are no regulations for food in the DR. At least none that I am aware of. Or none that are strictly enforced!)
"Quisiera un pollo por favor." (I'd like a chicken please.)
"Si claro." (Yes, of course.) The chicken man busies himself getting my chicken ready. He got my chicken from his fridge. * sigh of relief* Then threw it up on the scale.
"Ciento viente pesos." (120 pesos.) He tells me as he's putting the chicken into a black trash bag for me. No tray, no plastic wrap. A trash bag. *breath of anxiety* OK. OK. Relax. This is just how they do it.
But wait. Feet. There are still feet on this chicken that he is putting in the trash bag. Feet. What? I don't want any feet on my chicken. Who eats chicken feet anyways??? Not this B/S snob!
"Um, permiso, senor, sin pies por favor." (Um, excuse me, sir, no feet please.)
"Pero es parte del pollo." (But it's part of the chicken.) Yep. Got that. Don't want 'em!!!
"Si, yo se, pero yo no quiero los pies." (Yes, I know, but I don't want the feet.) "Yo pagare por los pies y puede darles a otra persona." (I'll pay for the feet and you can give them to someone else.)

"OK." With a puzzled look in his eye.
"Gracias senor." (Thanks sir.)
"A su orden." (Directly translated. At your service. Really means, happy to help.)
I share this to let you know that was the moment that I no longer considered myself a B/S snob. You'd think it would make me more of a snob, but no. It didn't. It forced me to get over myself and learn what to do with an almost whole chicken!
Since getting over my squemish-ness and snobbiness, I have started buying bone in split chicken breasts (and sometimes a whole chicken) for 3 reasons.
They are cheaper by the pound that B/S breasts.
I can use them to make my own chicken broth since I don't like to use store bought broth. It is loaded with preservatives, high in sodium and just not as good for you as homemade!
I can buy a large package and prepare them for upcoming meals with chicken. This saves on time and dishes for future preparation!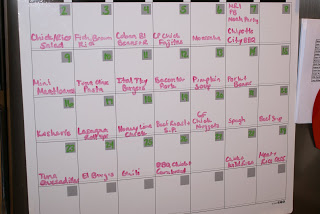 Here is my trusty monthly meal calendar that is on my fridge. My March menu plan tells me that we'll be having Chicken Fajitas and Honey Lime Chicken in the next few weeks, and Ginger Chicken Stirfry last weekend.
Here's what I did to prepare the chicken for these meals: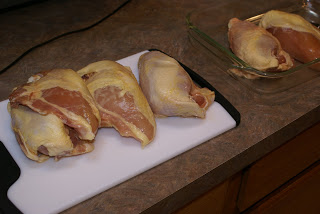 Here are the split breasts as they came out of the package.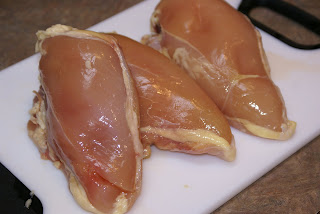 First, I peeled off the skin. Sorta like the feet. I'm not a fan of the skin!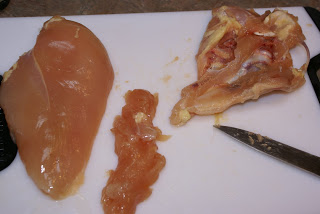 Next, I cut along the bone on the side of the breast as closely as I could, to keep the breast in one piece. After pulling off the breast meat, I then cut out the tenderloin piece that was underneath it. Leaving, as you see above, the breast, the tenderloin and the bones with a little meat on them. I cut all 6 split breasts like shown above.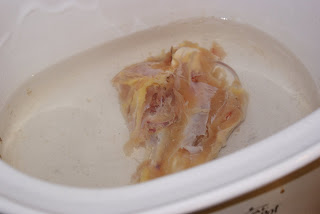 I put all 6 bone pieces into the crockpot filled with water up, leaving about 1.5 inches from the top. I added a few garlic cloves, some Italian seasoning and 2 Tbsp vinegar (
Jenn from
Frugal Upstate
shared this tip on the
Keeping it Centsible Blog Talk Radio Show
last week. Adding vinegar helps leach the calcium out of the bones and into the broth!
) I set it on low for 8 hours and let the crockpot make me some free broth.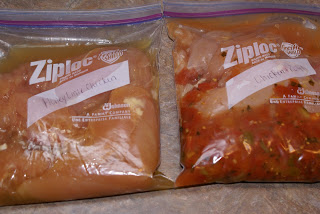 Once the broth was going, I finished up with the chicken breasts. I placed 2 breasts and tenderloins into another Ziploc baggies with a $.37 can of Rotel tomatoes for my upcoming Chicken Fajitas. I placed 2 breasts and tenderloins in another Ziploc with 2 Tbsp honey and 2 Tbsp lime juice. Both Ziplocs went into the freezer. To thaw, I place the tightly sealed Ziplocs into a bowl of warm water. In about 30 minutes, the chicken is ready to be sliced and cooked.
Tip: Cutting frozen or partially thawed chicken is much easier than cutting fresh chicken meat.
When the broth was finished in the crockpot, I let it cool completely. Once cooled, it can be placed in Ziploc baggies or other freezer friendly storage container and put into the freezer for use in future recipes. I froze baggies with 4 cups of broth each.
I have chicken ready for 3 meals, along with at least 4 meals worth of homemade chicken broth…for just $6.37! It doesn't get much cheaper than that!
What is your favorite cut of chicken? Are you a B/S snob? Do you prefer to cook the whole chicken to get your chicken to use for future meals? I'd love to hear your favorite chicken "tips" or recipes!
More Chicken Tutorials & Tips: