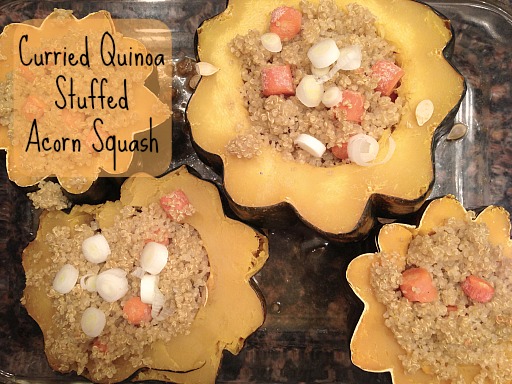 This recipe right here is why I'm not to be trusted in a grocery store without a list, or with a partial list. What you should see pictured above mixed in with the quinoa are some green peas. But they never made it on my grocery list and my short term memory in a grocery store seems to malfunction.
I was thinking that this curried quiona would be delicious inside some acorn squash. (I was kinda right. Except the peas were missing.)
Poor peas. I'll include them in the recipe with some parenthesis. Just so they don't feel entirely left out.
And now that I've personified peas, I'll leave you with the recipe.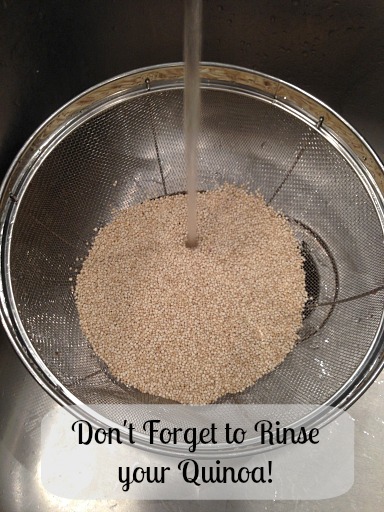 But first…don't forget to rinse your quinoa to help the bitterness dissipate after cooked. You'll enjoy it much more when you rinse!
Other Helpful Acorn Squash Tips and Recipes
P.S. This is a very budget friendly "seasonal dish"…as the quinoa packs a powerful protein punch, and the acorn squash is super budget friendly as well…my Sprouts has it regularly for $.49/lb. Use the Favado app to search for the best deal on squash in your area.)
Ingredients
2

medium

acorn squash, halved on the equator

1 15 oz. can light coconut milk

2

cups

chicken or vegetable broth

2

cups

quinoa

1

Tbsp

curry powder

1 tsp garlic powder

2

cups

chopped carrots

(2

cups

cooked peas)

Salt and pepper to taste

Green onions, sliced as garnish (cilantro would have made a nice garnish too)
Instructions
Steam-bake the squash. Preheat the oven to 400. Cut the squash along the equator and lay seeds facing down in a baking dish with 1/4" water. Cover with foil and bake in the preheated oven for 50 minutes.

Meanwhile, add the coconut milk and chicken/vegetable broth to a medium saucepan and bring to a boil. Stir in the quinoa, curry powder, garlic powder and some salt and pepper. Return to bubbling, cover and reduce heat to medium-low. Cook for 15 minutes, then add the chopped carrots (and peas), and cook for another 5 minutes, or until quinoa is fluffy and liquid is absorbed.

Once the squash has cooked, remove from oven and carefully turn over to scoop out the seeds. Spoon in the quinoa mixture and return to the oven to roast for 10-15 minutes, or until the quinoa is slightly crunchy on the top and the edges of the squash appear roasted (dried out around the edges)

Serve Curried Quinoa Stuffed Acorn Squash with a green onion (or cilantro) garnish, as is, or with side salad or more veggies.