I pulled out some stuff from the freezer. Celery. Shredded Chicken. Chicken stock.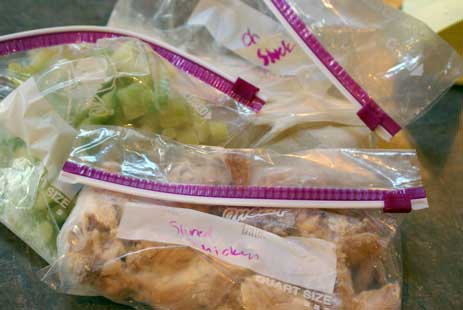 Then went looking for a new way to use it all up. I found this recipe on Katie's Kitchen Stewardship. And I went from there.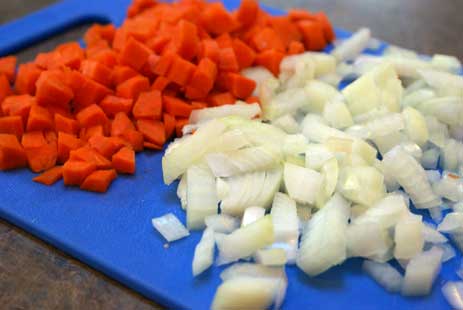 Then chopped some fresh carrots and onions.
(When I probably should have been taking a nap…as 2 boys were napping and the other was at school.)
But I've missed cooking. So I cooked.
(But I don't think I'm quite ready to cook and blog about it every night. Not just yet.)
I'll be ready soon.
Oh. And the Apricot Acorn Squash. That's a keeper of a side dish!!!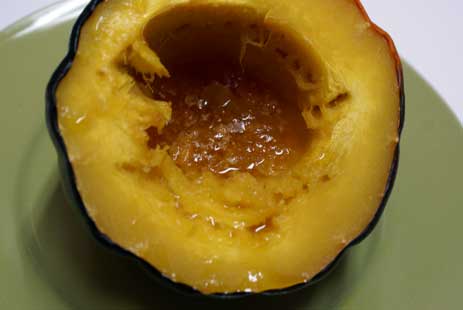 Ingredients
2 1/2 cups homemade chicken stock (free)

1 1/2 cup brown rice ($.60)

1

cup

chopped celery ($.20)

1

small

onion, chopped ($.30)

2 carrot sticks, peeled and diced ($.20)

2

cups

of cooked and shredded chicken ($1.50)

Salt and pepper, to taste

1

large

acorn squash, halved and seeded ($1.12) About 2 lbs...been on sale for $.49/lb!

1

Tbsp

butter or margarine, softened (I used dairy-free) ($.10)

3

Tbsp

Smuckers Apricot Preserves ($.50) (Not gonna lie...I got these free from when I was at Smuckers...but I'll include the estimated cost into the recipe) 🙂
Instructions
Cut acorn squash in half lengthwise and remove seeds. Place upside down in glass baking dish with 1/2 inch of water and cover with foil. Bake at 350 for 35-45 minutes.

In large saucepan, combine chicken stock plus 2 cups of water and bring to a boil. Add brown rice and return to boil.

Cover and reduce heat to medium. Cook for about 20 minutes.

Add chopped celery, onion and carrots and stir into the rice. Cook for another 20-30 minutes, or until rice is tender. If need be, add 1/2 - 1 cup of water to prevent from drying out. Once rice has cooked, add in the shredded chicken. Season with salt and pepper, to taste.

In a small bowl, combine softened butter or margarine with the apricot preserves. After squash has cooked for 35-45 minutes, remove from oven, flip over the squash (using a hot pad!) and spoon the butter/preserve mixture into the squash. Using a fork, poke a few holes into the squash flesh, so that when the butter/preserve mixture melts, it can get deep down into the squash! Return to oven and continue baking, uncovered, for 20-30 more minutes, or until squash flesh is tender all the way through.

Serve Chicken and Rice with Apricot Acorn Squash.