Save Money on Groceries with Erin's 5-Ingredient Freezer Meals Resources!
If you've been hanging out in the $5 Dinners corner of the internet for longer than five minutes, you've probably figured out that we are all about three things: helping you save money on groceries, helping you get more efficient in the kitchen with freezer meals, and helping you learn how to cook (or better manage) in your kitchen.
Freezer meals are one of my most favorite ways to spend less on groceries, because you can buy meat when it's on sale (or reduced for quick sale) and then flip it into freezer meals.
That way you don't have to pay full price for meat on the weeks that it's not on sale and you need it for dinner.
Because you've already got it…waiting in the freezer…from when you got it on sale.
If you are ready for the magic of Erin's 5-Ingredient Freezer Meals and ready to put the MyFreezEasy Method to work in your kitchen, here are some options for you!
5-Ingredient CHALLENGE
Get chicken when it's on sale (the plan uses all boneless, skinless chicken breasts), and then make these meals. With the Challenge, you get a FREE PDF DOWNLOAD with:
Recipes
Shopping Lists
Step by Step Assembly Instructions
Option to Order the Printed Bundle!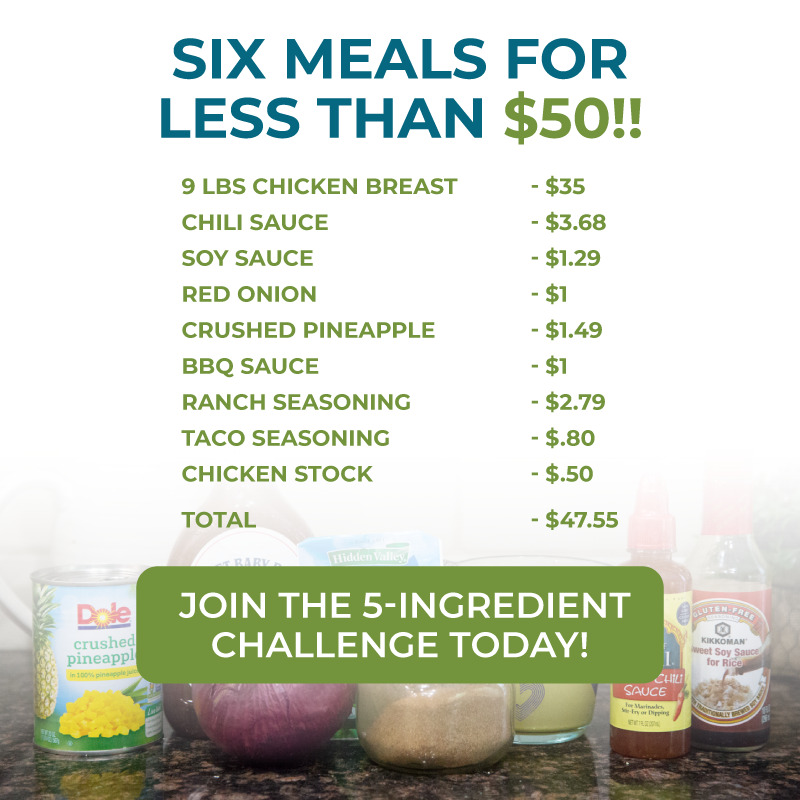 5-Ingredient COOKBOOKS
As we created some many 5-ingredient freezer meals, we had enough to create a category in the MyFreezEasy apps…and then enough for a complete cookbook! We have 3 cookbook options available in our shop – we highly recommend just going all in with the Prep Kit 🙂
5-Ingredient RECIPES
5-Ingredient Freezer Meals