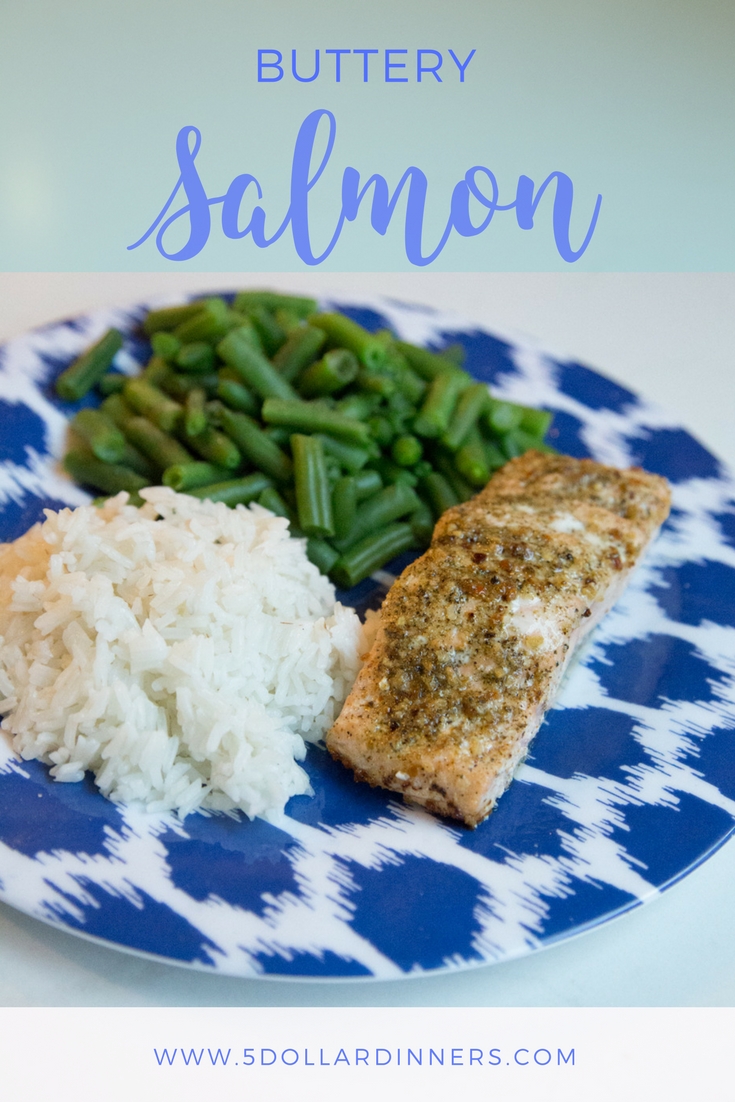 I love a simple salmon fillet. Especially one that's dripping in butter and seasoning.
Salmon is such a great meal, but it's usually pretty expensive at the store. And often unadvertised, if/when it's on sale.
Every time I'm in the store, I buzz by the seafood counter between the produce and meat sections and I always scan the price tags, looking for salmon, cod and tilapia sales. And when I see one, I get a pound or so and keep moving. Yes, it's more expensive. Yes, this is more than a $5 Dinner. But when I do serve this omega-3-loaded fish, I serve it with inexpensive side dishes like brown or white rice and whatever veggies I got on sale from the freezer or produce section!
In the end, we still have an inexpensive meal with a delightful piece of salmon!
When we had this last week, I served it with frozen green beans and Instant Pot Sticky Rice. I made this with butter and seasoning blend – you could use a seafood seasoning blend that has a touch of lemon, or you could use your favorite seasoning combo – I used the seasoning blend from Costco.
Also, ask them to cut the salmon at the store for you. They are pros at cutting it and have the right filleting knife to make it quick and easy. Then I don't have to fuss with the cutting at home, where I don't have the right knife and where I'm likely in a hurry to get this into the oven or freezer! (Check out our MyFreezEasy Seafood recipes!)
This recipe is from my 15-Minute Freezer Meals Cookbook! Tap below to get your book ordered!
Finally, I've got 3 cooking method options for you below…enjoy!
This melt in your mouth salmon can be cooked many different ways!
Ingredients
4

4 to 5 oz. salmon fillets

4

Tbsp

butter

2

tsp

seasoning blend

Rice, as side dish

Veggies, as side dish
Instructions
Let the butter soften and then combine it with the seasoning blend to make a compound.

Season the tops of the salmon fillets with a pinch of salt and pepper each. Spread the butter-seasoning compounds onto each salmon fillet.

OVEN: Bake at 400F for 12 to 15 minutes, or until the salmon is cooked through. Cooking time may vary depending on thickness of salmon.

SLOW COOKER: Place a large piece of parchment paper into the base of the slow cooker. (The parchment paper is to make it easier to lift the salmon out of the slow cooker after it cooks.)Place the 4 prepared salmon fillets flat on the parchment paper. Seton high and cook for 1 to 1 1/2 hours. Cooking time may vary depending on thickness of salmon.

INSTANT POT: Place 1 cup warm water into insert. Add the steam rack and then place 4 prepared salmon fillets onto the steam rack. Set to Sealing, close the lid and Steam for 2 minutes. Let naturally release. If using a thicker salmon fillet, you might need to adjust the time to 3 or 4 minutes.

Cook the rice, as directed.

Prepare the veggies.

Serve Buttery Salmon with rice and veggies on the side.
Freezer Meal Instructions
Add ingredients into a gallon size freezer bag. Put baggie in the freezer and freeze up to 6 months in fridge freezer or 12 months in a deep freezer. Thaw in the fridge overnight, or a warm bowl of water for about 20 minutes, before transferring the salmon and toppings to baking dish. Bake at 400 F for 15 to 20 minutes.