15+ Nut Free School Snack Ideas that are Convenient and Easy to Handle for Young Children!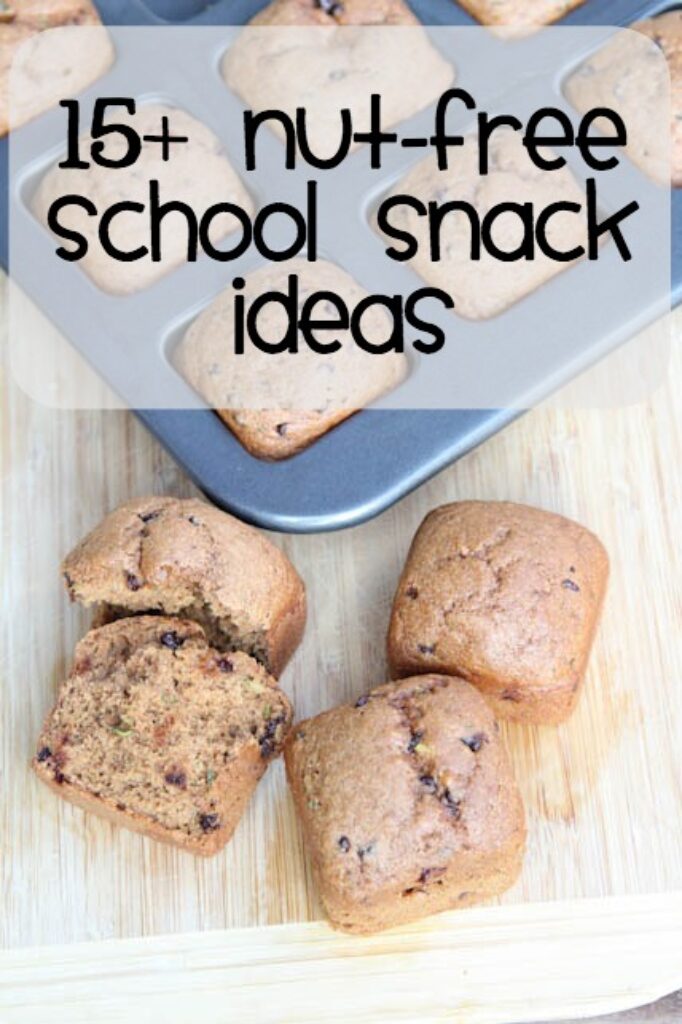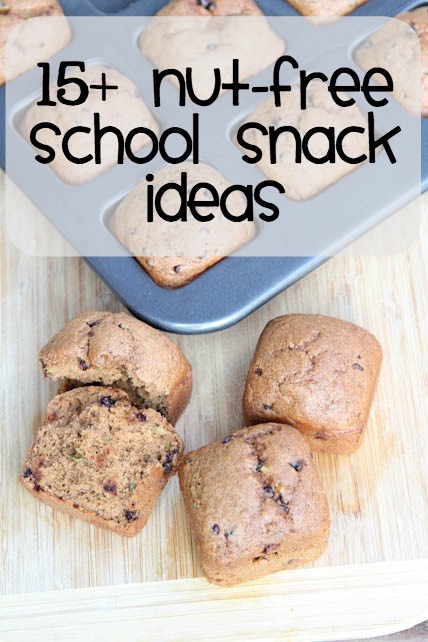 Well, I'm not sure about you and your kids, but all 3 of my school aged boys get to take snacks this year. (And by get to, I mean 'have to'…because they eat a very early breakfast (6:30 am!) and have a late lunch (11:45 am!)…that's a long time to go without food for little people!
I understand that as many as 90% of schools in the US are nut-free, so when Stacy asked me for some nut-free snack ideas for her Kindergartener, I thought I'd drop a few ideas here for you (and her!) on the blog. Before we get to the list, I highly recommend trying out the Sunbutter sunflower seed butter as a peanut butter replacement. When Cuatro was a newborn, I suspected a peanut allergy when I was eating nightly PBJs (nursing mom craving!) and he would get violently sick. It stopped as soon as I switched to the Sunbutter. You can find it in most grocery stores, or on Amazon too.
These ideas are all fairly convenient, don't require an ice pack and can be handled easily by young children!
Nut Free School Snack Ideas
Easy to Grab Fruits
Bananas, strawberries, blueberries, grapes, orange slices
Easy to Grab Veggies
Carrot sticks, bell pepper chunks, sugar snap peas
Apple Slices
Drizzle a little lime juice into the baggie, or onto the apple to prevent browning!
Chips & Salsa
Salsa packed in one of the little dippers with your favorite tortilla chips!
Wheat Thins or Triscuit Crackers
Great by themselves or with a hummus or favorite dip!
Pretzels
These are also good with the Sunbutter! 🙂
Goldfish
The ultimate snack cracker.
Cereal Bars
Be sure to read the labels carefully!!
Pita Chips & Hummus
Can try an easy homemade hummus!
Homemade Trail Mix
Dried fruit, pumpkin seeds, sunflower seeds, chocolate chips, granola

The best muffins for snacks and lunches!

Great by itself, in a homemade trail mix, or as a yogurt topping!

Use Sunbutter in place of the peanut butter!

I'd love to hear what your kiddos take for a nut-free snack, let me know down below!
(P.S. Read labels carefully…don't send anything to a nut free school that has been manufactured in a facility that contains nuts. And thank you for being diligent with the food you send for your children, if you don't deal with allergies. It's a blessing to those who do have to worry about every speck of food put into their child's mouth!)
RELATED RESOURCES
Disclaimer: As an Amazon Associate, I earn commissions on qualifying purchases. Reviews, opinions are my own.