The first week of school we all have  the idea to make fun lunches for back to school. Making cool shapes and adding little notes. After a couple weeks you run out of ideas and your kid gets a sandwich and a pre-packaged snack as you run out the door. It happens to the best of us…including me!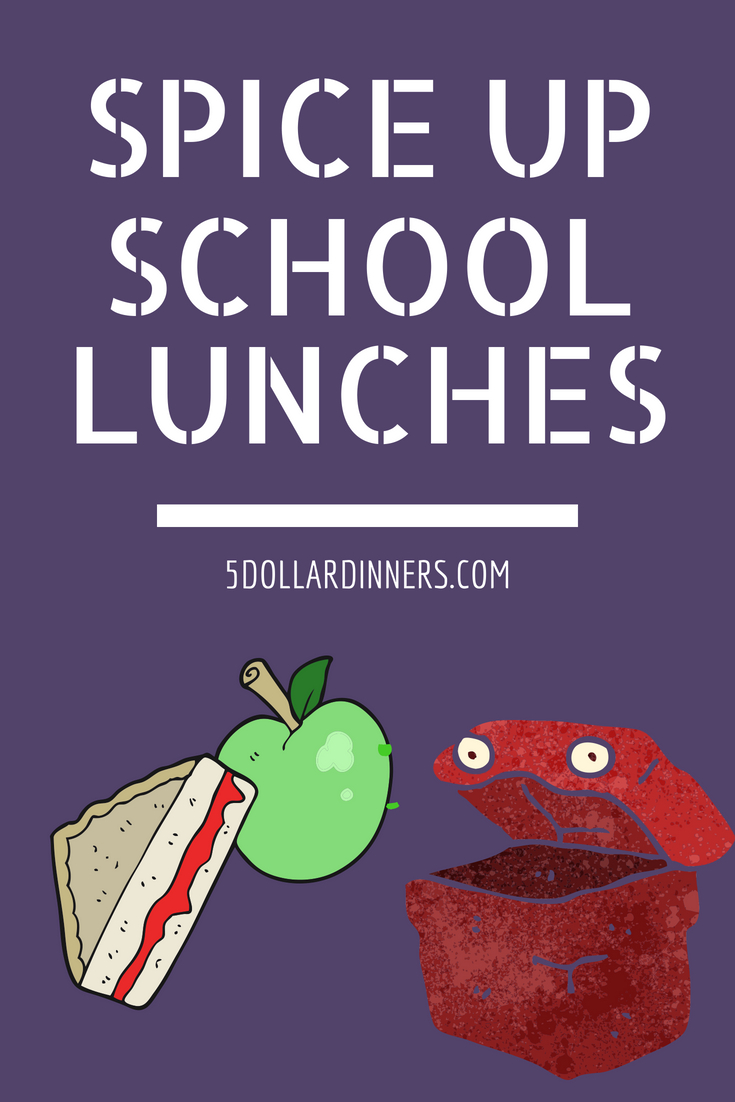 When things get dull try these fun ways to spice up your child's school lunches.
Buy some cookie cutters.
Nothing like a quick and easy way to shape a sandwich, tortilla shells, homemade sheet cake or another goodie then a quick cut with shaped cookie cutters. Even fresh cut melon can be made fun and exciting with one simple step. See some great cookie cutter options here! And try this puzzle sandwich!
Pack your child's favorite dinner for lunch.
If your child loves tacos, then next time you make them save some taco meat and fixings in meal prep containers in the freezer ready to go. Your child will have a great time with their mini taco bar lunch and you don't have to do anything special. This works for lots of dinner ideas that you are already making!
Make pencil kebabs for your child's lunch.
For big kids, instead of traditional skewers, buy a pack of new pencils. Cooler the better. Wash and sharpen the pencils then use them to skewer leftover grilled chicken, veggies, and cheese cubes. Fill another with alternating fruits and veggies. Toss these into your child's lunch and don't say a word. They will be shocked when they open their lunch box and will love the new pencils they are left with when lunch is over.
*Include a wet wipe to wash sticky pencils as needed after lunch.
How about breakfast for lunch?
Homemade french toast sticks and some bacon are sure to please any picky kid. Add a small single serve orange juice and a small container of syrup and you will have a new favorite packed lunch. Ever better you can freeze these after you cook them and have a grab and go lunch that doubles as its own ice pack.
Buy freeze dried ice cream from the camping section for astronaut ice cream.
This crunchy freeze dried snack tastes just like a regular ice cream sandwich only it won't leave your child's lunch box an ice cream soup mess. Freeze dried fruits also make a great healthy snack to toss into your child's lunch box. Freeze dried fruit tastes like a crunchy candy only it healthy for them and will pass any schools healthy lunch policy.
If you pack water for the beverage grab some water flavorings to add.
Aldi carries great ones with dyes made from vegetables, and Walmart has a few clear flavors too. This is a great way to mix up the flavor so your child won't get bored with packed lunches. Even the simplest changes to lunch can go a long way with your kiddo.
More Back to School Ideas, Recipes & Savings:
Disclaimer: As an Amazon Associate, I earn commissions on qualifying purchases. Reviews, opinions are my own.