With the back to school season approaching many parents are trying to find the room in already tight budgets for the increasing demand on back to school supplies and gear. Each year the lists get longer and the stress on parents grows. No parent should be left wondering how they will afford even the basics to help their child get a quality education.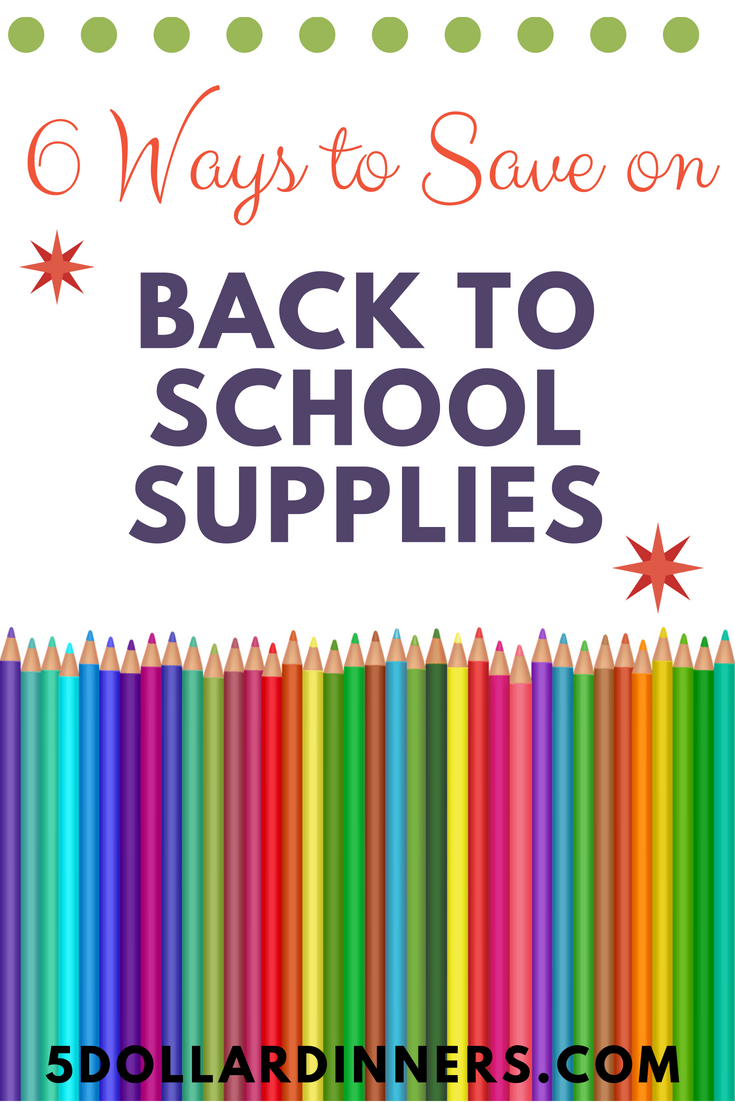 These 6 simple tips will help you save on back to school shopping:
Get your child's school supply list early.
If you cannot get the full list from the teacher before the sales start you can still grab basics like lined paper, pencils, crayons and scissors that are generally on every school supply list or your child may prefer to have their own of instead of using the school supplied items. Start shopping for these items early when the big sales start even if you don't have your list.
Reuse school supplies from last year.
Don't replace perfectly good pencil cases, binders, and other more sturdy items. While some teachers will have a color-coded list for things like folders most will work with you if you give them a call.  Using items from last year is an easy way to lower costs and lessens the strain on your pocketbook. Backpacks and lunch boxes can also easily be reused if still in good shape.
(Here are Erin's favorite lunch boxes!)
Stock up on spares while the price is low.
While it may be hard to find the extra money to grab more than your child's school supply list requires grabbing several boxes of crayons at 50 cents a box will save you more in the long run. Keep an eye out at all the stores – even the drugstores!
(I found $.99 – 10 pack Crayola markers at Walgreens this week!)
Buy supply basics in bulk if you have more than one child.
Grabbing multi-packs of items teachers ask for often when you find a good sale during the summer will save you money when school supply shopping rolls around. Disinfectant wipes and sprays, hand sanitizer, and boxes of tissue are common requests that can be found in multi-packs. Try big box stores like Costco to save more!
(I scored many great these deals on Amazon's Prime Day and I'm still seeing some great ones there now too. I'm buying packs with a few more than we need because I know that teachers always need glue sticks, pencils and dry erase markers!)
Take advantage of tax-free shopping days.
If your state offers a tax-free back to school shopping day use it to your advantage to save money on everything from school clothes to pencils. Most stores will compete with each other by hosting great sales to entice you to choose their store for your shopping during the tax-holidays.
Don't go overboard on things your child does not really need.
It is so easy to over shop when you find a good deal but if you don't have a use for the items it may be a waste of money to get them. Stick to your list and if you have room left in your budget then you can shop for more. This is especially hard to do when you see amazing deals. If it's not on their list, or could be a future request from a teacher during the school year, resist the urge to get it to just score the deal!
Disclaimer: As an Amazon Associate, I earn commissions on qualifying purchases. Reviews, opinions are my own.