It's no secret that packing lunches is tough. It's a day-in-and-day-out task. And it can get old, fast. (At least around our house it is.)
For us, it's cheaper to pack lunch than it is to buy at the boys' school, but I keep a small amount on their meal accounts in case they want to eat at school.
But 178 days out of 180 school days, we are packing lunches.
We have taught the older boys how to make their own lunches, and we help them still on occasion (oops, I overslept Mom…I need help!) But I'm still packing the lunches of our younger boys.
I've made it more "manageable" by doing a number of things.
I've accepted that it's happening every morning (or evening, if you're that on the ball!) – this helps reduce the frustration that comes with the "AGAIN!" thoughts.
I've made it into a "system" – everything that could go into lunches is in a certain cupboard, or certain shelf/drawer in the fridge. It becomes "grab and pack" this way. (See my lunch drawer from the preschool days. Now, this is an entire cabinet!)
I prep ahead – slicing fruit, separating carrots, making muffins or banana bread. I do this because…I'm not a morning person and I need to not have to think too much before coffee. And also because…"grab and pack" is how I roll in the mornings.
I've got all the right lunchboxes and accessories ready and stashed in the same place every morning. Lunchboxes and water bottles on top of the fridge, lunch containers in the drawer right below. I just have to grab each of them, set them out and we start loading them up!
Here are my favorite lunchboxes and lunch packing accessories!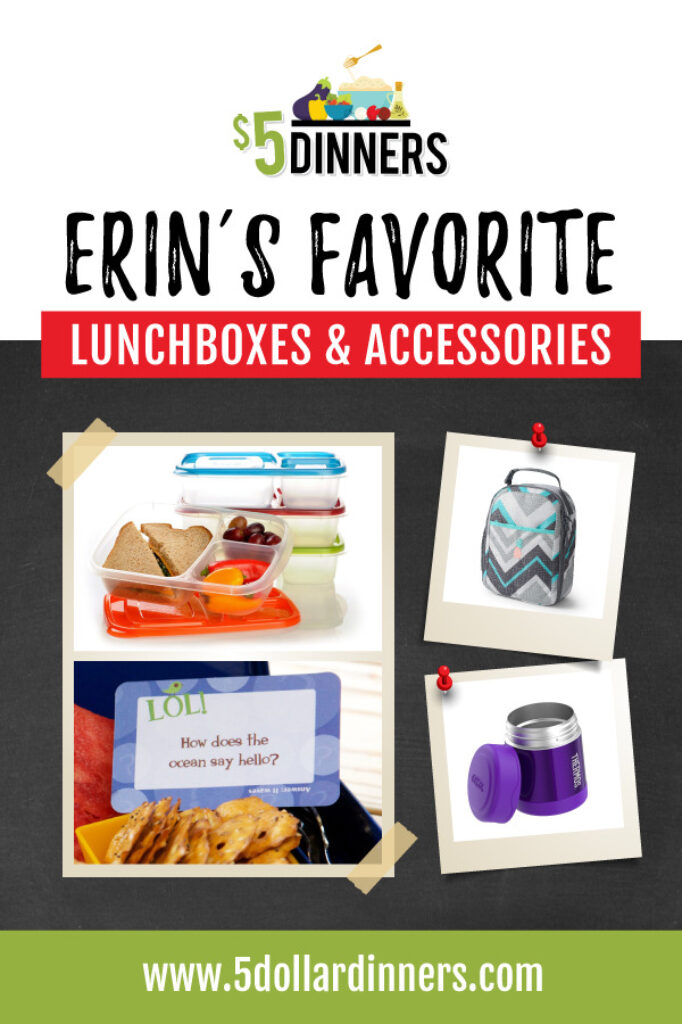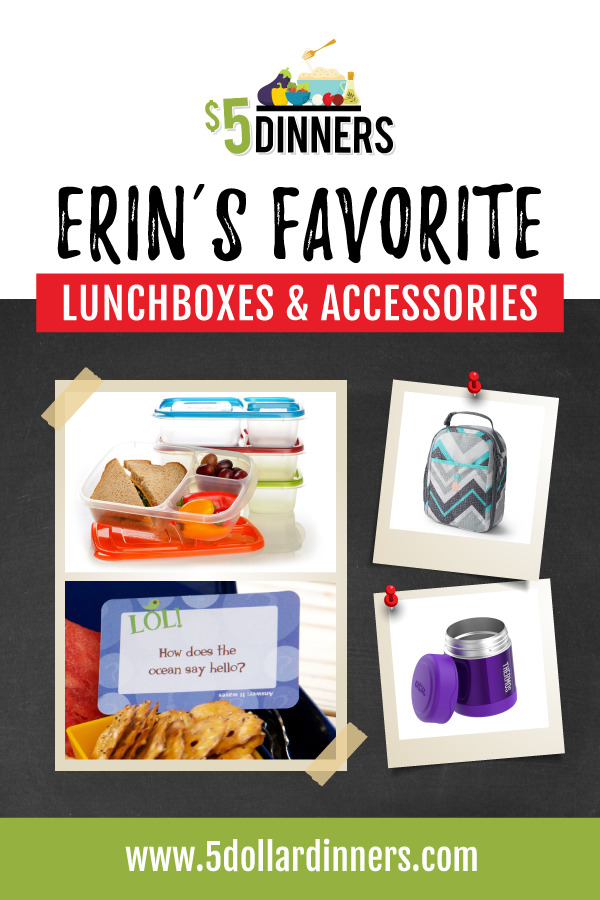 Erin's Favorite Lunchbox Packing Accessories
When it comes to packing lunch boxes for the 3 older dudes, I need sturdy that will last ALL year and into the next! Which is why I recommend the following…
Used Daily by Erin…
Recommended Lunch Containers
For Younger Kids 
For Older Kids 
Recommended Lunch Boxes
I always go for the washable and durable lunch bags or boxes in the $18-$25 range. That might seem expensive, but they will last for multiple school years! We wipe them out daily and wash them every month to keep them in good condition.
Recommended Water Bottles
Other Back to School Resources
Get our Back to School Lunch Freebies (and other meal planning freebies!) from our Freebie Center! Sign up for Instant Access Below…
Disclosure: This post contains affiliate links, thanks for your support of $5 Dinners.
Disclaimer: As an Amazon Associate, I earn commissions on qualifying purchases. Reviews, opinions are my own.