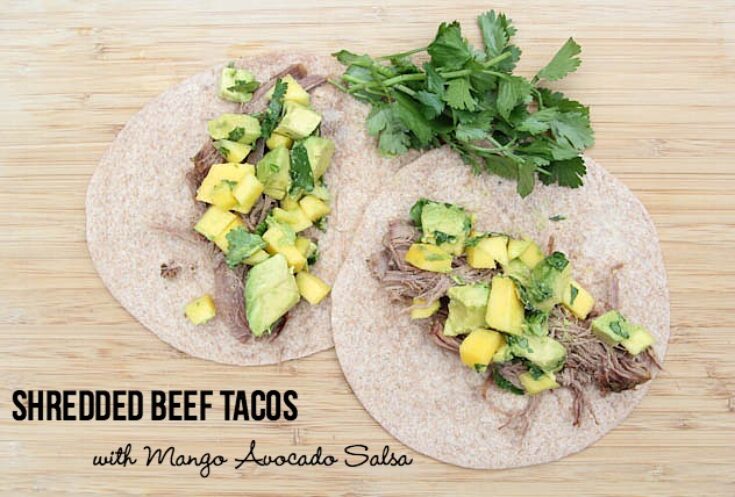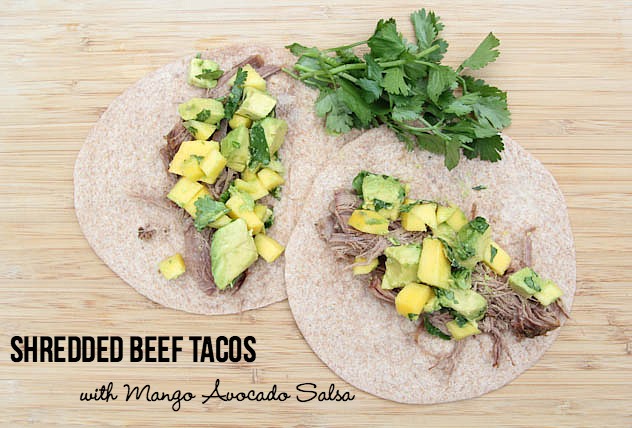 This is not the first time that I've shared a recipe with the mango-avocado combination and it probably won't be the last. There's the Grilled Chicken with Mango-Avocado Salsa. There's the salad version with goat cheese and vinaigrette (which I have for lunch several days a week!). And there's the pasta version, with Orzo too.
It might because all 4 of the boys will eat mangos and avocados. And ask for more. Or it might be that I just love the combination of a sweet ripe mango with a tender ripe avocado. Toss in a little lime juice, cilantro, salt and pepper and get the taco party started y'all!
This is a basic beef roast in the slow cooker…then top with fresh fruits kind of deal, simple, simple, simple. That's the name of my cooking game friends!
Helpful Posts
Ingredients
1+ pound beef roast, chuck roast or sirloin roast (whatever is on sale!)

1 lime, squeezed or 1 Tbsp lime juice

1 tsp ground cumin

1 tsp salt and pepper, each

1/2

cup

water

1 mango, seeded and diced

2

small

avocados, seeded and diced

1 lime, squeezed or 1 Tbsp lime juice

Small bunch of cilantro, chopped

Salt and pepper to taste

Tortillas - flour or corn

Side dish ideas ~ corn on the cob, tex-mex style rice, refried beans (if you have 2 slow cookers!)
Instructions
Place the beef roast in the slow cooker. Squeeze the lime juice over the top, then sprinkle with cumin, salt and pepper on top as well. Carefully pour the water around the beef roast. (I like to add water so that the environment inside the slow cooker stays nice and moist...I think it makes for more tender beef!) Set on low and cook for 8 hours. Once cooked, shred it with 2 forks.

Before dinner, mix up the mangoes, avocados, lime juice, cilantro and salt and pepper together in a bowl.

Addthe slow cooked beef into the tortillas and top with the mang0-avocado salsa.

Prepare side dishes.

Serve Shredded Beef Tacos with Mango Avocado Salsa & preferred side dishes.