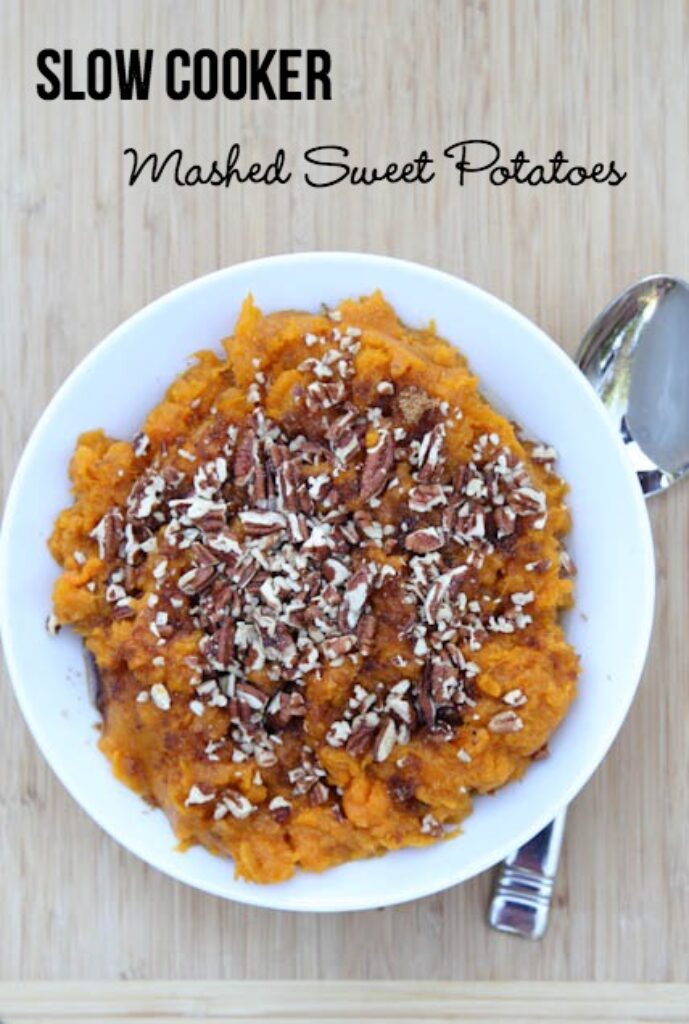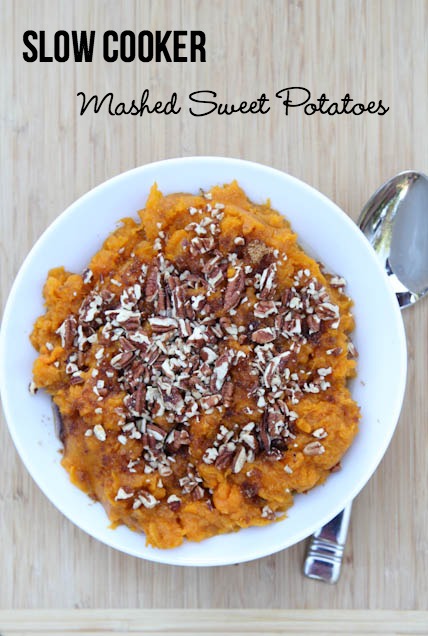 When I shared the Slow Cooker Baked Potatoes a few weeks back, I didn't realize that I had never shared the Slow Cooker Sweet Potatoes on this site. We have these often, especially in the winter months…and of course at holiday meals. I love using my slow cooker to make sweet potatoes because it's one.less.dish.in.the.overcrowded.oven.
So…here they are…sharing them at the tail end of our 31 Days of Slow Cooker Meals series! I'm sharing new recipes for the rest of the month…so more delicious-ness to come!
Real quick…before we get to the recipe.
I wanted to let you know why I add water to the base of the slow cooker. I adore the way that sweet potatoes cook when you 'steam-bake' them. When you bake them with water in the dish, it not only softens them perfectly and makes the skin literally fall off…the flavor of much richer and more sweetened-caramelized than when you roast them, bake them without water or microwave them. So for that same reason, I like to add water in with the slow cooker so they end up perfectly moist and sweet. Plus, it means you don't have to add any or much less brown sugar than you would have.
Also. No need for foil like I shared in the baked potatoes.
Also No. 2. These mashed sweet potatoes will freeze really well! So when we see the great prices on sweet potatoes as we get closer to the fall/winter & holidays, I'll remind you to grab some extras to make for the freezer 🙂
Give them a try! I think you'll love them!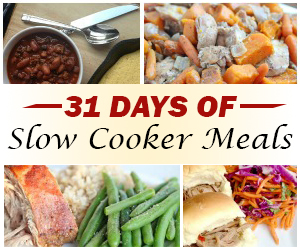 So easy in the slow cooker!
Ingredients
5-6

medium

sweet potatoes

2-3

Tbsp

butter

1

Tbsp

cinnamon

2-3

Tbsp

brown sugar, optional

1/2

cup

chopped pecans, optional
Instructions
Cut a slit in each of the sweet potatoes, lengthwise down the middle. Add the sweet potatoes to the base of the slow cooker and add about 1 cup of water. Enough to cover the bottom with 1/4 inch. Set on low and cook for 8 hours.

Carefully remove the sweet potatoes and let cool for a few minutes before removing the skin. Scoop out all the soft flesh into a mixing bowl. Add butter (you don't need a ton because they are already very soft) and cinnamon and mix together.

Sprinkle the brown sugar over the top. Sprinkle the pecans over the top. (Both of these are optional! I generally don't serve 'fancy sweet potatoes' for regular weeknight dinners. I would add them to a holiday side dish, however!)

Serve Slow Cooker Mashed Sweet Potatoes as side dish.