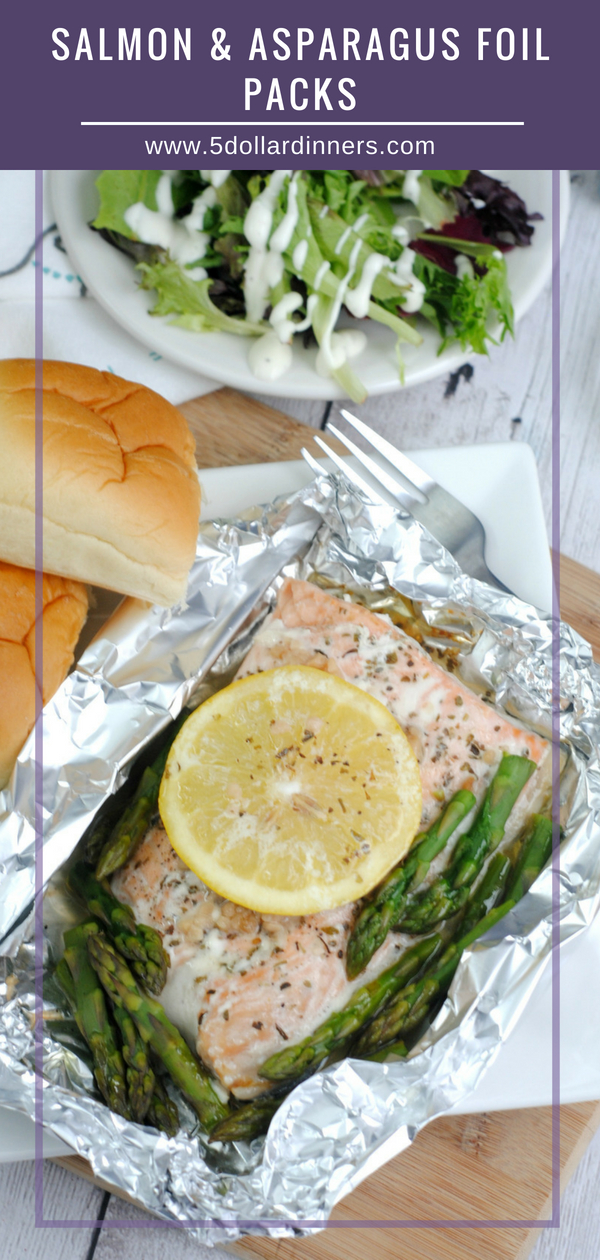 Before you get all "but salmon isn't a $5 Dinner" on me…hear me out…
This is one of our newer MyFreezEasy recipes and I wanted to share it hear because it's so simple, yet so delicious! It's an "herb compound butter" that melts all over the salmon in the foil pack and the asparagus steams inside the pack while the salmon is cooking. It's a magical foil-pack meal and I had to share it!
We try to eat salmon 3-4 times a month, depending on when it's on sale or on special at my local store. When I find a great sale price, I'll grab a few pounds and then prep it into freezer meals – like this salmon foil pack. (And bonus is that I can use the MyFreezEasy app while in the grocery store to choose recipes, and then it makes the shopping list for me…on the spot! The app is available for MyFreezEasy members!)
Winner winner, DELICIOUS SALMON for dinner! 😉
So fresh and easy to prepare!
Ingredients
4

small

salmon fillets, about 1/4 lb. each

Salt and pepper

4

Tbsp

butter

1

Tbsp

Italian seasoning

1

tsp

minced garlic

1

lemon

1

lb.

asparagus spears

Side ideas: dinner rolls and/or salad

Foil to make the packs
Instructions
Preheat the oven to 400 F. Pull off a piece of foil for each salmon fillet, about 12 long.

Let butter soften, then combine with Italian seasoning and garlic. Mix together well, then evenly divide for a dollop in each foil pack.

Slice the lemon, making enough slices for 1 into each foil pack.

Snap off the ends of the asparagus spears and cut into half or thirds, so they are short enough to fit easily around the salmon in the foil pack.

Place each salmon fillet on a piece of foil. Season with salt and pepper. Add dollop of prepared herb-garlic butter, 1 slice of lemon and evenly divide the asparagus spears into each foil pack. Wrap the foil up into packs.

Bake at 400 F for 18 to 20 minutes, or until salmon is flaky and cooked through.

Optional cooking method: Grill over direct heat for 10 to 12 minutes, or until salmon is cooked through. Cooking time may vary, depending on thickness of the salmon and heat of the grill.

Warm the dinner rolls.

Prepare the salad.

Serve Salmon & Asparagus Foil Packs with dinner rolls and salad.