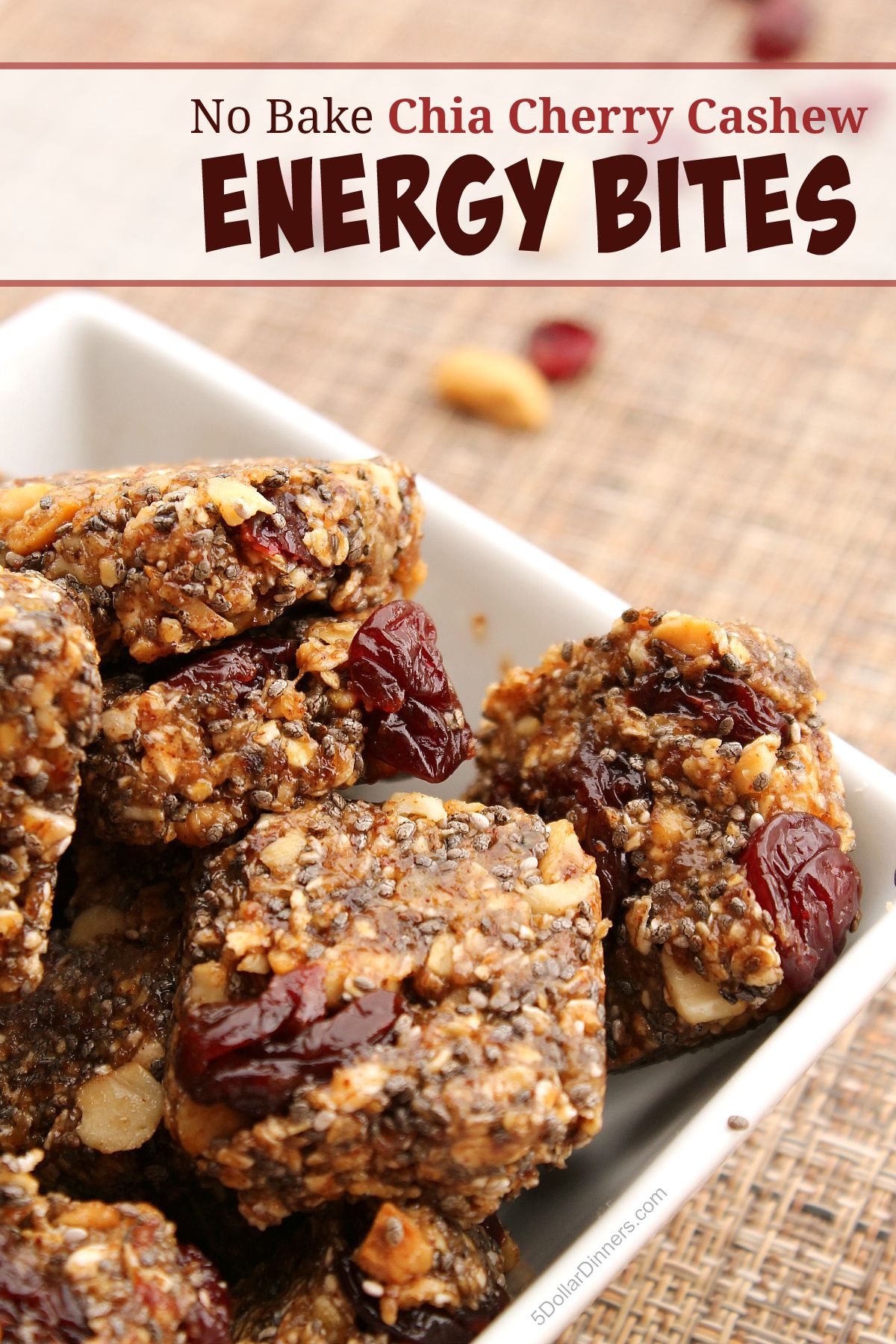 We adore energy bites. I make them a few times a month for after school snacks and try to keep "stock" on hand. Most energy bites have dried fruit, some nuts, some dates and a sweetener (in this case, cherry preserves.)
If I have time, I'll mix them up in the morning and put them into the fridge. It might sound crazy that I have extra time in the mornings to spend putting these babies together, but some mornings I do. When I am 'on the ball' and get lunches packed (or nearly packed so the boys can finish them when they show up downstairs) and we have a simple breakfast, I do have a few minutes to spare in the morning. Our new school has a later start time, so mentally I'm still operating on our old school time frame for getting out the door. I've got an extra 20 minutes to 'spare' so I'll mix up a batch for after school snacks.
I've also made energy bites when we get home from school and the kids can snack on them a little later, or we'll have a little bite for dessert to satisfy our sweet teeth. (There's no need to give an energetic boy an 'energy bite' at 7 pm! lol)
Please note…if you don't have a gluten sensitivity, you could use regular oats in place of the gluten free oats. Because you are adding the oats to the food processor, it doesn't matter if you use regular rolled oats or the smaller quick cooking oats.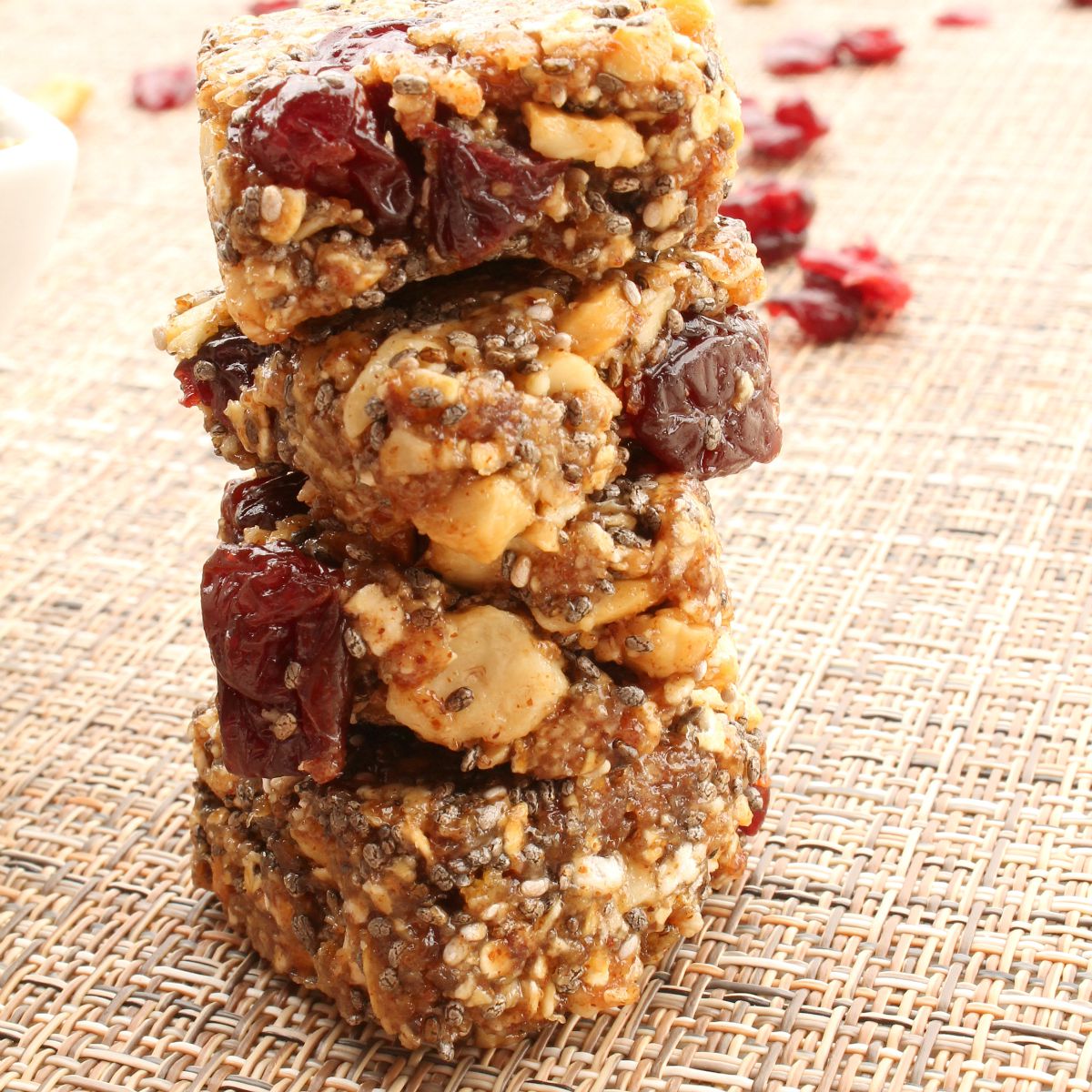 Enjoy!!!
These are so yummy and perfect for homemade snacks on the go!
Ingredients
1

cup

dates

1/3

cup

cherry preserves

(or you can use strawberry preserves)

1/3

cup

almond butter

1/2

cup

chia seeds

1

cup

certified gluten free oats

(or regular oats)

1/2

cup

dried cherries

1/2

cup

cashews

coconut oil

(for prep)
Instructions
Prepare an 8X8 pan with a lining of parchment paper. Coat it with coconut oil to keep the mixture from sticking.

Place the dates in your food processor and pulse until the dates are turned to paste. Make sure it formsa smooth ball with no lumps.

Scrape the sides of the bowl and add preserves and almond butter to the dates. Pulse until they're combined.

Again scrape the sides. Add chia and oats to the food processor and pulse until the dough begins to ball up.

Move the mixture to a large bowl and add the cherries and cashews. Coat your hands with coconut oil and use them tocombine all the ingredients. The coconut oil will keep the ingredients from sticking to your hands. It also helps make the next step easier.

Press the mixture into the pan. Try your best to press it flat and evenly. Refrigerate for 1 hour.

Cut into 2 inch squares and serve immediately. Refrigerate any remaining bars in an airtight container.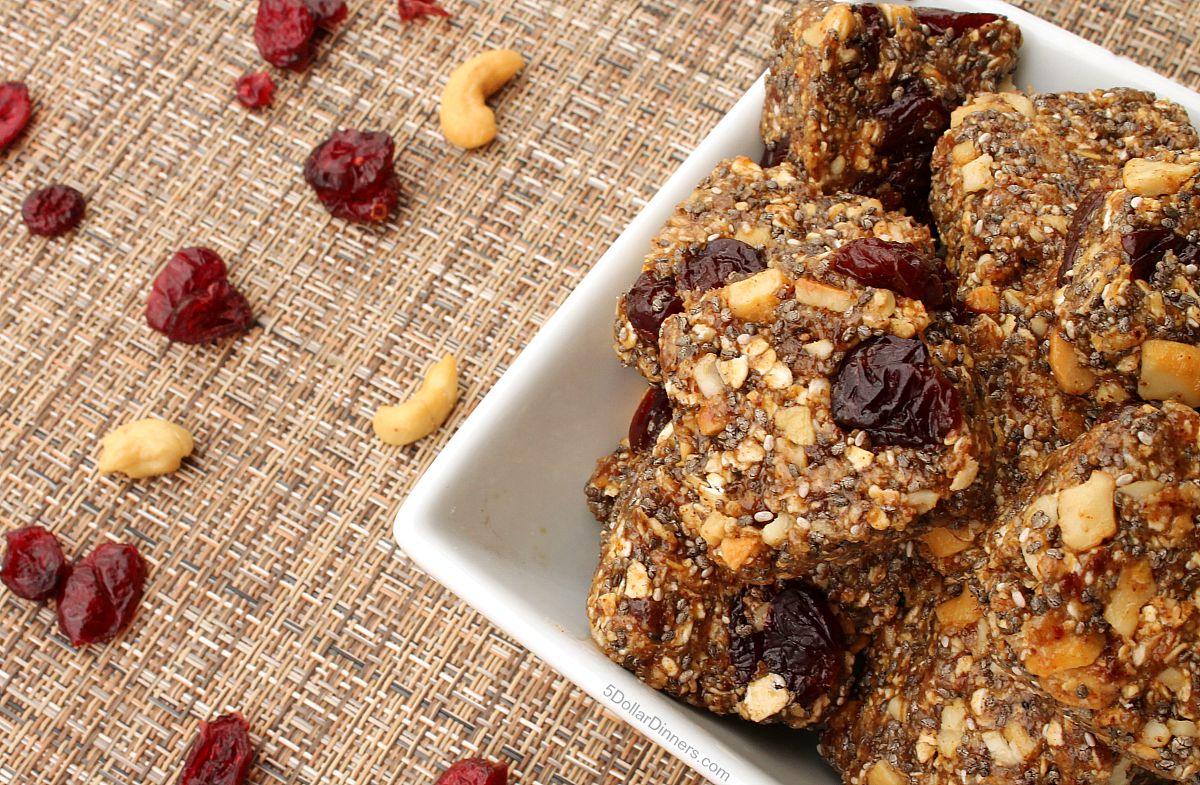 Disclaimer: As an Amazon Associate, I earn commissions on qualifying purchases. Reviews, opinions are my own.