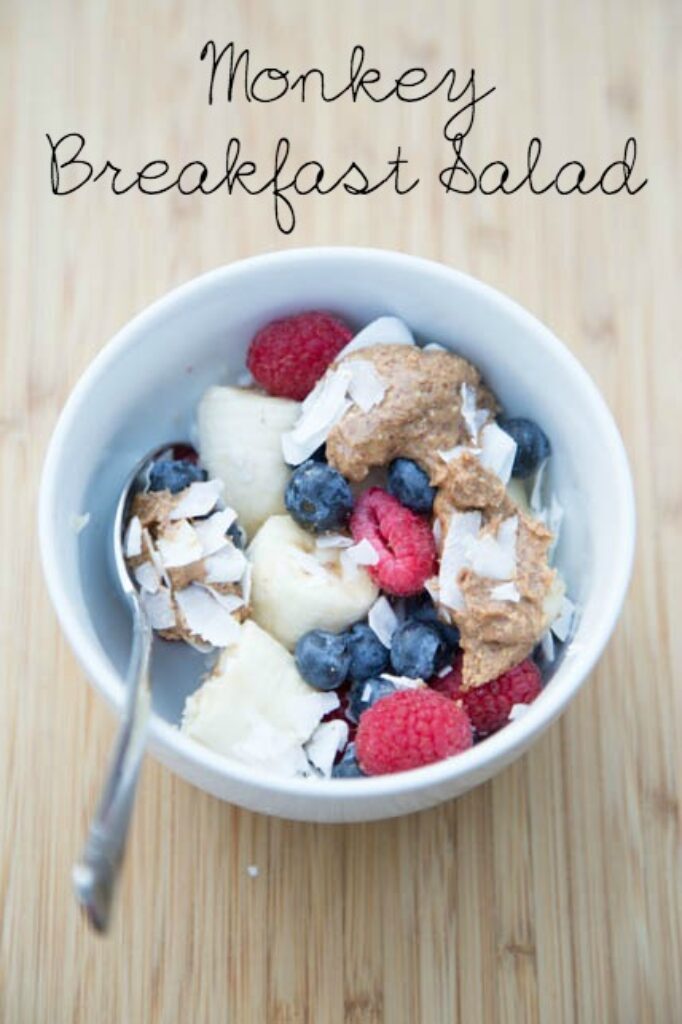 I'm always looking for new breakfast ideas. And when I saw this one on Pinterest, I knew instantly that it would become part of my regular rotation. I often make the kids baked oatmeal, or muffins, or scrambled eggs for breakfast, but find myself usually making something different. When they have cereal and sausage, I grab a muffin from the freezer to eat in the car during school drop offs. Not sure why, as I'm not really the 'short-order cook' type. It's just how it is!
I've also been working on eating less sugar and fewer grains (for my arthritis…I'm way too young to really have 'non-specific' arthritis, but I do…a story for another day!). And this breakfast fits the bill! I have it with either the classic almond butter (expensive, but used sparingly) or with a natural sugar-free peanut butter.
With a full glass of water and this breakfast, I have no trouble making it to lunch without the craving for a morning snack. I was really worried that it wouldn't be hefty enough to get me through 4-5 hours, but it absolutely is!
Here's how I make mine…alternating different berries depending on which are cheapest! Oh, and I try to get a bit of banana, a berry, a few bits of coconut and some almond/peanut butter with each and every bite! It somehow makes breakfast more exciting…I know, I'm a total nerd!!!
If you're looking to cut back on sugar and carbs in 2015, might I suggest making a bowl of Monkey Breakfast Salad a couple mornings a week?!?!?!?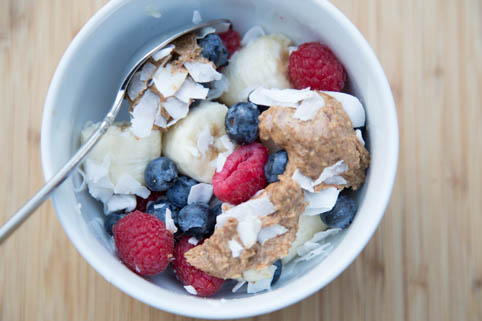 Ingredients
4

small

bananas

2

cups

of berries

4

Tbsp

almond butter or peanut butter

about 1/2 cup shredded coconut flakes
Instructions
Cut the bananas up and add to the serving bowl.

Add about 1/2 cup of berries to each bowl.

Sprinkle some coconut flakes into each bowl.

Add 1 Tbsp almond or peanut butter to each bowl.

Serve Monkey Breakfast Salad.