SNAP recipients get amazing value, great selection, and accessible convenience on qualifying orders with SNAP EBT card on Amazon!
Disclaimer: This post is sponsored by Amazon. All thoughts and opinions are my own.
Big news!!
This thrills me to no end, and I hope you'll join me in shouting this from the rooftops.
SNAP recipients can add their SNAP EBT card to their Amazon account to get some amazing deals and ordering options!!!
Between Amazon Fresh (in major metropolitan areas) and Amazon.com, you're going to find a WIDE variety of groceries, along with convenience, time savings and low prices…with the option to pay with a SNAP EBT card.
When shopping with a SNAP EBT card, SNAP recipients can enjoy amazing benefits like:
free and convenient home delivery available on qualifying orders.
budget-saving offers that include special discounts across grocery brands.
free access to Amazon Fresh in most metropolitan regions, to order fresh produce, meat, dairy and more — no membership required.
Shopping for groceries on Amazon's online store with SNAP EBT is so very simple.
STOP WHAT YOU ARE DOING RIGHT NOW.
And get your SNAP EBT card added to your account at www.amazon.com/snap.
(Keep reading, as I have my grocery haul below…with 4 budget friendly recipes and all ingredients ordered from Amazon.com and Amazon Fresh!)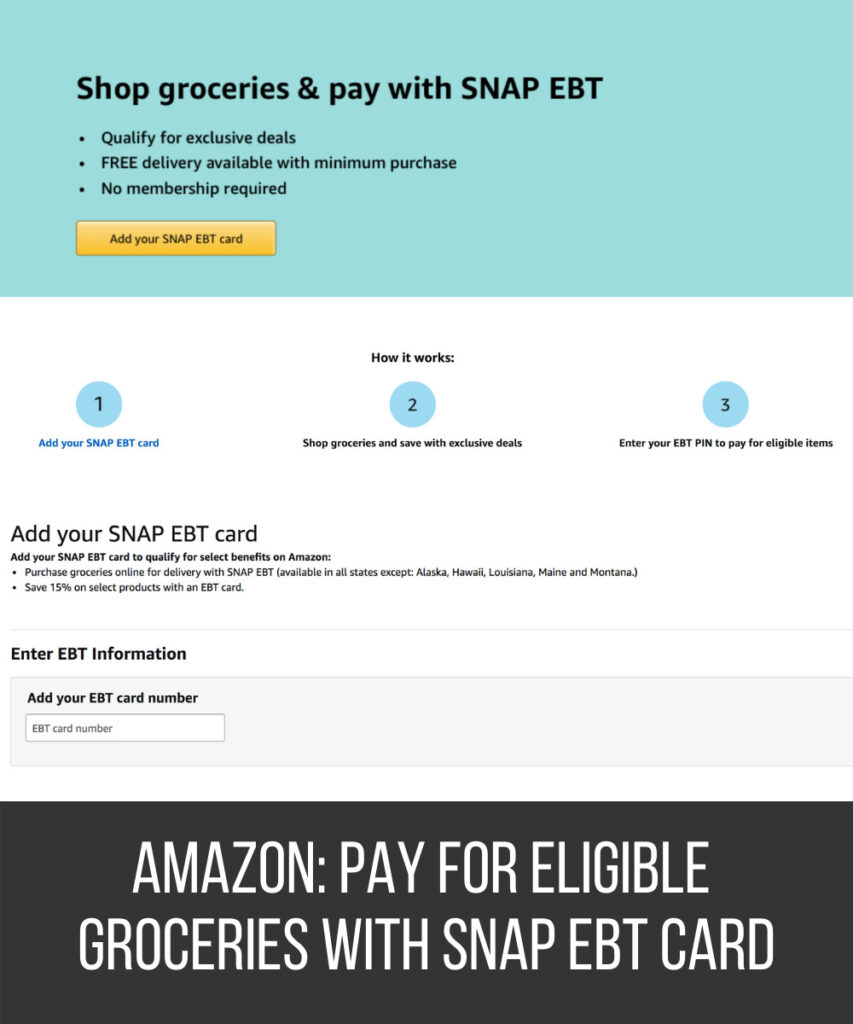 Grocery Haul from Amazon.com & Amazon Fresh
For this week's mini-meal plan, I chose recipes that are budget friendly with ingredients that I could find on both Amazon and Amazon Fresh.
The ingredients are "popular" and many of them have options to order from Amazon as individual, or as a pack of 3/4/6.
I also tried to balance the Amazon Fresh ingredients with the Amazon.com pantry staple-type ingredients.
These recipes are kid-friendly, and might even leave you with enough for leftovers!
Here are the 4 recipes featured in this grocery haul: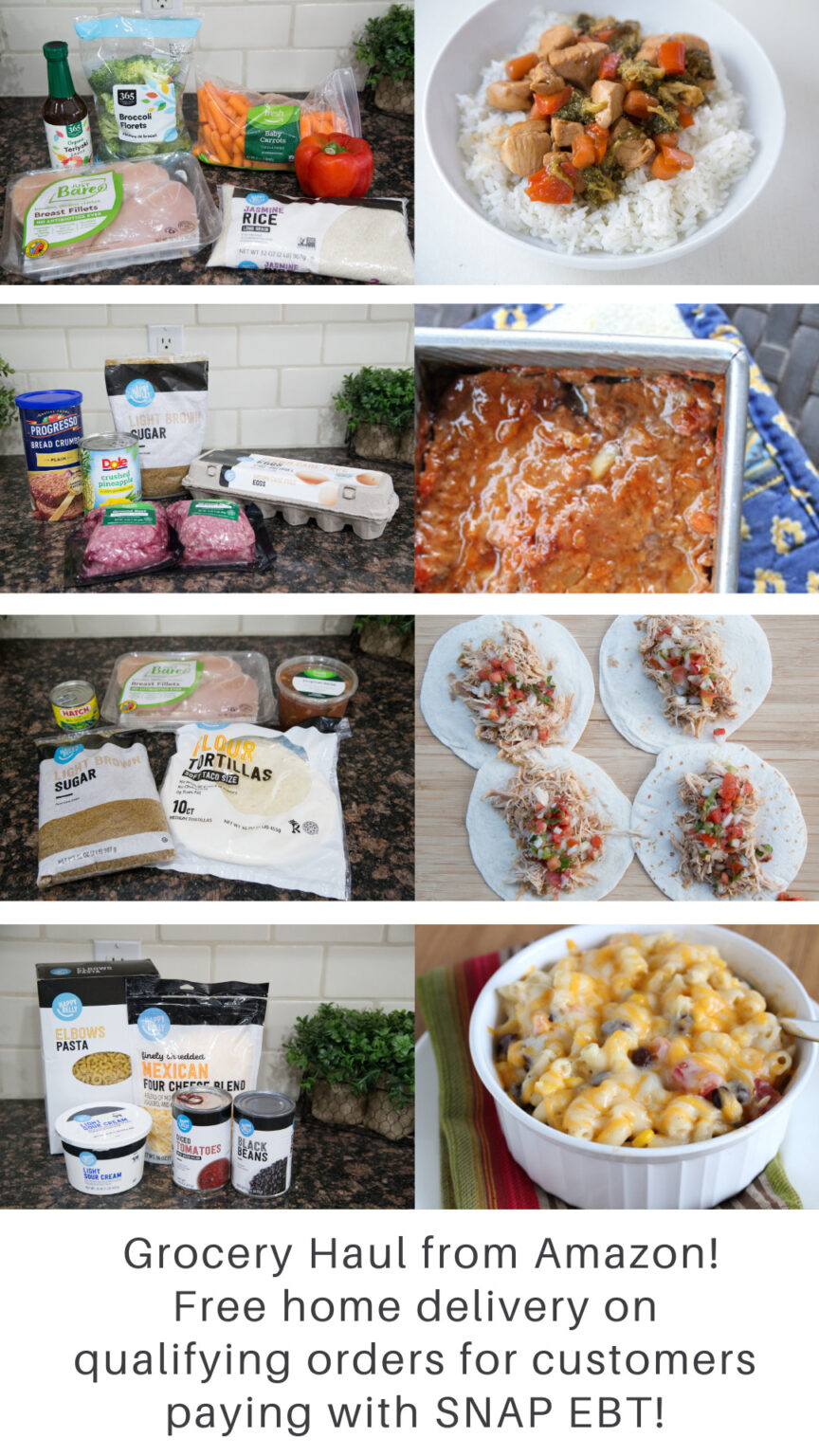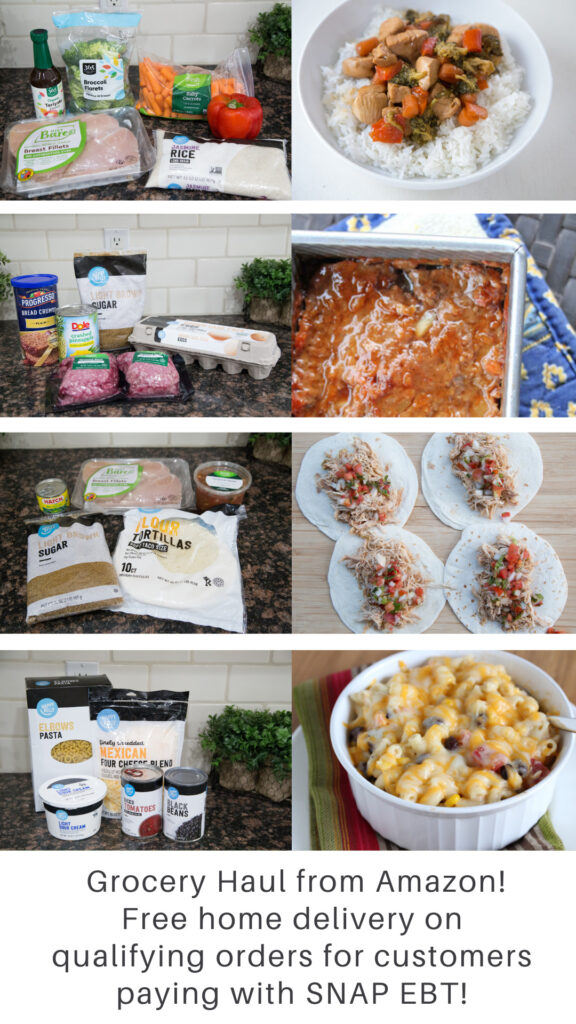 Amazon Mini-Meal Plan Recipes
$5 Dinners – Amazon SNAP EBT Shopping List
For the ingredients that are available to order through Amazon.com, I made a "wishlist" so that you could easily add them to your order.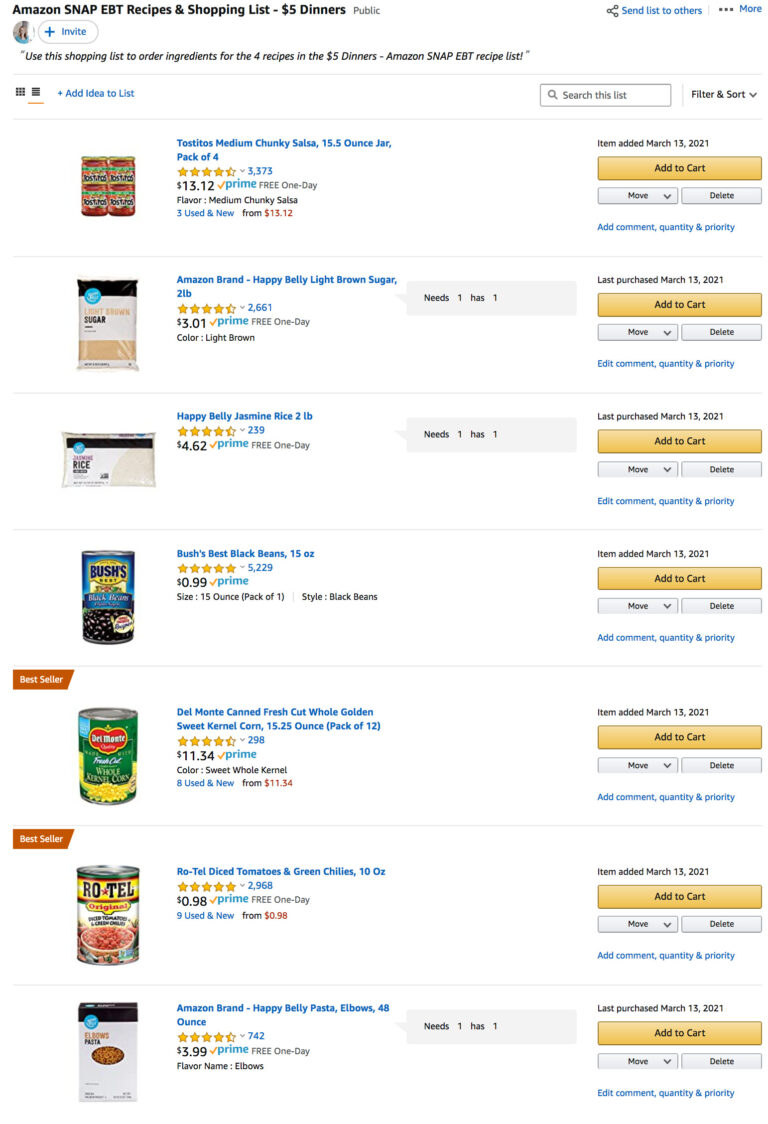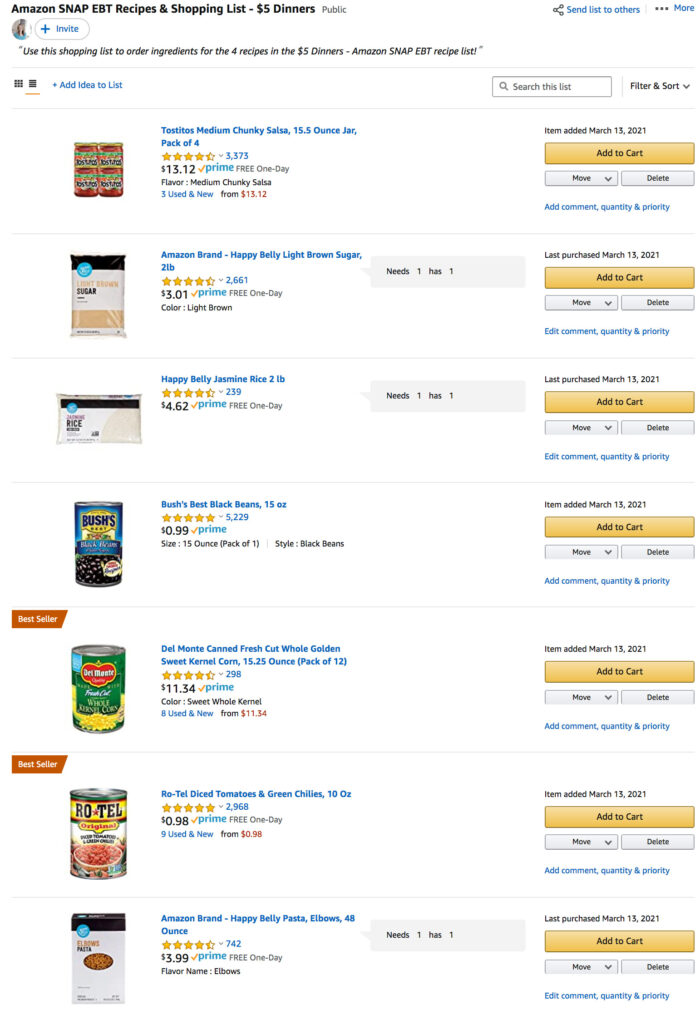 The Amazon Fresh ingredients will need to be clicked or searched, from the list below.
Southwest Mac n Cheese
16 oz. elbow macaroni
8 oz. sour cream
10 or 15 oz. can diced tomatoes with green chilies
15 oz. can black beans
15 oz. can corn
2 cups shredded cheese
Hawaiian Meatloaf
2 lbs. ground beef
2 eggs
20 oz. can crushed tomatoes
1 cup bread crumbs
2/3 cup ketchup
2/3 cup brown sugar
Slow Cooker Baja Shredded Chicken Tacos
3 boneless, skinless chicken breasts
1/4 cup brown sugar
1 Tbsp ground cumin
1/3 cup red salsa
4 oz. can green chiles
8 tortillas
Salsa or pico de gallo
Chicken & Veggie Stirfry
2 boneless, skinless chicken breasts
12 oz. bag broccoli florets
1 red bell pepper
1 cup chopped baby carrots
1 cup teriyaki or stirfry sauce
2 cups white rice
Below is a list of my order! Note that availability and pricing may vary by region.
AmazonFresh order…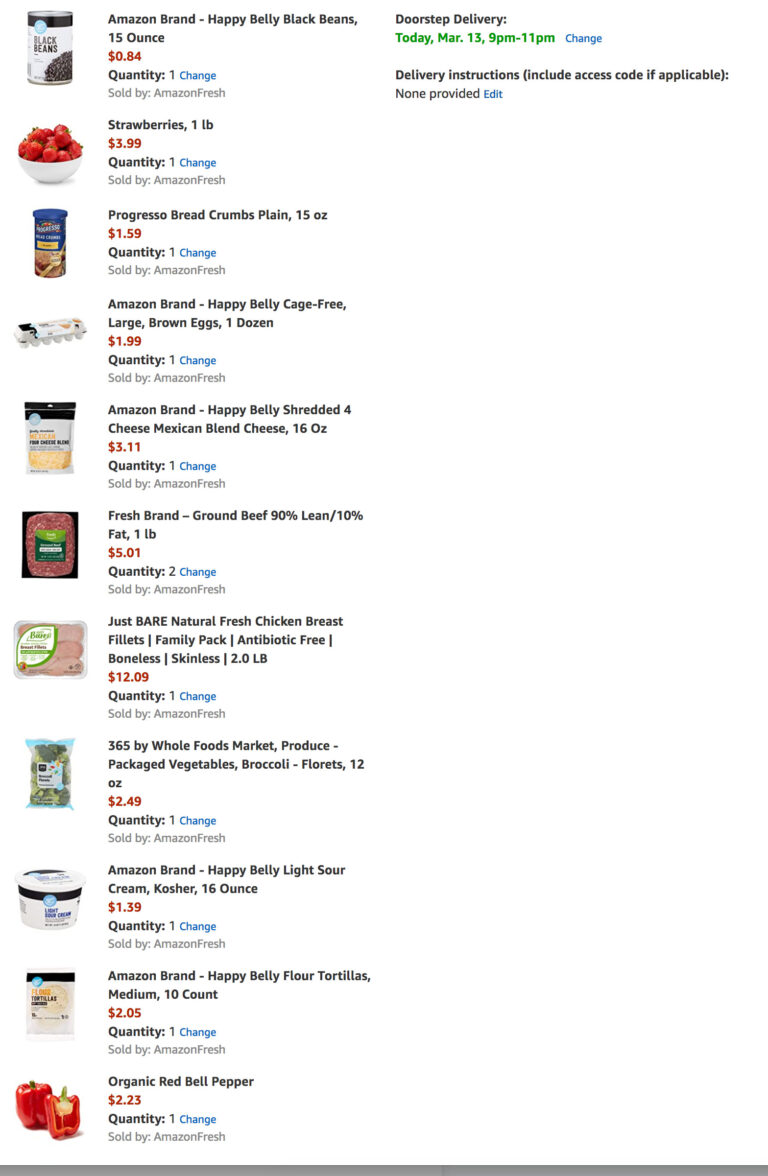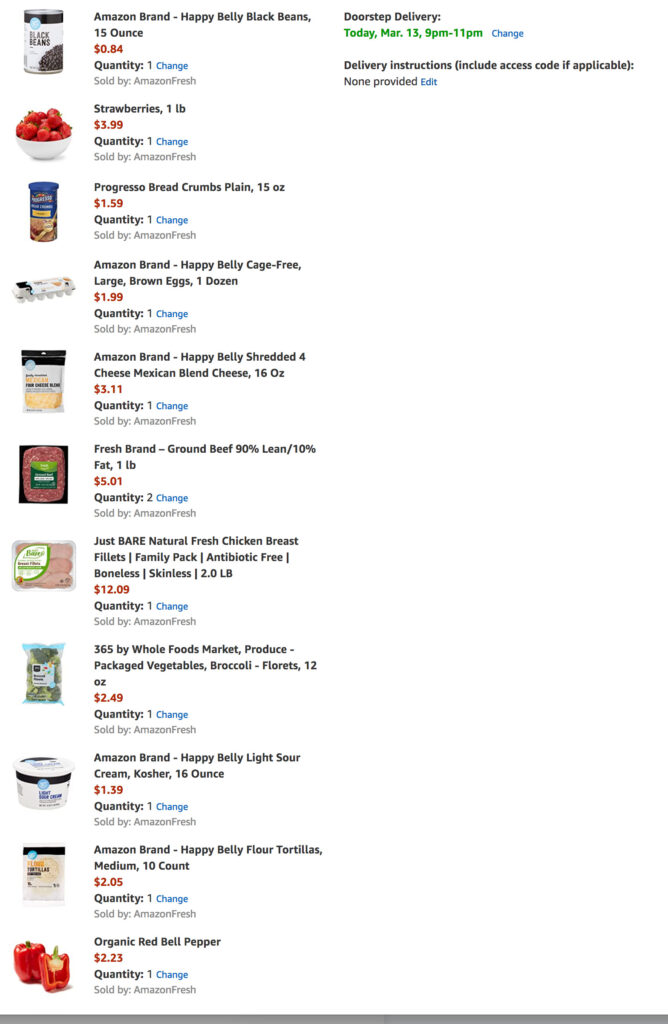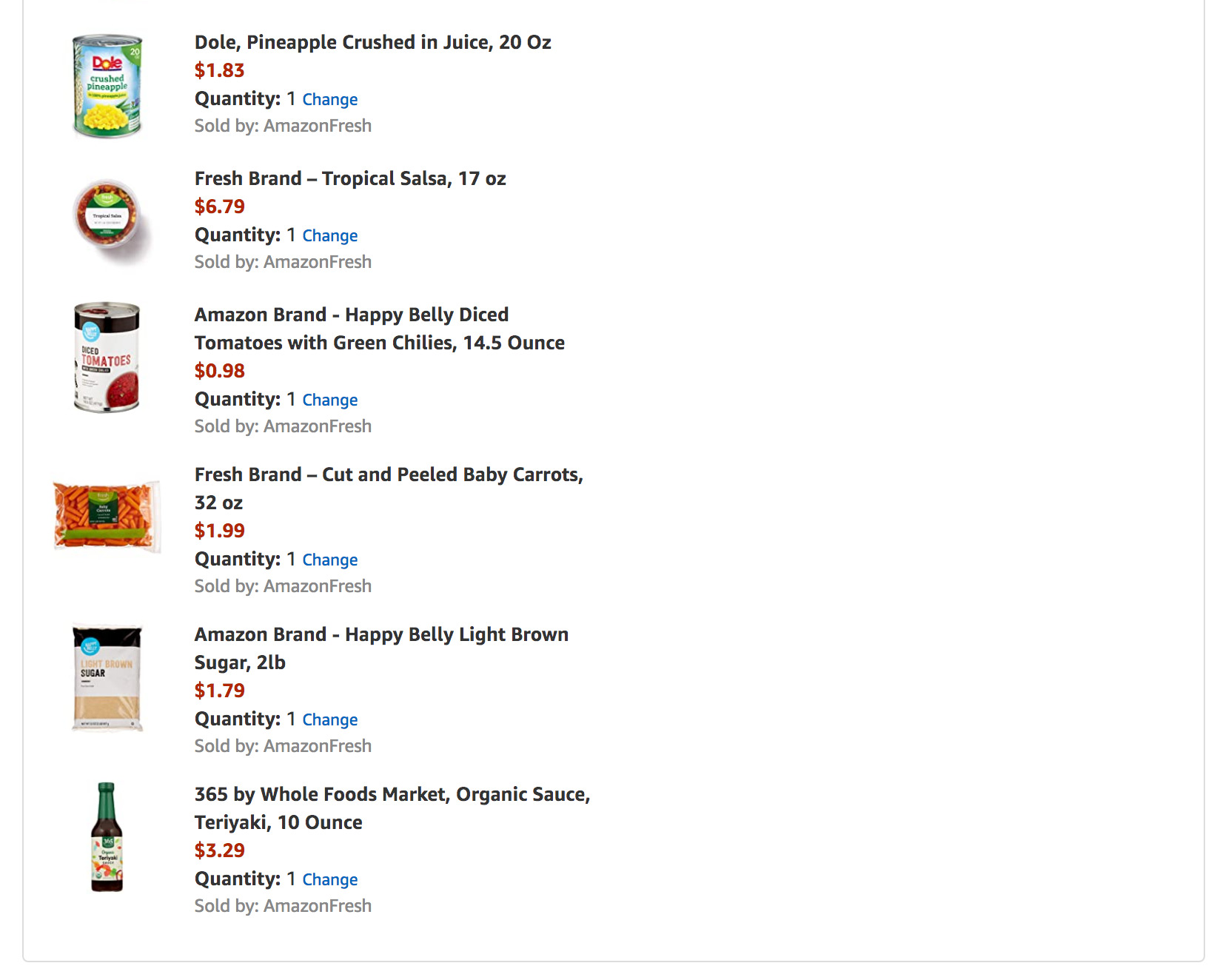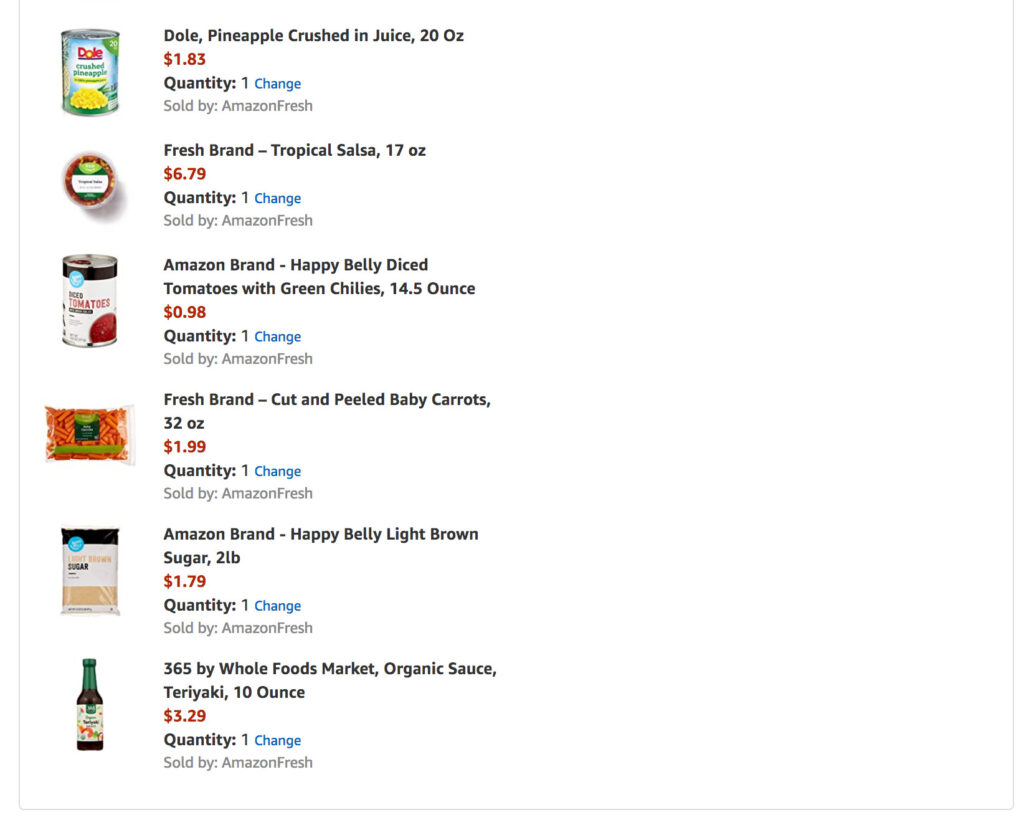 Amazon.com Order…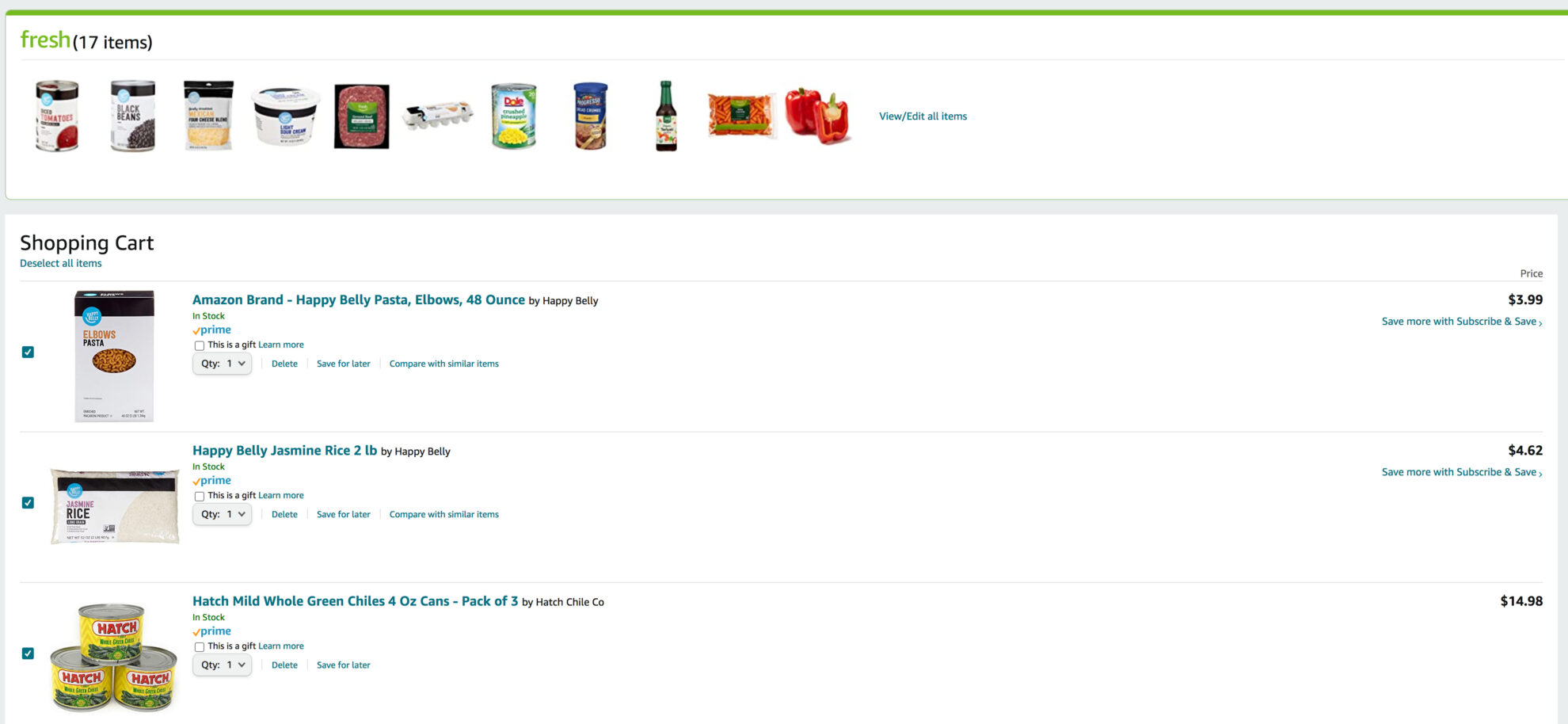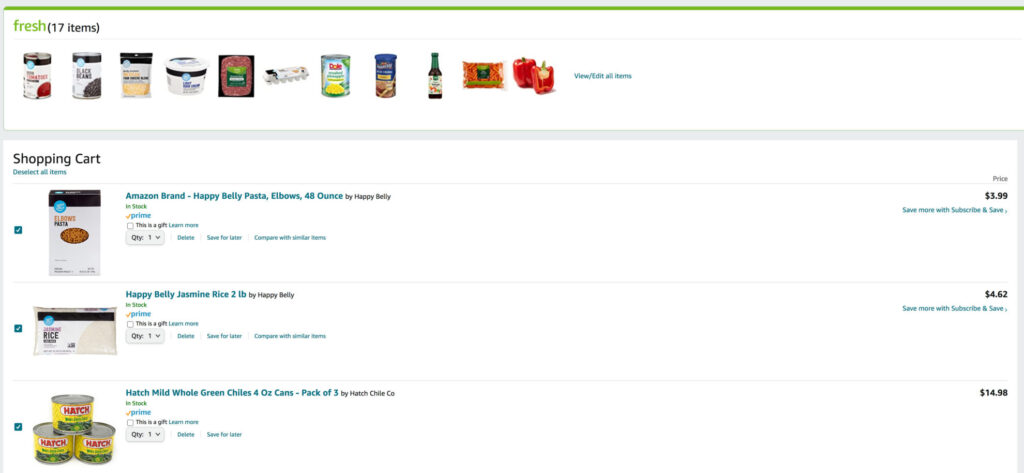 Order Your Next Week's Meals on Amazon
Your turn!
It's time to get your next set of meals ordered from Amazon.com and Amazon Fresh. If you are a SNAP recipient, you can score additional savings and you don't need a membership to place orders.
If you are not a SNAP recipient, you can definitely take advantage of the convenience and savings of ordering the ingredients above to make these delicious $5 Dinners!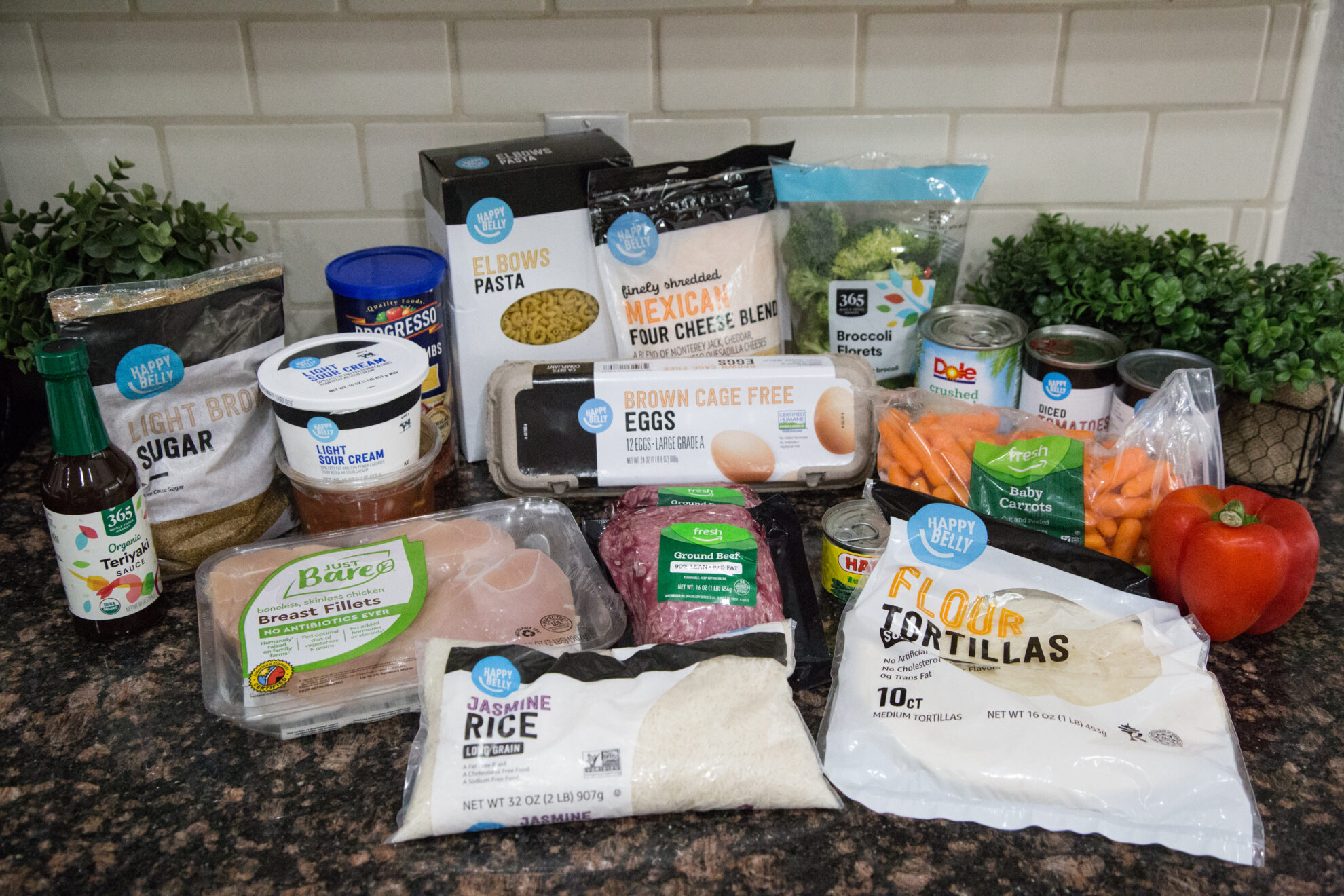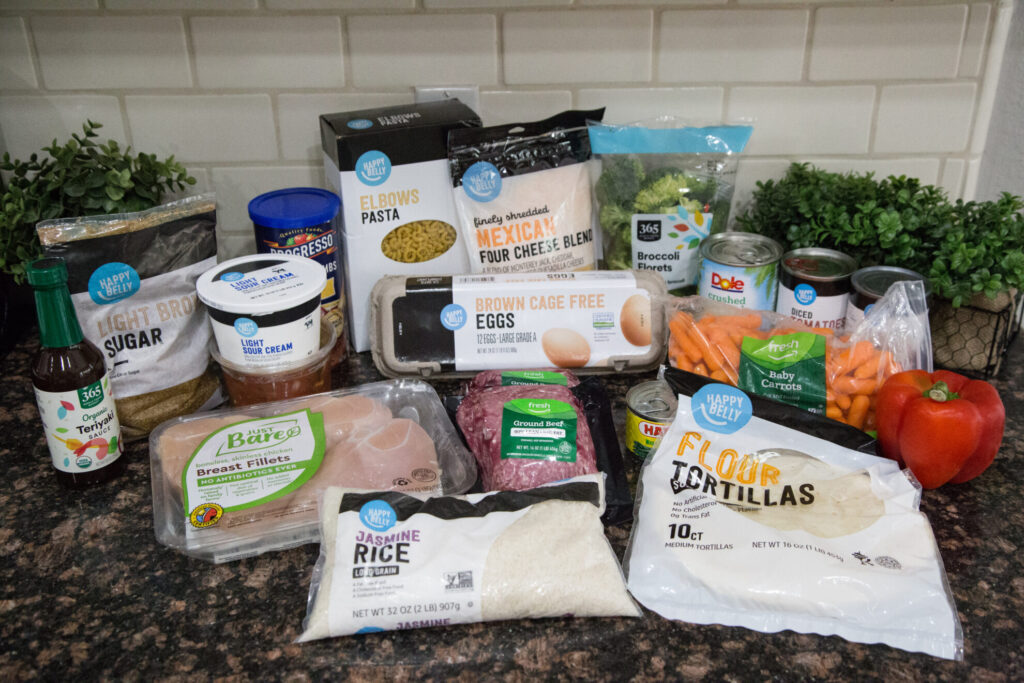 Disclaimer: This post is sponsored by Amazon. Recipes, experience, thoughts and opinions are my own.
Disclaimer: As an Amazon Associate, I earn commissions on qualifying purchases. Reviews, opinions are my own.