Now SNAP recipients can shop Amazon's wide grocery selection & save time with home delivery option on qualifying orders with EBT card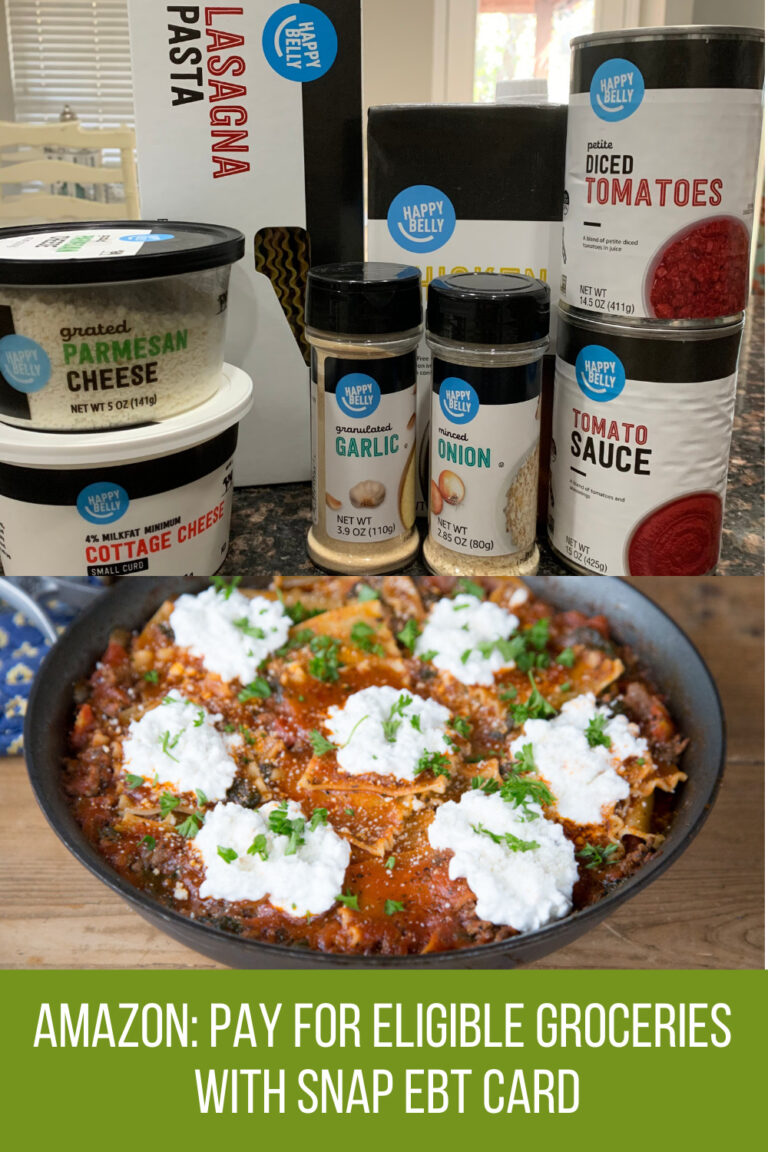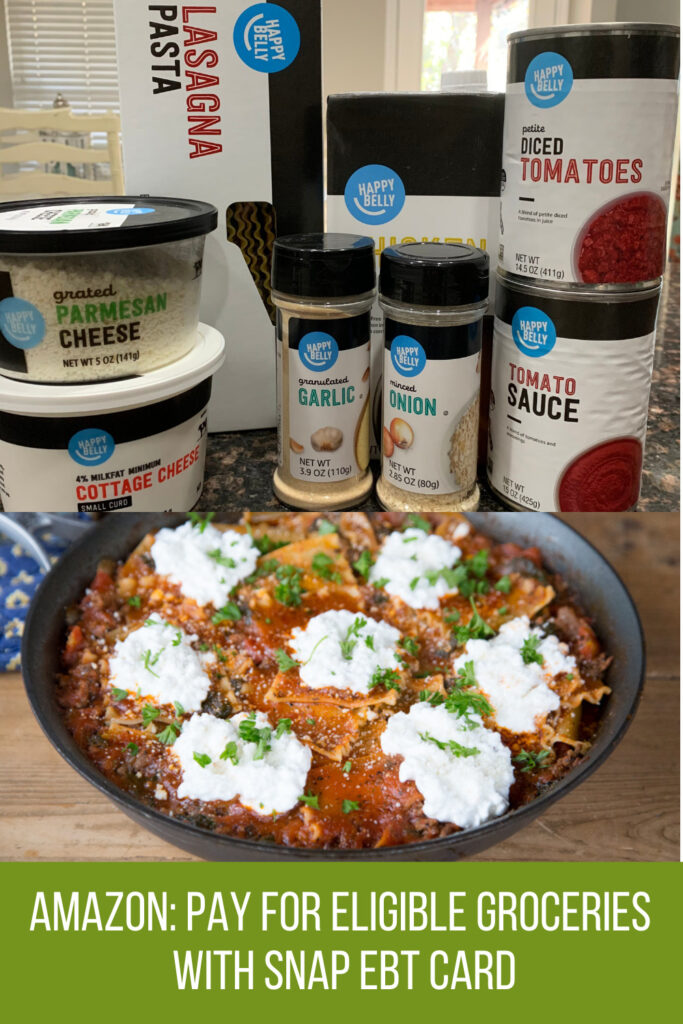 I'm thrilled to collaborate with Amazon to share with you the value, selection and convenience of Amazon's grocery offerings from Amazon Fresh that SNAP recipients can enjoy.
I know…this is news to me too!!!
Amazon now accepts SNAP benefits and I want to share with you the benefits of shopping with your SNAP EBT card for groceries on Amazon, as well as breakdown how it works. If you want more time to eat at home, are looking to save money, but also would like to keep your errands and grocery trips to a minimum…this is a fantastic option for SNAP EBT cardholders!
With Amazon's acceptance of SNAP benefits, cardholders receive a variety of perks, including…
Pay with your SNAP EBT card (I'll show you how below)
Free access to Amazon Fresh to purchase fresh produce, meat, and more (in larger metropolitan areas)
Free delivery with no membership fee available on qualifying orders
Exclusive discounts and coupon offerings (select food products are currently 15% off with an EBT card through December 31)
Shopping a wide selection of everyday food items
Affordable ingredients (comparable to local grocery store prices, from my analysis!)
Amazon has simplified the online grocery shopping experience, and has made it more accessible to all by now accepting SNAP benefits for online grocery orders.
Of course, it's easy to think of shelf stable pantry ingredients being available for online ordering and delivery, but you can also get a wide range of produce and meats from Amazon Fresh. Yes, you can shop for complete meals with low prices using your SNAP EBT card on Amazon.
Let me show you how and share an example of a budget friendly meal from Amazon grocery!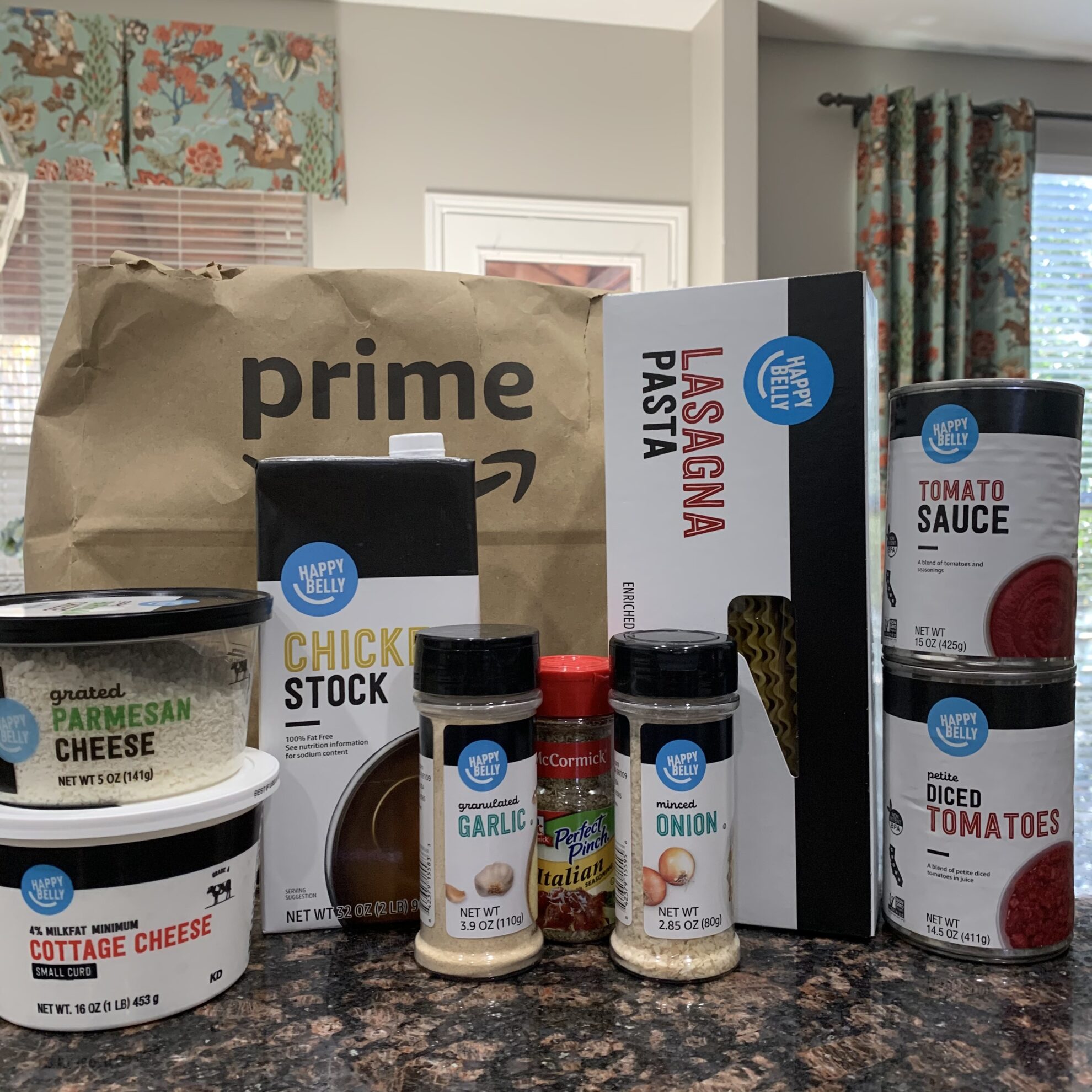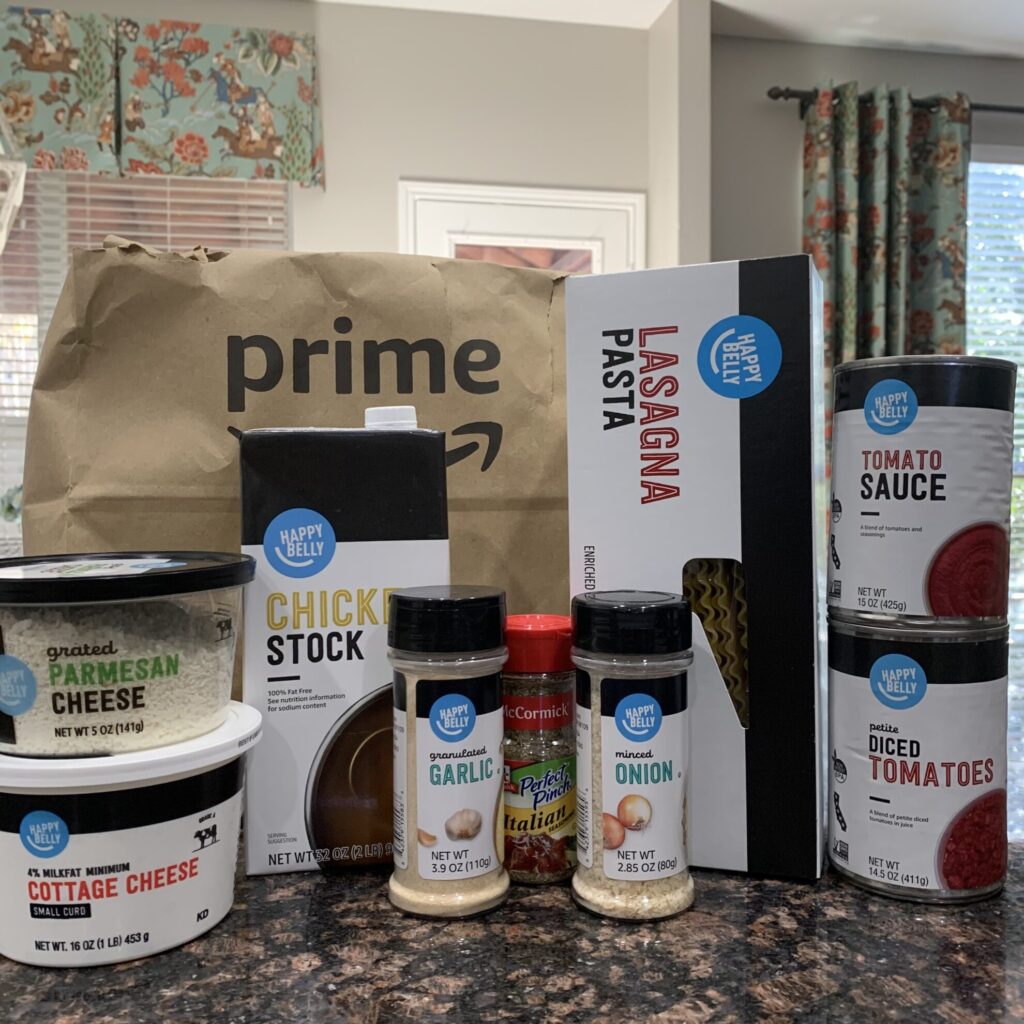 How to Use SNAP Benefits on Amazon Grocery
First, you need to add your SNAP card to your Amazon account.
Go to Amazon.com/SNAP
Click on "Add your SNAP EBT Card"
Enter your SNAP EBT Card information
Begin Shopping.
Once your cart is full, just enter your EBT PIN on the checkout page to pay for eligible items!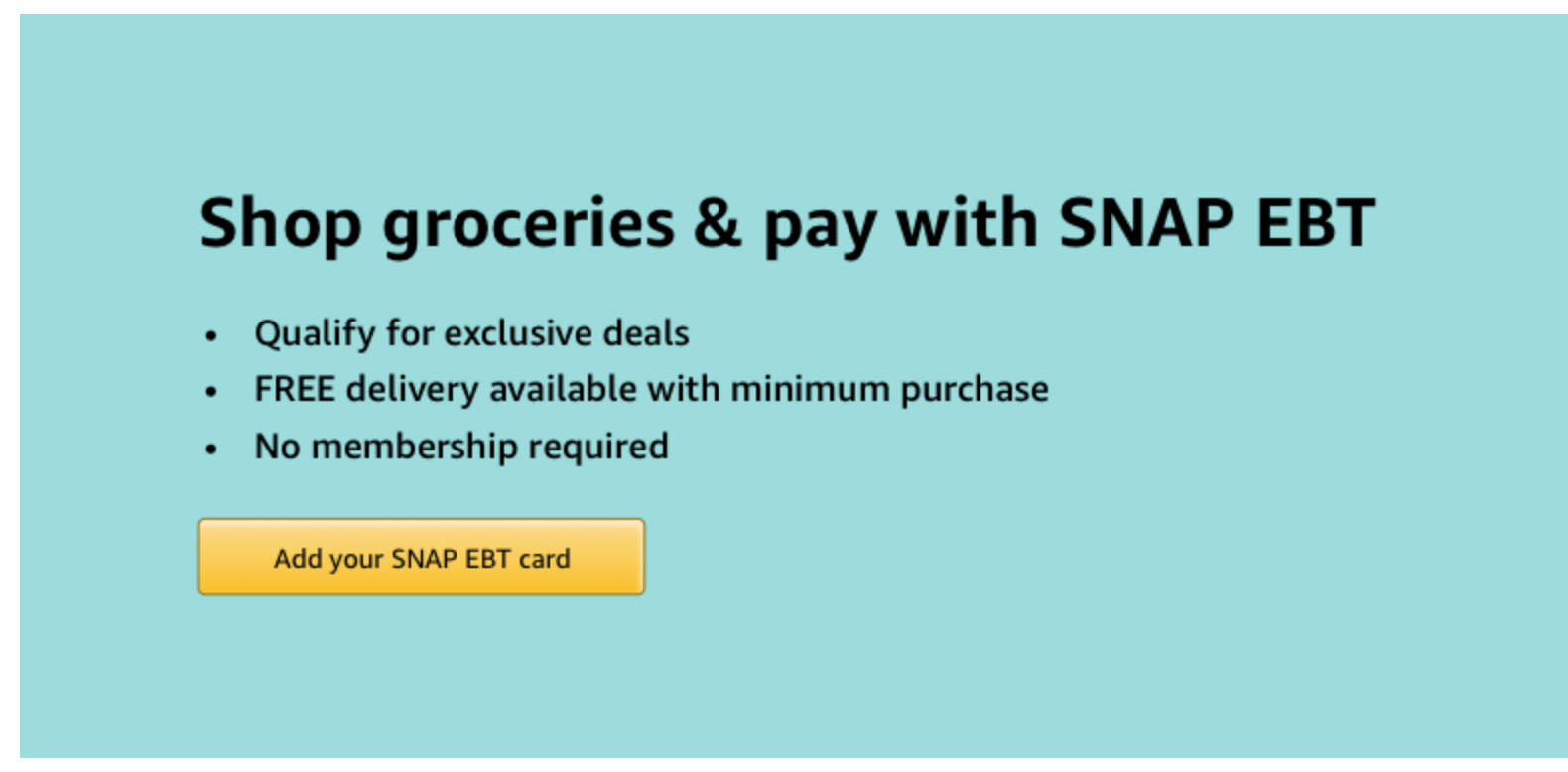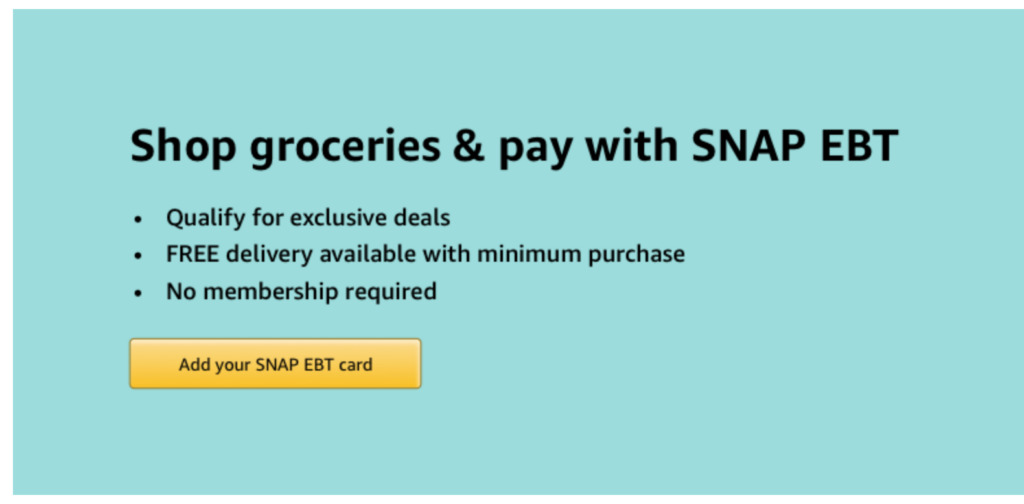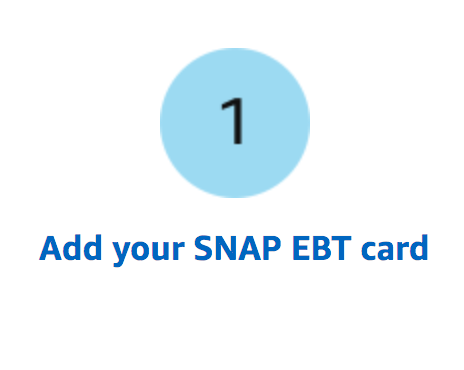 How to Order Groceries from Amazon Fresh
For my recipe, I chose Amazon Fresh products. I chose to make a meal that is budget friendly, crowd pleasing, and hefty enough to feed up to 8 adults – Spinach Lasagna Skillet (recipe below.)
I chose it because of both the affordable ingredients (simple spices, canned tomatoes and stock), as well as calling for both fresh spinach (produce), dairy (cheese and cottage cheese) and ground beef (meat).
Amazon Fresh had all of these items available for my order.
Once I loaded up my cart, I scheduled the delivery window (2-hour window gives you free delivery) and I added a tip for the delivery driver and my order was on the way.
It arrived right on schedule, and in this case…just in time for dinner!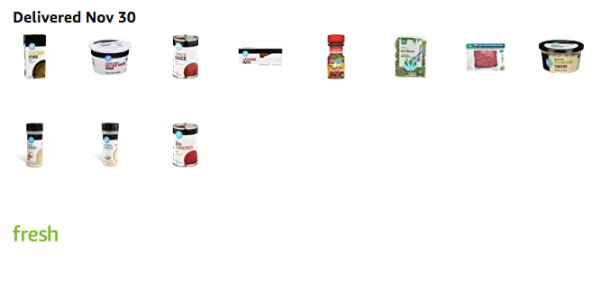 Amazon: Exclusive Deals and Savings for EBT Cardholders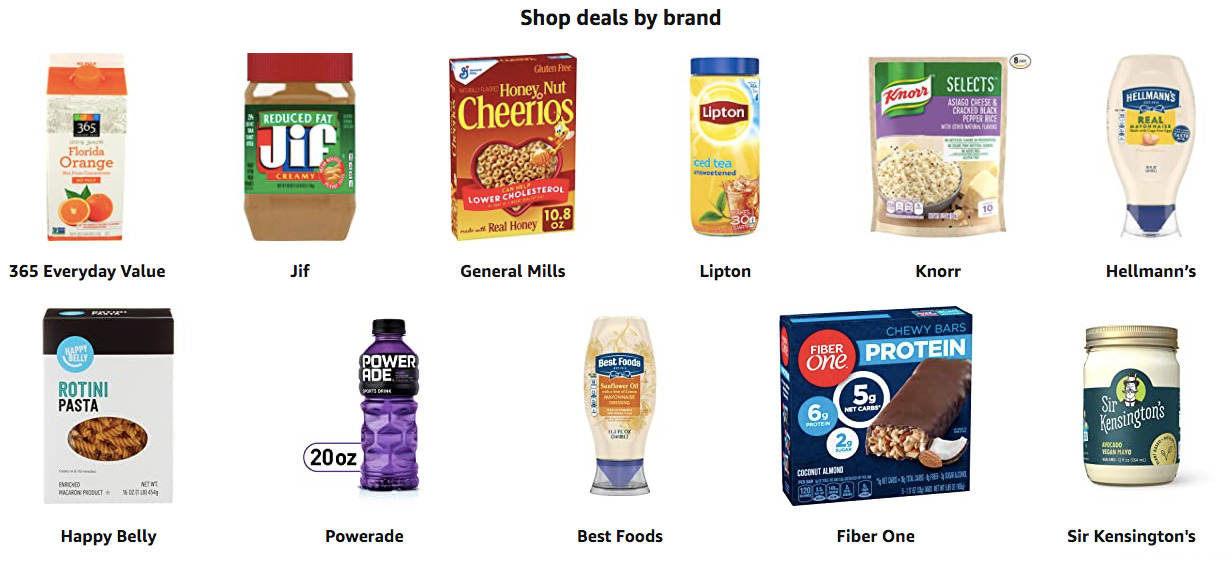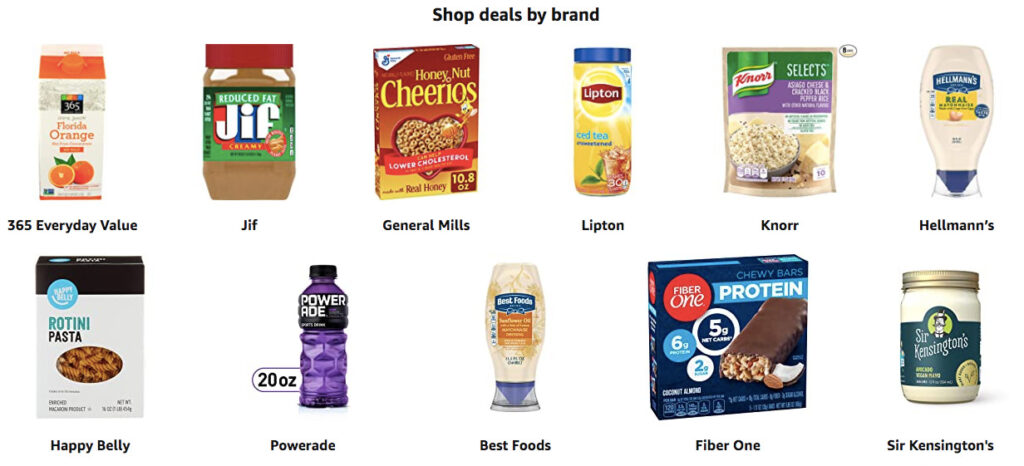 I mentioned this above, but I wanted to show a few of the different brands that offer the exclusive discount.
Add this recipe to your next meal plan, load your SNAP EBT card information to your account, order your groceries for delivery….and finally, enjoy the convenience and budget-friendly benefits of shopping for groceries online with Amazon. To learn more, visit amazon.com/snap.
Other $5 Dinners Recipes to Consider for Your Amazon Fresh Grocery Order
All the delicious flavors of lasagna, in a quick weeknight skillet version - made with ingredients from Amazon Fresh!
Ingredients
1

lb.

ground beef

1

Tbsp

minced onion

or 1/2 cup chopped onion

1

tsp

garlic powder

8

oz.

fresh spinach

15

oz.

can diced tomatoes

15

oz.

can tomato sauce

1

Tbsp

Italian seasoning

Salt and pepper

2

cups

chicken broth

8

lasagna noodles

broken

1

cup

cottage cheese

in dollops

1/2

cup

grated Parmesan cheese

Fresh parsley

for optional garnish
Instructions
Brown the ground beef with the minced onion and garlic powder in a large skillet with tight fitting lid. Drain and return to the skillet.

Add the fresh spinach over top of the browned ground beef and let cook over medium heat for a few minutes, stirring a few times while the spinach 'melts.'

Once the spinach is all melted in, stir in the diced tomatoes (undrained) and tomato sauce with the Italian seasoning and some salt and pepper.

Bring to bubbling and then stir in the chicken broth and bring to bubbling again.

Once the broth-sauce is bubbling, add the broken lasagna noodles and float them deep into the sauce, as well as on the surface. Be sure that as much of the lasagna noodle is covered by the sauce so that it cooks evenly.

A tight fitting lid will help the steam 'baste' the noodles on the top too. Let cook over medium heat for 8-10 minutes, or until noodles are cooked al dente.

Remove from the heat and add the dollops of cottage cheese (or ricotta if you prefer) and sprinkle the Parmesan cheese and parsley over the top.

Serve Spinach Lasagna Skillet as a one dish dinner or with a side of salad, or garlic bread, or other favorite veggies.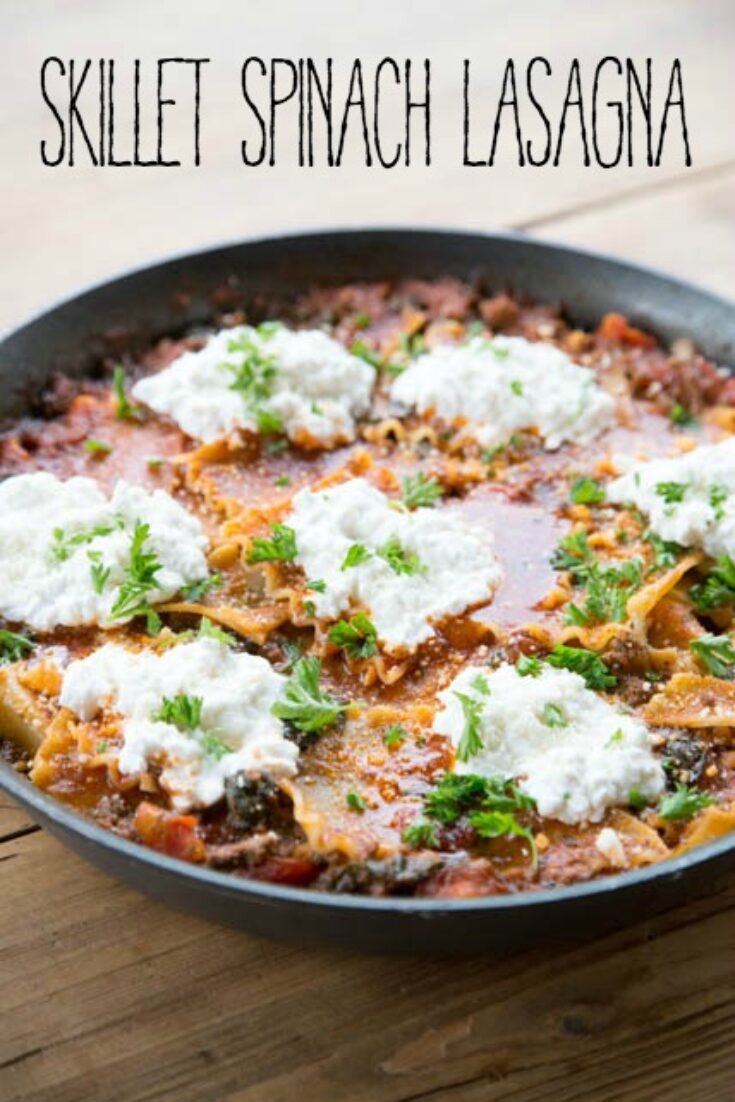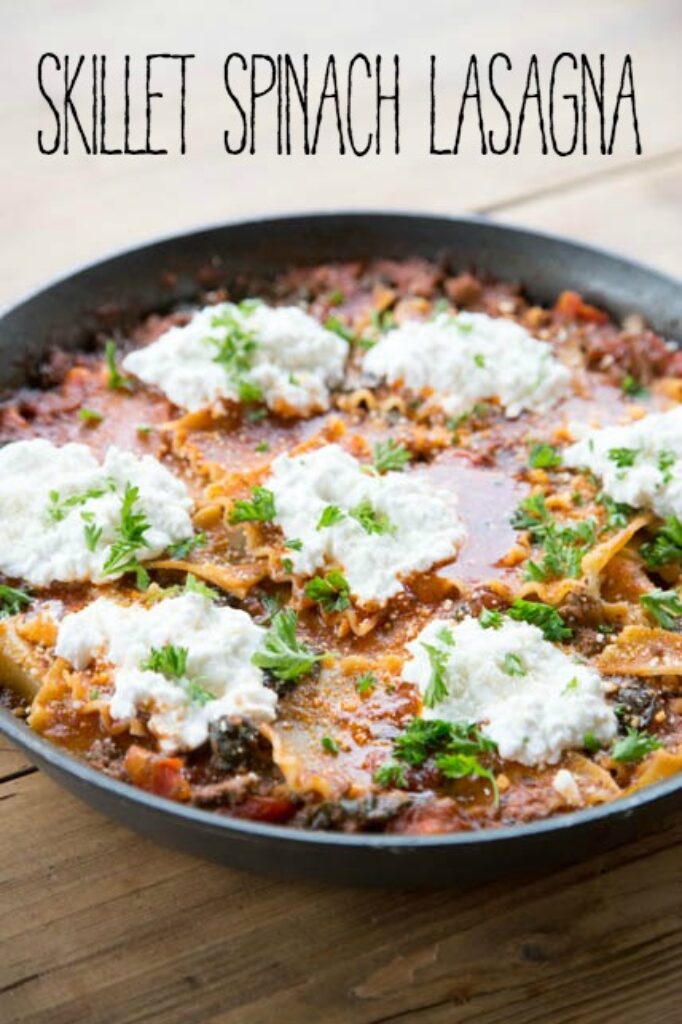 Disclosure: This post is sponsored by Amazon, however all thoughts and opinions are my own.
Disclaimer: As an Amazon Associate, I earn commissions on qualifying purchases. Reviews, opinions are my own.