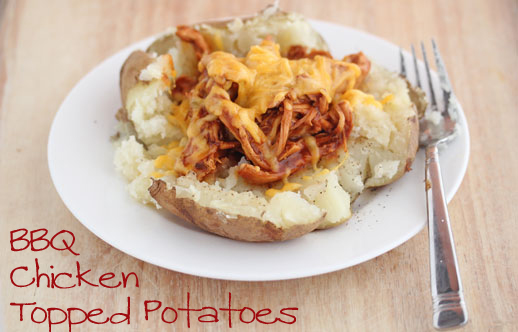 I highly recommend double or triple batching when you make BBQ chicken in the Dutch oven or slow cooker. I like to cook mine in the slow cooker or Dutch oven because I love the way the meat gets more tender as it slow cooks. I love the saucy-soupy BBQ sauce that melts into the chicken stock. And I love how freezer friendly the cooked BBQ shredded chicken ends up being…which makes meals like this one so simple as easy.
Drop the potatoes in the slow cooker and thaw the pre-cooked BBQ chicken and you've got an easy meal together in just a few minutes. (Also, be sure to check the ingredients in your BBQ sauce to ensure it's GF!)
Get the full recipe for BBQ Chicken Topped Potatoes here!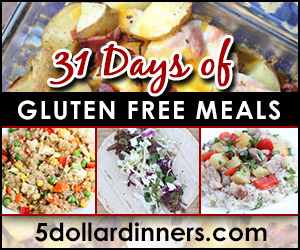 Welcome to our 31 Days of Gluten Free Meals here on $5 Dinners. May is Celiac Awareness Month, so we thought it appropriate to recycle our old favorite gluten free recipes (and post some new ones too!) Each morning for the next 31 days, we'll share meal ideas with you! If you aren't gluten free, PLEASE SHARE them (using those cute buttons below!) with those in your life who avoid or are allergic to gluten!
Be sure to share all the 31 Days of Gluten Free Meals with your friends and family!