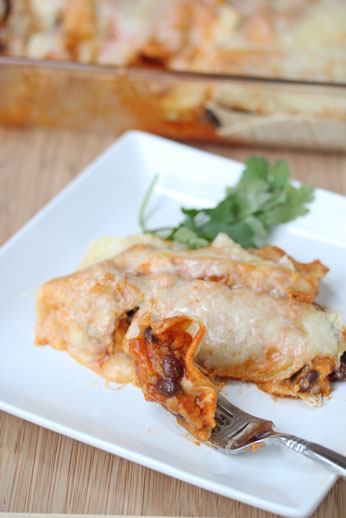 Yes, another enchilada recipe. (In case you missed it, here are the Chicken & Spinach Enchiladas.) Here's what I dig about enchilada recipes. They are so delicious and so easy to put together…but they do take a little bit of time with the rolling and snuggling of the enchiladas in the baking dish. For this reason, I like to make 2 pans at once…one to bake and one for the freezer.
When making freezer enchiladas, I recommend making them in a disposable foil baking dish (9×13 size), unless you have a plethora of 9×13-inch glass baking dishes on hand and can afford to have one in the freezer. I prepare the enchiladas as directed, all the way up to the point of baking. I let them cool down (if anything was cooked and heated in the assembly process) a little bit, then cover them with foil and slip them into the freezer. Then pull them out in the morning to thaw, when I know I'm going to have one of 'those' afternoons. I can bake them from partially frozen by adding a little bit of time and keeping them covered with the foil for part of the baking time.
Kaboom, I win at busy weeknights…and you can too, with these enchiladas!
Favorite Freezer Cooking Supplies:
Follow $5 Dinners' board 31 Days of Freezer Cooking Recipes on Pinterest.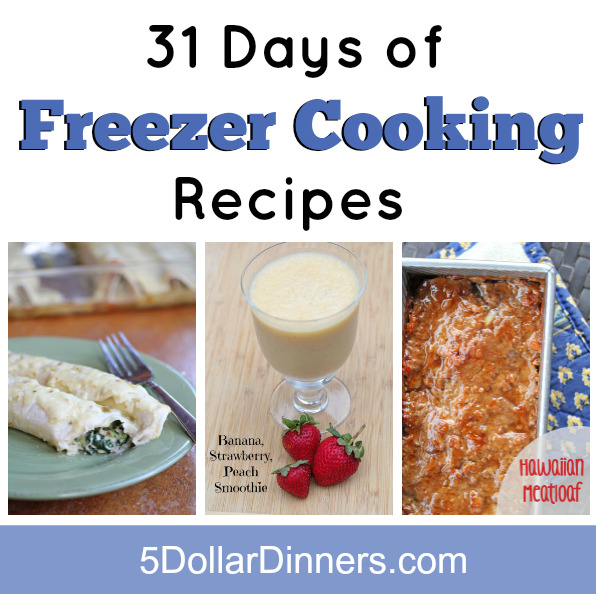 While I love being in the kitchen, I need to make my time spent cooking as efficient as possible…and how I accomplish that is with batch cooking, freezer cooking and keeping easy and quick meals or ingredients ready to go in the freezer. This month, I'll be sharing all my favorite freezer cooking recipes, tricks, hacks and how-tos.
Disclaimer: As an Amazon Associate, I earn commissions on qualifying purchases. Reviews, opinions are my own.