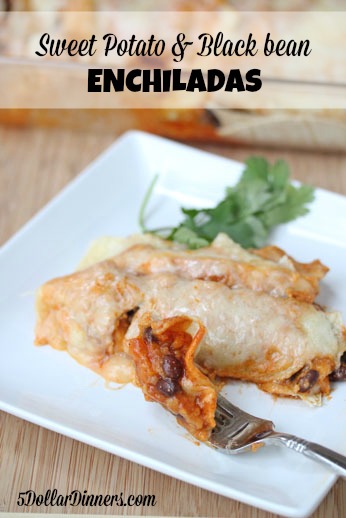 If you only read the title and you don't read one, you might be missing your new favorite enchilada recipe!
You know what you might be thinking… Erin, seriously…sweet potatoes in enchiladas.
I can see the look on your face. Because I saw it on my friend Christan's face when I was telling her about these scrumptious enchiladas. She stopped by to drop something off that we left at her house as we were finishing up dinner. So we got to chatting and I was giving her the run down on these 'ladas.
And I saw the look on her face. A mix between skepticism and intrigue. And I can see it on your face too.
But you're gonna have to trust me on this. They don't make them overly sweet. In fact, they take on the flavor of the sauce, giving it just a touch of sweetness that goes perfectly with the little kick in the sauce.
I did make 2 pans of these…1 with cheese and 1 without for the little people. They ate them up without a fuss.
Well, there was 1 fuss.
My oldest doesn't like things cooked together. He will eat and eat and eat, just about anything if it's all separated and not touching each other. Just his eating style and personal preference. So I ended up "separating out the beans and pulling out the sweet potato," and he ended up eating most of it. Sigh.
Do you have one of these eaters at your dinner table?
But again, you're just gonna have to trust me. Add this one of your list.
Ingredients
2

medium

sweet potatoes ($.79)

1 can black beans or 2 cups cooked black beans ($.68)

1/2

cup

salsa ($.35)

12 corn tortillas ($.60)

1 can red enchilada sauce, or 1 1/2 cups homemade enchilada sauce ($.99)

2

cups

shredded quesadilla cheese, Mexican blend cheese or Pepper Jack cheese ($1.50)

Side of veggies or fruit ($.50)
Instructions
Preheat oven to 350 F.

Steam bake the sweet potatoes for an hour. Let cool before peeling and cutting. Cut them into bite size chunks and add them to a mixing bowl.

To the sweet potatoes, add the drained and rinsed black beans and salsa. Gently combine.

Spoon the sweet potato mixture into the corn tortillas, roll and place seam side down in the baking dish. Repeat for all the tortillas. Pour the red enchilada sauce over the top and then add the shredded cheese over the sauce.

Bake at 350 F for 25 minutes, or until cheese has melted and sauce is bubbly.

Let cool slightly before serving.

Prepare veggie or fruit as side.

Serve Sweet Potato Black Bean Enchiladas with veggie or fruit.