Last week a bowl of fruit inadvertently ended up on my dinner table. It's been lurking around there ever since. I don't really have a "winter" centerpiece that I use. Christmas centerpiece has been put away and I just can't seem to get my spring stuff out yet!
So the bowl of fruit it will be!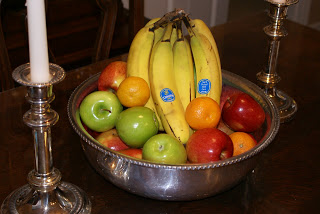 The cool thing…the kiddos are asking to eat it! They love fruit, but don't usually just ask for a piece. Now that it's visible and right there in the middle of where we live and eat, they can't seem to get enough! I, too, am amazed at how much more fruit I've been eating since having the bowl out. So it's here to stay!