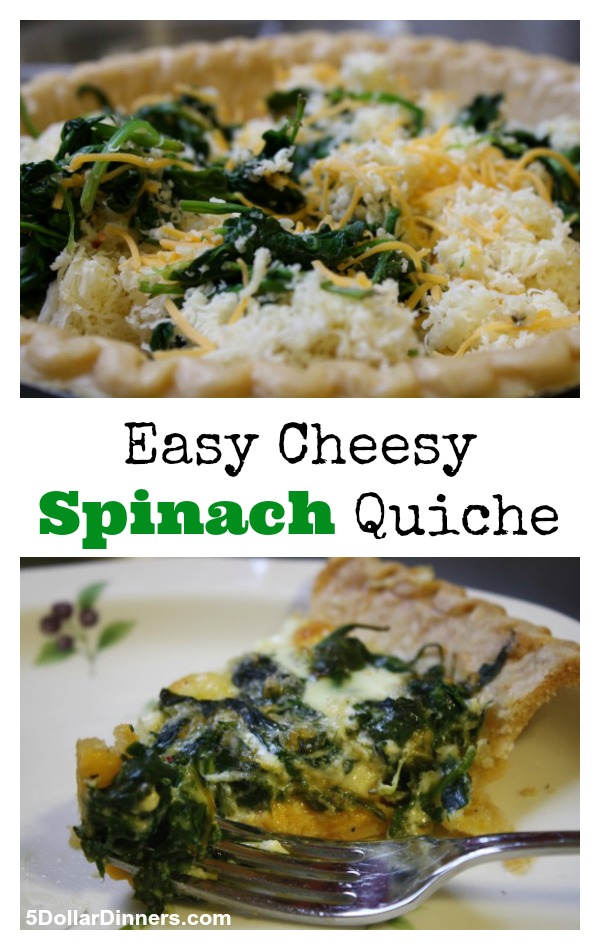 With plenty of opportunities for luncheons and brunches coming up, don't overlook the chance to make an easy quiche. It's also a simple and frugal, last-minute supper to pull together. Especially if you already have store-bought, frozen pie shells on hand.
The secret to its good taste is the pepper jack cheese. Plus, it's my grandmother's recipe, so you know it's extra special.
Cheesy Spinach Quiche

Adapted from Mama Ann's Quiche

Yield – 4 servings

Preparation Time – 5 minutes

Cooking Time – 50 minutes

Ingredients

Frozen pie shell (or make your own with Erin's recipe)
One (1) 10 oz. package frozen chopped spinach
8 oz. Monterrey Jack (1/2 Pepper Jack) Cheese (also tastes great with a mix of cheddar and mozzarella)
Two (2) eggs
1/2 cup milk
dash of salt and pepper
1 cup chopped ham, bacon or turkey bacon (still tastes great without this!)

Directions

Cook spinach according to package microwave directions. (Fresh spinach? Even better. Just use the Cook Fresh Vegetables setting on your microwave).
Drain and squash out all excess water from spinach.
Mix all ingredients together and pour into a pie shell.
Bake at 350 degrees for 40-45 minutes.

Freezer tip: Mix up the ingredients and freeze them in a freezer bag to pull out and pour into a frozen pie shell on one of those busy nights.

Batch cooking: Two of these feeds a crowd! Or, get some of those small, individual serving pie pans and make a stack of quiches.