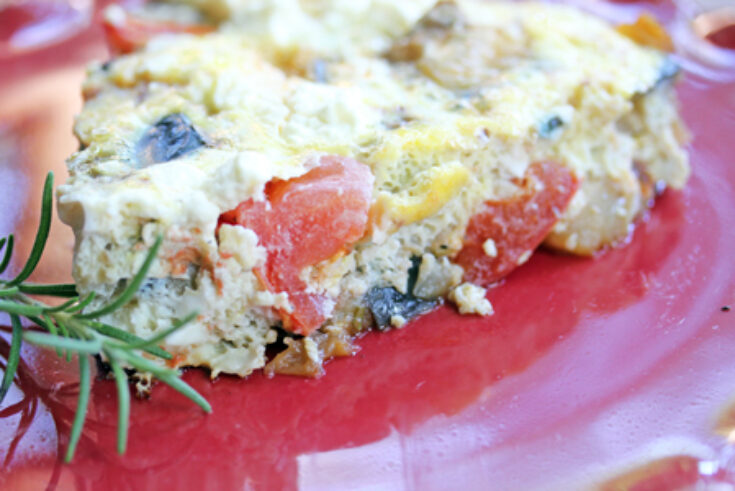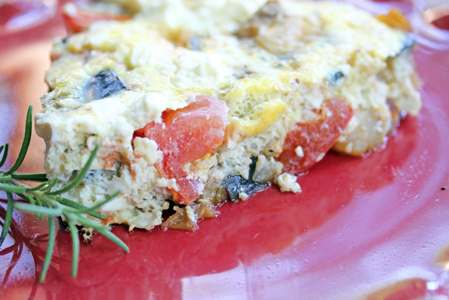 As we head into this holiday weekend, I thought I'd leave you with a simple breakfast for dinner recipe. Or it would be perfect for breakfast this weekend, as you hang out with family and friends!
This may in fact be the most flavorful frittata that I've ever made. This is not to put a damper on the other frittata recipes featured here or in my Breakfast and Lunch cookbook. It's to say that the flavors were full, rich and complimented each other beautifully.
The key to making this recipe work is the "salting" of the eggplant. If not salted and drained, the eggplant will have a very bitter undertone to it…and no one wants bitter in their frittata. (At least I don't.)
To do this, you simple cut the eggplant up into little bite size pieces, or smaller, and the place it all into a colander. Sprinkle some salt over it all and set the colander in the sink and let sit for at least 30 minutes. The salt draws out the bitter juices from the eggplant. Then rinse with cold water and the eggplant is ready for the recipe.
Now for the rich, rich Tomato Eggplant Frittata…
The flavors were full, rich and complimented each other beautifully.
Ingredients
1

medium

eggplant

chopped

salt

1

large

Roma tomato

seeded and diced

2

2 garlic cloves

crushed

1

sprig

rosemary leaves

chopped

12

eggs

1/2

cup

milk

Salt and pepper

3

oz.

crumbled feta cheese

Fresh fruit

side dish
Instructions
Chop the eggplant into bite size pieces, then place in a colander, sprinkle salt all over and let it sit in the sink and let the juices drain out. After 30 minutes, rinse and pat dry.

Preheat oven to 375.

In a large oven safe skillet or saute pan, add the diced eggplant and diced tomato, along with the crushed garlic and rosemary. Saute for 4 to 6 minutes over medium heat.

While the veggies are sauteing, whisk together the eggs and milk, salt and pepper.

Pour the egg mixture over the veggies, then sprinkle on the Feta cheese and let set on the warm burner for about 2 minutes. Then transfer to the preheated oven.

Bake in the oven for 20 to 25 minutes, or until eggs have cooked through in the middle. Let cool slightly before cutting and serving. Serve warm.

Serve Tomato Eggplant Frittata with favorite fresh fruit.