First, head on over to see what GFCF mom has to say about processed foods vs. homemade foods! This especially applies to young children, but we can ALL benefit from a whole and raw food diet. That is my goal: to serve delicious and wholesome meals for under $5!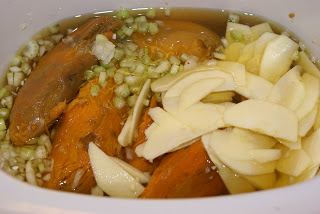 The perfect amount of sweetness in the perfect Fall soup!
Ingredients
2

lbs

sweet potatoes

1

stalk celery

1/2

onion, finely chopped

1

apple, peeled and thinly sliced

Salt and pepper, to taste

Pork Broth or water

Asparagus

Extra Virgin Olive Oil

Homemade Buns
Instructions
Roast sweet potatoes in baking dish with 1/4 water and covered with foil at 350F for an hour. Remove from oven, let cool and peel off skins. I did this last night while baking the oven fries.

Chop onion, celery and thinly slice apple. Place all into a slow cooker with sweet potatoes, pork broth and water. I used 4 cups of liquid. Cook on low 8-10 hours. When done, puree with immersion hand blender.

Before dinner, drizzle EVOO over asparagus, let soak for 30 minutes. Saute 3-5 minutes until turn bright green and are still slightly crisp. Serve with warm sweet potato soup and homemade bread machine rolls!