A lightened up, very refreshing summer spaghetti that is so scrumptious – both warm and chilled!
This summer spaghetti is just ridiculously delightful and I can't wait for you to make it.
It starts with cooking thin spaghetti noodles.
Then I want you to start making the tomato-basil "sauce" right away…as the cook time of the pasta and the tomatoes are about the same.
Add the olive oil to skillet, then the tomatoes, then the garlic and basil, then some pasta water, let it simmer for a bit. Once the pasta is ready, drain it and toss it with the tomatoes.
By then, they should be softer and ready to eat. Also, your home will have one of the best cooking smells ever: toasting garlic!!
Be sure and watch the short video below on how to make this summer spaghetti.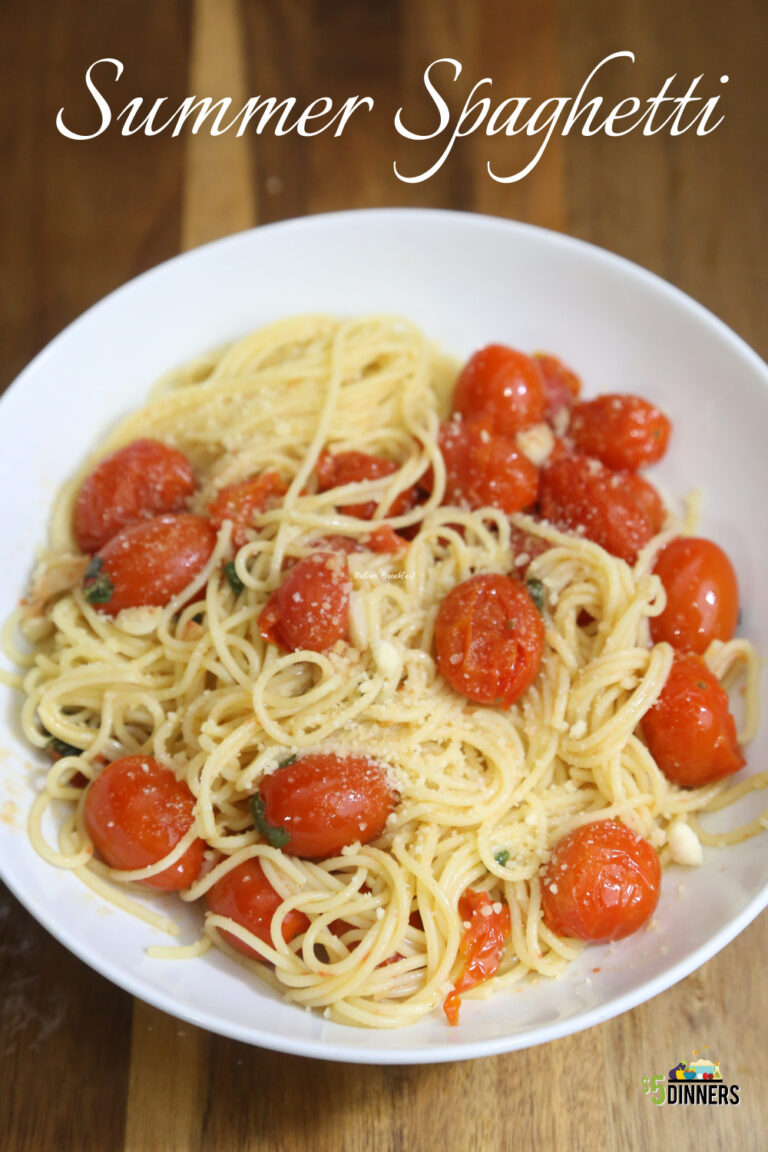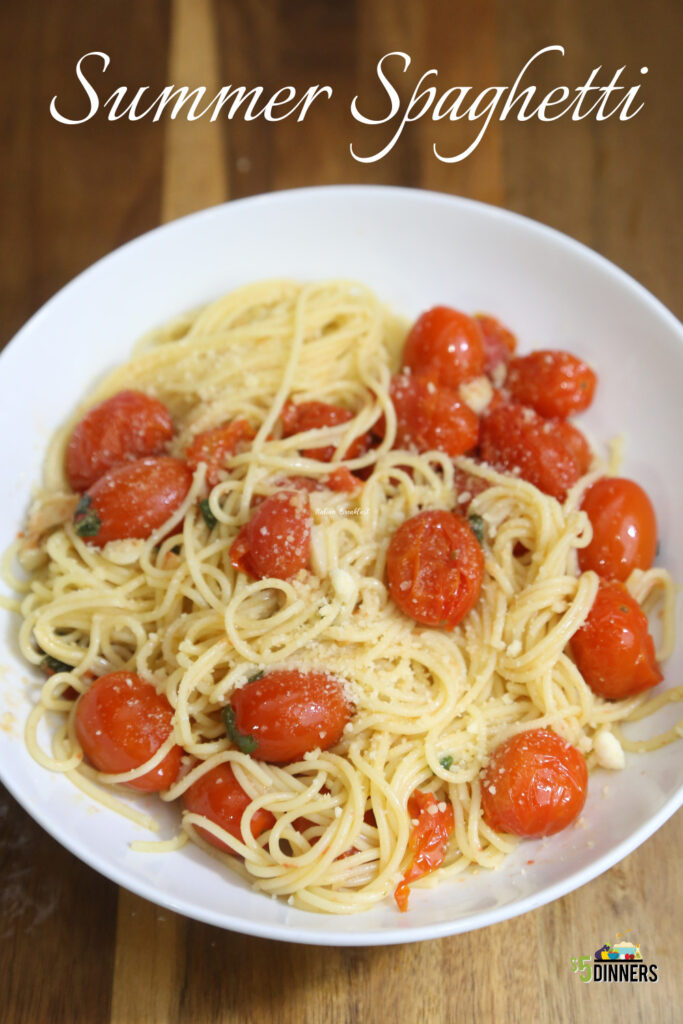 How to Cook Summer Spaghetti: Video
A lightened up, very refreshing Summer Spaghetti that is so scrumptious - both warm and chilled!
Ingredients
1

lb.

thin spaghetti noodles

or angel hair noodles

1/4

cup

olive oil

2

pints

cherry or grape tomatoes

5

large

basil leaves

5

large

garlic cloves

minced or crushed

salt and pepper to taste

grated or shredded Parmesan

garnish
Instructions
Bring water to boiling and cook thin spaghetti pasta as directed, or about 8 minutes. You will cook the sauce below while the water is heating up and the pasta cooks.

While the water is boiling, heat the olive oil in a large skillet. Add the 2 pints of fresh grape or cherry tomatoes and saute over medium high heat for 4 to 6 minutes. Toss every other minute.

While the tomatoes are sauting, chiffonade the basil & mince or crush the garlic. After the tomatoes have been sauting for a few minutes, add the minced garlic and basil and reduce the heat to medium low. You don't want to over cook the garlic. Toss once or twice and saute the tomatoes, garlic and basil for about 2 minutes.

At this time, use a measuring cup or soup ladle and ladle out about 1 cup of the liquid that the pasta is cooking in. You need to do this before the pasta is drained. If you need to drain the pasta before the tomatoes are ready for the pasta liquid, you'll need to reserve 1 cup of the cooking liquif when you drain it. It's much easier to ladle it out of the pot before draining. 🙂

Add the pasta water to the tomatoes and let the light water incorporate with the tomatoes and oil. Let simmer on low.

Once the pasta is ready, drain it well and toss it with the tomatoes and sauce. Scoop into serving bowls and garnish with grated or shredded Parmesan cheese.

Serve Summer Spaghetti - warm or chilled - with your favorite veggies or side salad.