Do you ever end up with just a couple handfuls of spaghetti noodles?! And you don't know what to do with them?!
Several weeks ago the boys had MRIs. It happens every year. This year, they asked if I thought Ryan could do the MRI without sedation. He would have the chance to watch a movie through the "magic googles" and would get to wear heavy headphones to both hear the movie and block out the noise of the MRI.
He agreed that he'd give it a try. So I went with him into the MRI room, got him all set up with his magic goggles and headphones. Then the tech said to me, "Feel free to have a seat or stand here and watch."
Huh?
"You mean I can stay in here."
"Sure. Here are some earplugs."
"OK thanks…I guess I'll stand here with him." (Even though he couldn't see, feel or hear me.)
So I stood there next to the table, at Ryan's feet for about 20 minutes, just watching him do his best to keep still. Then I got tired of standing there. I knew the MRI would last at least another 25-30 minutes, so I went over to some chairs near the table. And next to the chair were some magazines.
I figured out quickly that I needed to distract myself and picked up a few to look through. And one of them had a recipe for Spaghetti Frittata.
Seriously?! Does that really work?!, I thought.
I'm here to testify today that it indeed works!
I didn't write down the recipe. And I can't remember which magazine it was. I blame the hammering sounds from the MRI machine for killing my short term memory that day.
So here's my best attempt…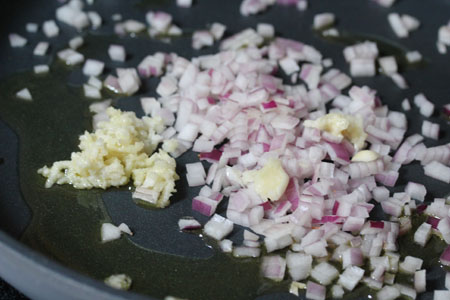 Saute some garlic and chopped red onions in some liquid gold.
That'd be olive oil.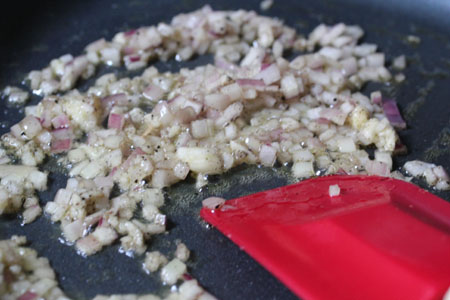 Sweat them out. With a little salt and pepper.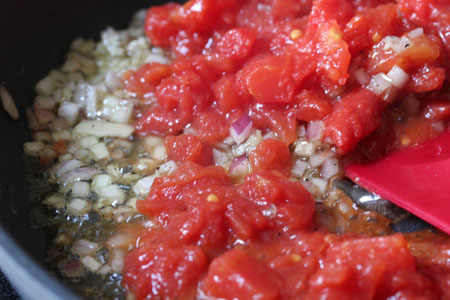 Add the "as best as you can drain them, drain them" diced tomatoes.
When you drain them, drain them over the leftover noodles.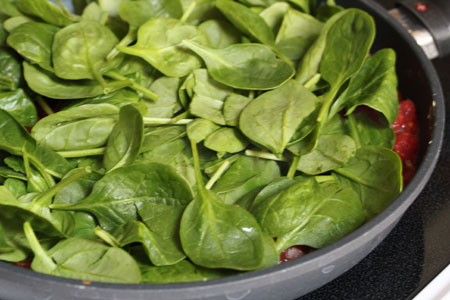 Top with a couple handfuls of fresh spinach.
A 10 oz. box of frozen spinach will work too. Cooked and drained.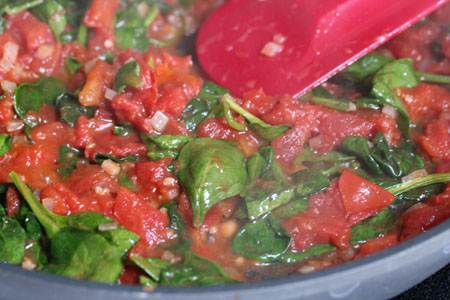 Let the spinach melt.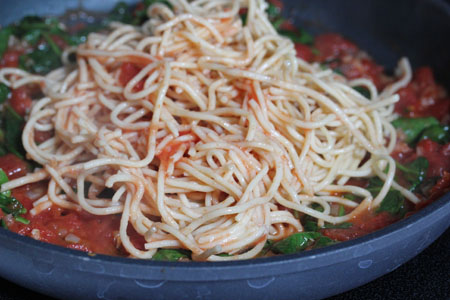 Add some leftover noodles. I didn't measure…couple pasta server-fulls.
Or that much.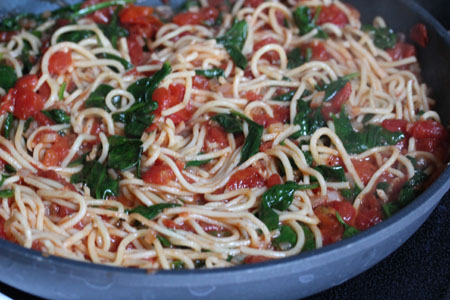 Stir it all in.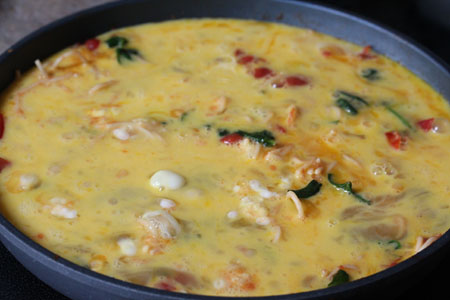 Mix up the egg mixture.
Pour over the top of the noodles, spinach and tomatoes.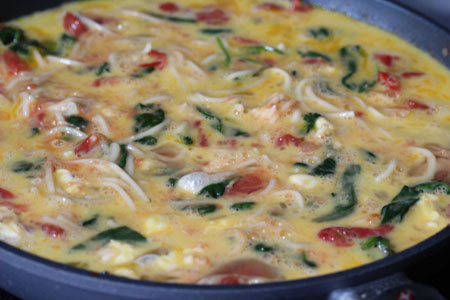 Let cook for a few minutes, or until the eggs along the edge of the skillet begin to set.
Bake at 350 for 15-20 minutes, or until eggs have cooked through in the middle.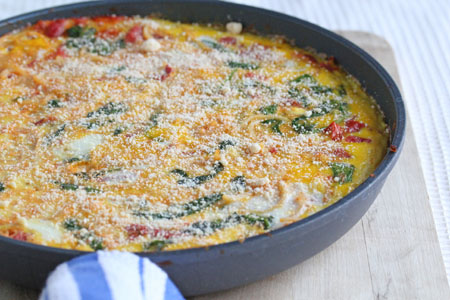 Sprinkle with Parmesan cheese.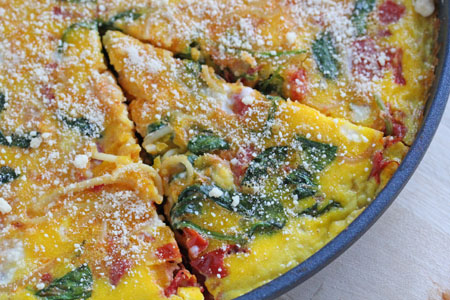 Slice.
Serve.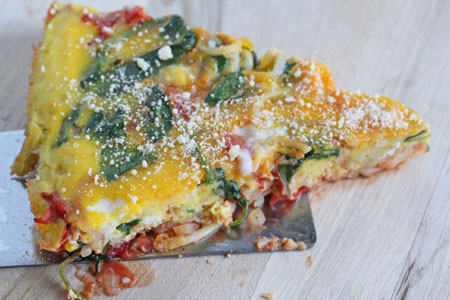 With some fresh fruit and/or bread.
I plan to make this again this summer…using fresh basil and rosemary from the garden!
Then it will be bursting with flavor!
I wasn't sure about this concept, but I'm hear to say that it just works - enjoy!
Ingredients
1

Tbsp

olive oil

1

small

red onion

chopped

2

2 garlic cloves

crushed

15

oz

can diced tomatoes

well drained

2

cups

fresh spinach leaves

1 - 1 1/2

cups

leftover spaghetti noodles

8

large

eggs

1/4

cup

milk

Salt and pepper

to taste

Parmesan, for topping ($.10)

garnish

fresh fruit

side dish
Instructions
Preheat oven to 350.

Add the olive oil to a 10 or 12" ovenproof skillet. Saute the red onion and garlic cloves for 2-3 minutes. Season with a little salt and pepper. (If using fresh chopped herbs, add those here.) Add the diced tomatoes, and spinach. Cook until the spinach melts into the sauce.

Add the leftover spaghetti noodles and combine.

In a mixing bowl, whisk together the eggs, milk and some salt and pepper.

Pour the egg mixture over top of the spaghetti noodles and sauce. Cook on the stovetop for about 3-5 more minutes, or until the eggs on the edge begin to set.

Place in the oven and bake at 350 for 15-20 minutes, or until the eggs have set in the middle. Sprinkle with Parmesan cheese just before slicing.

Slice and serve warm with fresh fruit and/or bread.