This recipe is featured in the 21 Freezer Cooking Recipes from Costco Meal Plan #5.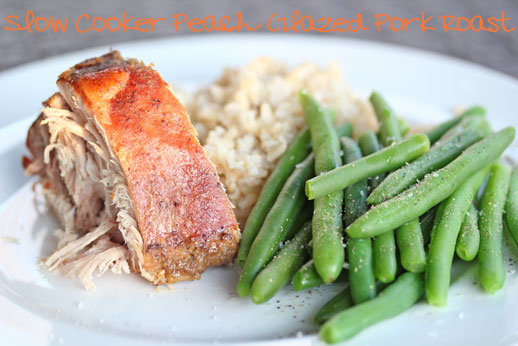 So I happened upon some $1.49/lb pork roast recently. I bought 2 roasts last month…one to use that week I bought them and another for the freezer. I got to talking to the butcher at the store while she was weighing and packaging up the roasts. I told her that I was surprised at the price, as I hadn't seen that great of a price in a long while. She, too, was surprised when she saw it come across her desk…and again when the sale went live. She told me that this price was the "at cost" price…and then I said that I was certainly glad to take some of these roasts off her hands "at cost." 🙂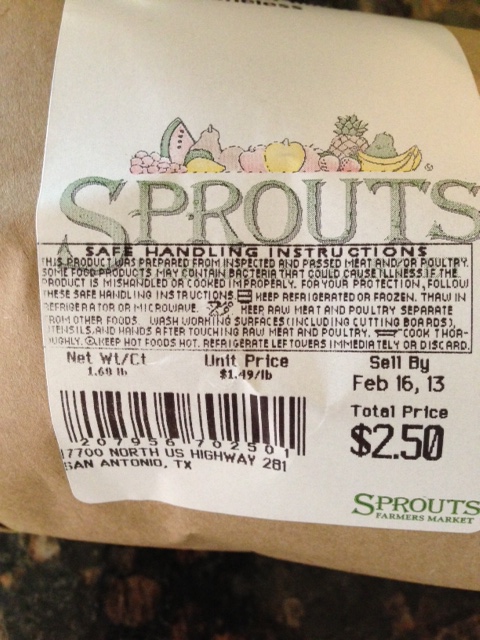 I decided to do a peach glaze on the pork roast…as I still had some peach preserves in my fridge from the Ginger-Peach Glazed Tilapia. I served it with some frozen green beans and brown rice. Here's the recipe for ya…hope you enjoy it!
Ingredients
1.68

lb.

pork shoulder roast ($2.50)

About 1/2 tsp minced onion ($.05)

Salt and pepper

1/2

cup

peach preserves ($1.30)

1 tsp ground ginger ($.05)

1 1/2 cups brown rice, cooked ($.40)

16 oz. frozen green beans, or other veggie ($1)
Instructions
Place the roast in the base of the slow cooker, season with minced onion, salt and pepper. Add about 1/2 cup of water around the roast. (I do this to make the atmosphere inside the slow cooker nice and moist while the pork cooks.)

In a small bowl, whisk together the peach preserves and ginger. Spread over top of the pork roast.

Set the slow cooker on low and cook for 8 hours.

Prepare the brown rice and green beans as directed.

Serve Slow Cooker Peach Glazed Pork Roast with brown rice and green beans, or other favorite sides.
This recipe is featured on SouthernPlate.com's Meal Plan Monday #22.