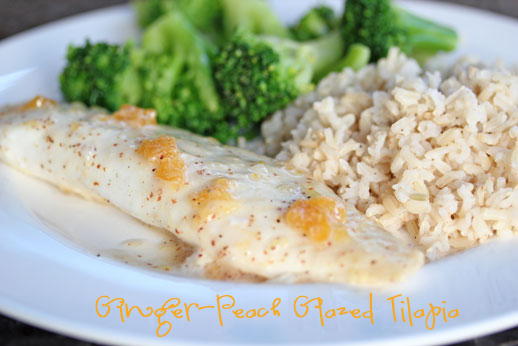 {Repin it!}
So I found some tilapia fillets on super sale a while back. Made this tilapia. And then made this tilapia (recipe below). And now I wish I'd bought more packages for the freezer. oh. well.
Our boys love fish…tilapia, salmon, fish sticks, fried fish from Luby's. (Luby's is a cafeteria style restaurant in San Antonio…and we all love their fried fish…it's a treat to eat there, and when we do we always take a coupon for the paper or a coupon mailer!)Â Anywho…I decided to sweeten up the last package of the tilapia that I got on special, and serve it alongside some other inexpensive ingredients…like rice and frozen broccoli.
The glaze is made up of a few ingredients that I already had in the freezer…and would be easily adaptable to other flavors. You could use apricot preserves instead, or regular or honey mustard instead of Dijon. I'll share how I made the glaze and you can adapt according to what you have on hand!
Never Pay More than Prices: $1 for 1 lb. frozen veggies, $3/lb frozen fish fillets.
You're going to LOVE the flavors in this dish!
Ingredients
1 1/2

cups

brown rice

6

tilapia fillets, about 1.5 lbs.

1/4

cup

peach preserves

2

Tbsp

Dijon mustard

1

tsp

ground ginger

1

package frozen broccoli

Salt and pepper, if desired
Instructions
Cook rice as directed. Note that brown rice takes 45-60 minutes to cook.

Preheat oven to 375. Lightly spray a glass baking dish with cooking spray.

Place the tilapia into the glass baking dish.

In a small mixing bowl, use a fork to whisk together the peach preserves, dijon mustard, and ginger. Brush it over each of the fillets. Bake in the preheated oven for 10 minutes, or until fish is cooked through, white and flaky.

Prepare the veggies.

Serve Ginger-Peach Glazed Tilapia with side of rice and veggies.