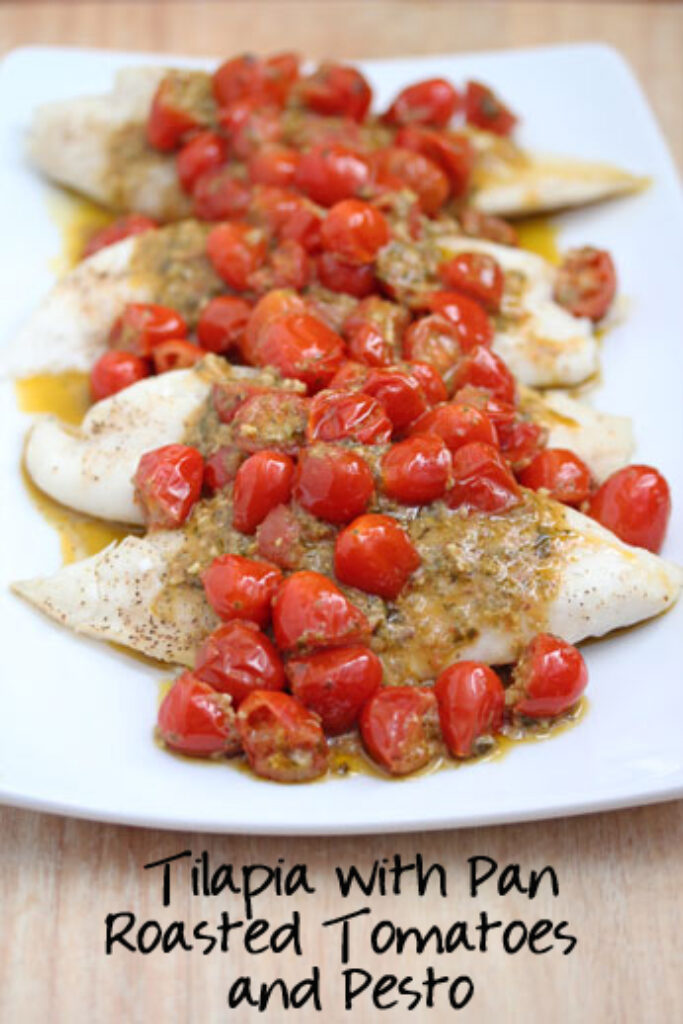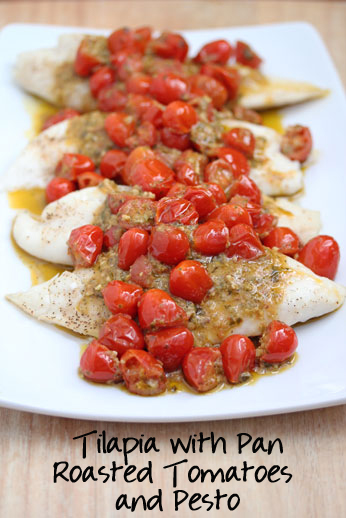 If you want dinner on the table in less than 10 minutes…this recipe is for you!
While the tilapia is baking, the sauce is roasting in the pan…put it all together 10 minutes later…and boom.
Ka-boom.
Served with a side of bread and some veggies…supper in minutes, y'all.
This recipe looks super fancy, but it's so easy to prepare!
Ingredients
4

tilapia filets

Salt and pepper

1

Tbsp

olive oil

1

pint

cherry or grape tomatoes, halved

2-3

Tbsp

store bought or homemade pesto sauce

Side dish - bread, brown rice, quinoa and veggies
Instructions
Preheat oven to 375. Lightly grease a glass baking dish, large enough for all the filets. (I used a 9x13.)

Place the tilapia in a baking dish and season with salt and pepper. Bake in the preheated oven for 10 minutes, or until the fish is white and flaky all the way through. Cooking time may vary, depending on thickness of the filet.

Once you put the fish in the oven, whip up the sauce. Add the olive oil to a medium sized skillet over medium-high heat. Add the halved tomatoes and pesto sauce. Let the tomatoes sweat out and start to roast in the pan. Once the skin starts to get a little "shrivel-y," remove from heat.

Plate each fish filet and pour the sauce over each serving.

Serve Tilapia with Pan Roasted Tomato and Pesto Sauce, along with a side of bread, rice or other veggies.
Yes…seafood is generally more expensive to cook with…but you can still make a delicious and low cost meal with it…even if it is a little more than $5. By pairing expensive ingredients, like seafood, with other inexpensive ingredients like rice or bread, and seasonal veggies…you've got a great, well balanced and "fancy" meal for not too much outta the pocketbook. (Also, my "never pay more than" price for seafood (either frozen or from the case) is $3/lb. You'd be surprised how often it's on "unadvertised sale.")
Also, here are a few other ways to use homemade pesto sauce!