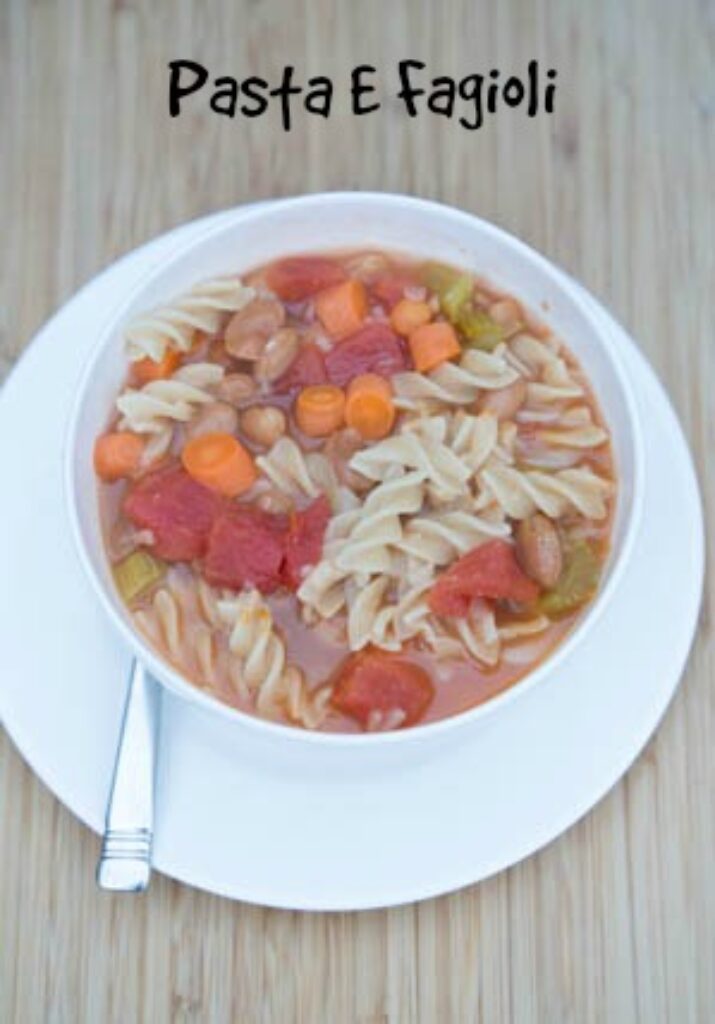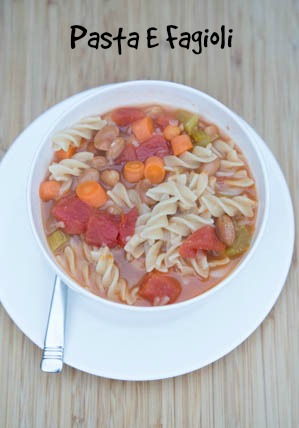 This recipe is part of our 6th Costco Meal Plan: 20 Slow Cooker Freezer Packs from Costco for $150!
Pasta E Fagioli. Or "Pasta and Beans" in Italiano.
This is a delicious and simple twist on the classic Italian soup.
PLEASE…pay close attention to the directions on when to add the pasta into the slow cooker. It's not when you think it is! 🙂
Couple notes about this recipe:
Broth – I wrote in 2-3 cups of broth for this, but you'll need to make depending on how soupy you want it and how much steam your slow cooker releases. I make closer to the 2 cup range because my boys prefer to eat this 'chunky' as opposed to soupy. And my slow cooker doesn't let too much steam out. Feel free to adjust to your preferences and liking.
Box vs. Bouillon – it's much cheaper to go the bouillon route and super simple to add to recipes like this one. If you prefer the box, that works too! See note in the directions about whether or not to add the broth to the freezer bag.
Gluten Free Modification: Use GF pasta in place of the regular wheat pasta.
Whole 30 or Paleo Modifications: Omit the white beans and pasta. Add ground beef or shredded chicken. (This becomes more of a Beef & Veggie Soup!) Serve with some fresh fruit or oven roasted green beans.
Vegetarian Modification: Make with vegetable broth in place of the chicken broth.
Note: I've written the recipe below to be based on the shopping list for the 6th plan in the 20 Meals from Costco for $150 series.
This is a delicious and simple twist on the classic Italian soup - made in the slow cooker and super simple to get made on a busy weeknight.
Ingredients
1

onion

chopped

1

celery stalks

chopped

2

cups

baby carrots

chopped

15

oz.

can diced tomatoes

undrained

15

oz.

can Cannellini beans or other white beans

drained and rinsed

2-3

cups

chicken broth

2

tsp

basil

1

tsp

garlic powder

Salt and pepper to taste

3

cups

small shell pasta
Instructions
Add all the ingredients to the slow cooker except the pasta.

Set slow cooker on low and cook for 8 hours, or high for 6 hours. If cooking from partially frozen, you'll need to cook on low for 8 to 10 hours, depending on how frozen the pack is when you start cooking it.

When there is 30 minutesleft in the cooking cycle, add the pasta plus 1 cup of hot water (regardless of how much chicken broth you added). You might need to add a little more liquid than the 1 cup, depending on how much liquid is already in there. The pasta will soak up about 2 cups of liquid.

To pack into gallon size freezer baggie: Labeland add all ingredients except the pasta.If you wish to leave the broth out, then freeze without the broth and make a note on the bag that you need to add the broth.Do not add pasta to the freezer baggies. Be sure to make a note on the bag to add it before the end of the cooking cycle.Remove as much air as you can and seal. Freeze up to 6 months in your fridge freezer or 12 months in a deep freezer.

Tothaw, place the bags in the fridge overnight. Or quick thaw in a bowl of warm water.