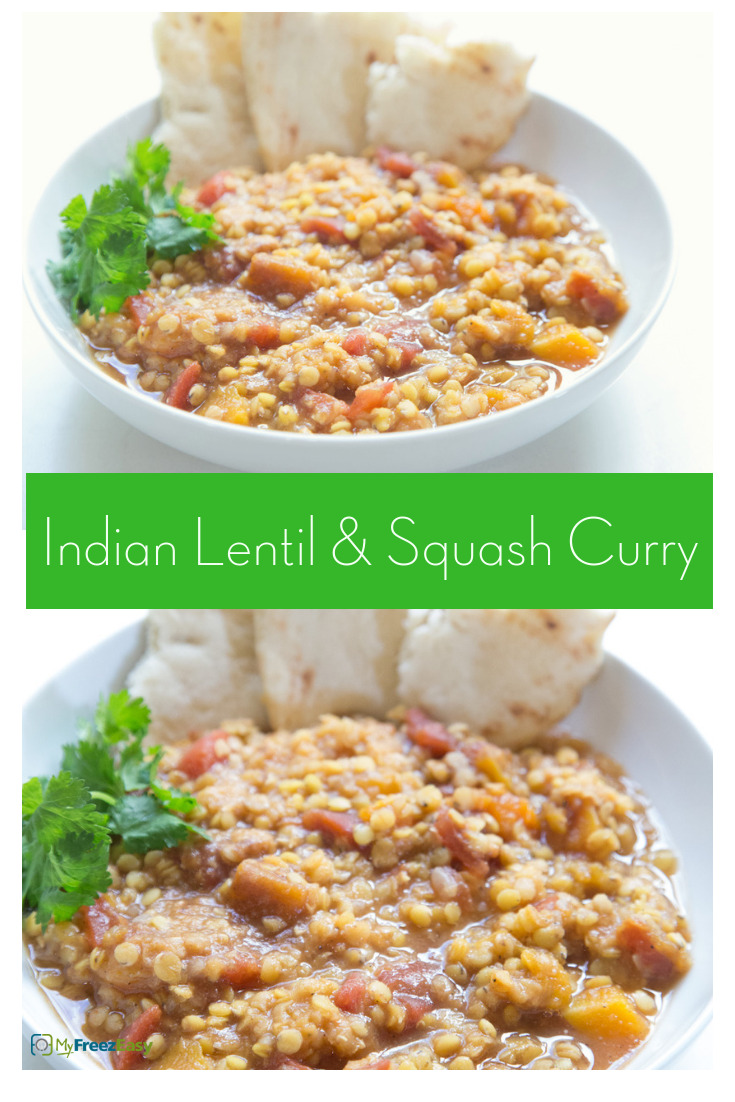 I spent several years overseas and fell in love with cooking different meals from other cultures and cuisines. It's remarkable how different combos of spices, herbs and simple ingredients can make for such a phenomenal meal.
This Indian-inspired dish with lentils, butternut squash and a tomato based curry sauce is to-die-for.
We served it with flatbread, almost using the bread as a scoop or a spoon.
My boys are fairly adventurous eaters and I firmly believe it's because I've exposed them to a variety of tastes, flavors and spices. This isn't SPICY in the hot-make-your-tongue-burn sense, but it is spicy in the flavorful sense. They really enjoyed this one too! (Except for one who picked out the diced tomatoes – but he ate the rest! lol)
Hope you enjoy this one!
Ingredients
10 oz. frozen butternut squash cubes

1

small

yellow onion

2 tsp minced garlic

1

Tbsp

ground cumin

1

Tbsp

garam masala

2 tsp ground ginger

1/4 tsp cinnamon

1/4 tsp cayenne pepper

1 tsp salt

15 oz. can diced tomatoes

8 oz. can tomato sauce

5

cups

water

2

cups

red lentils

1 bay leaf

Garnish: chopped cilantro

Garnish: lime wedges

Side: naan bread
Instructions
Dice the onion.

Peel and chop the carrots. Chop the celery.

Open the diced tomatoes.

Place the cubed butternut squash, diced onion, and minced garlic into the base of the slow cooker. Gently toss with spatula.

In a small bowl, mix together the ground cumin, garam masala, ground ginger, cinnamon, cayenne pepper, and salt. Sprinkle over the butternut squash. Then pour the diced tomatoes and tomato sauce over the top. Finally, carefully pour water into the slow cooker insert, and then gently stir in the lentils. Finally, add the bay leaf.

Set the slow cooker on low and cook for 8 hours. Remove the bay leaf, before serving.

Garnish with lime and cilantro.

Serve Slow Cooker Indian Butternut Squash and Lentils over flatbread.