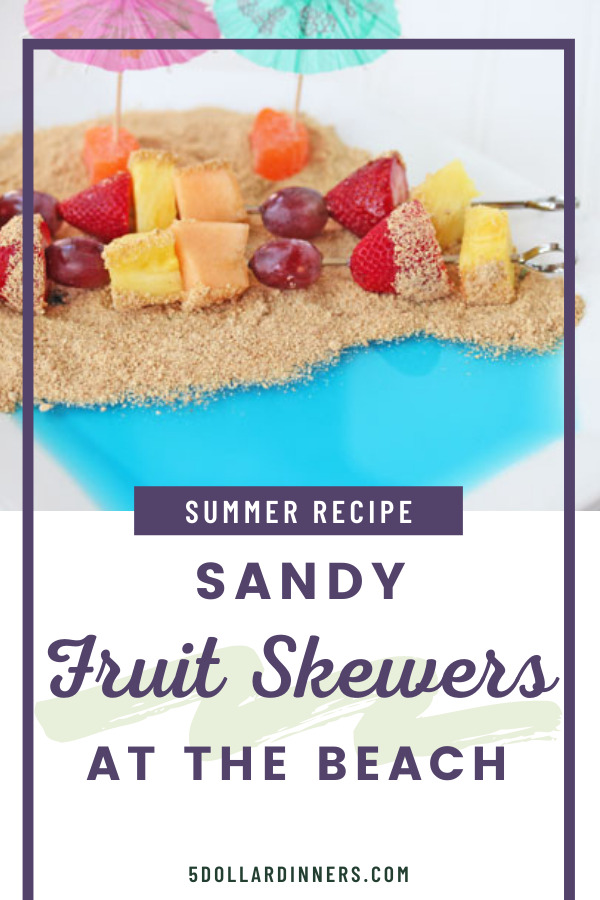 THE MOST FUN SUMMER SNACK THERE EVER WAS…
Sandy Beach Fruit Kebabs!
First, make a shallow "ocean" with blue jello on a shallow platter.
Second, put graham crackers into the blender or food processor to make "sand."
Then, make the fruit kebabs.
Once the jello has set, sprinkle the sand on top to create the "oceanfront."
Finally, roll the kebabs in the "sand" to get them a little extra crunch and sweetness.
If you want to add cut umbrellas, you can stick them into a piece of fruit or a gummy. (I used an orange slice gummy in the photo.)
ENJOY!!!
Ingredients
1

box blue jello

1

cup

crushed graham crackers

bite sized fruit: strawberries/grapes/pineapple/blackberry/banana slice/etc.

kebab sticks

2

tiny umbrellas

2

orange slices

(or something else to stick the umbrellas in)
Instructions
Mix up the blue jello as directed on the package.

Pour blue jello into a shallow serving platter.

Refrigerate jello in dish as directed, for the jello to set.

Spread the graham cracker "sand" onto the set blue jello.

Make fruit kebabs with bite size pieces of fruit.

Roll fruit in the "sand" a bit to coat.

Stick one umbrella into each orange slice.