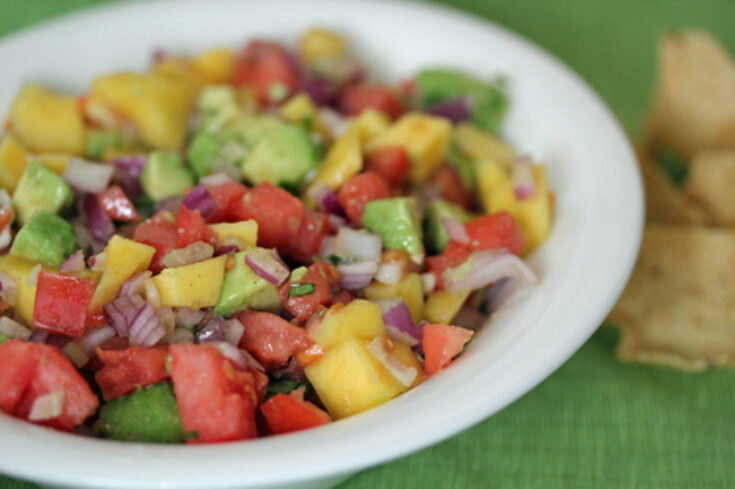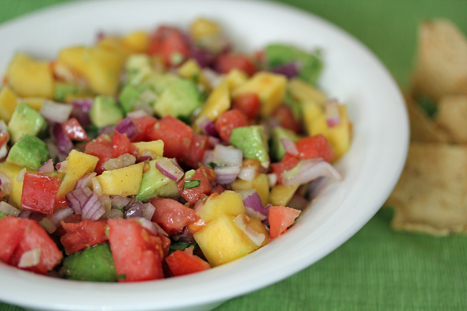 When I was in Texas over the holidays, I went rummaging through my mom's refrigerator trying to come up with a fun appetizer for a family dinner we were having. I found a mango that I was going to use in a fruit salad, but when I cut into it and discovered it was tangy and not-so-sweet, I decided we needed to add more bold flavors, to help hide the tangy mango! I ended up making for this Mango Avocado Salsa. And while it probably would have been lovely with just the fresh ingredients, I decided it needed a sweet lime vinaigrette to accompany it!
Mangos are such a delicious treat, especially when you choose juicy ripe ones. When choosing a mango, you want to look for one that is mostly red skin, with a little green towards the top. You want to be able to press your thumb gently into the side. If you don't pick out the right mango from the store, you could be in for a tangy surprise.
Every so often the "it looks perfect on the outside†mango is just not ripe enough and sweet enough to eat off the seed. So when you cut inside and find a pale yellow flesh (as opposed to the brighter orange-peach color of a ripe mango), it's time to make this delicious salsa! (Learn more on how to choose and cut a mango).
This salsa does better with the tangier, less ripe mangoes, although it is delicious with a sweet ripe one, too! This is the perfect combination of flavors, colors and textures. And it's the perfect balance of sweet, spicy and tangy.
(And it reminds me of Mardi Gras—colorful, fun, bursting with flavor!)
Ingredients
1 mango, peeled, seeded and diced

1 avocado, seeded and diced

1 tomato, seeded and diced

cup chopped red onion

2 sprigs of cilantro leaves, chopped

2 tablespoons canola or vegetable oil

2 tablespoons lime juice

1 teaspoon sugar

Couple dashes of ground cinnamon and ground cumin
Instructions
In a mixing bowl, combine the diced mango, diced avocado, diced tomato and chopped red onions. Toss together and then mix in the chopped cilantro leaves.

In a sealable container, add the oil, lime juice, sugar and a couple dashes of cinnamon and cumin. Shake, shake, shake!

Pour the vinaigrette over the top of the mango mixture and toss lightly.

Serve with tortilla chips as a side dish or appetizer. Or spoon over baked salmon and baked chicken for an entree.
Would you try this mango avocado salsa as an appetizer, or over salmon or chicken?
Perfect balance of colors, flavors and tastes!
Recipe originally posted on SCJohnson.com.