This is the first recipe in our 2017 Thanksgiving recipes series…and what better thing to start with than TURKEY and INSTANT POT. 🙂
This recipe is for TURKEY BREAST.
I'm putting that in all caps because I do NOT want you emailing me on Thanksgiving morning because your 22 lb. Tom will not fit in your Instant Pot.
🙂 🙂 🙂 🙂 🙂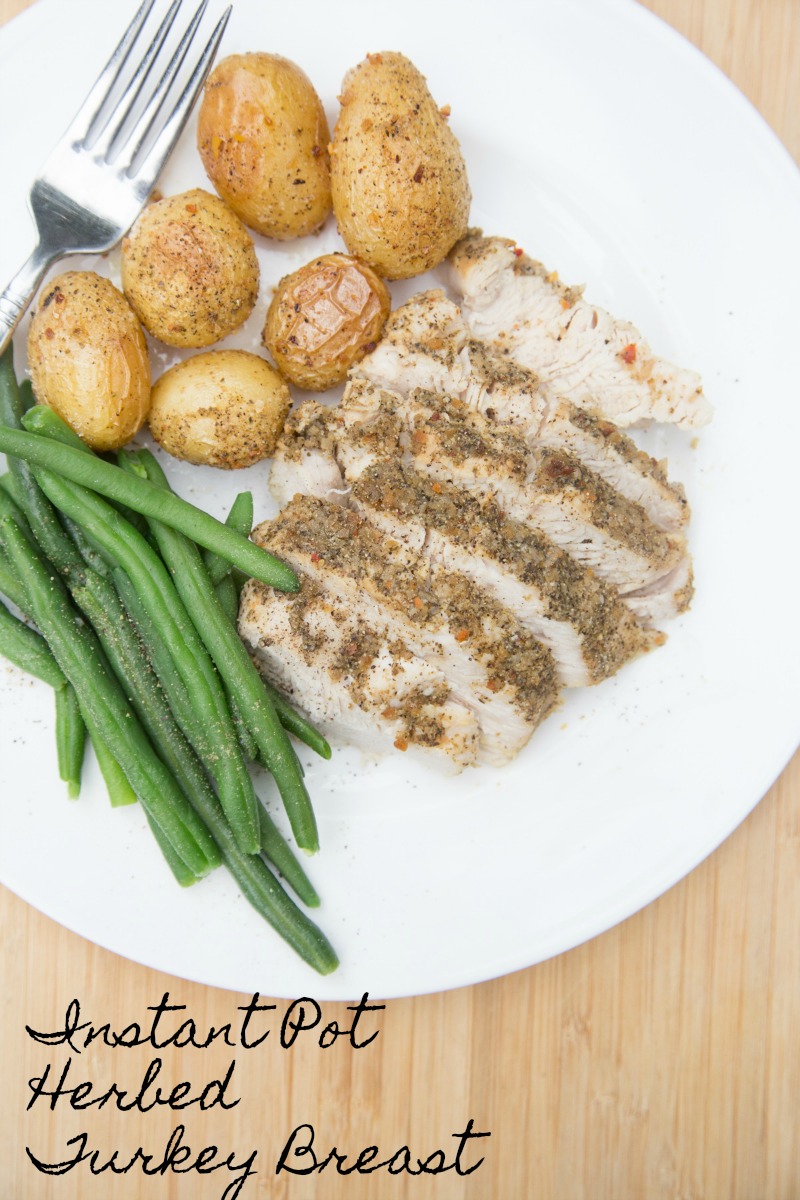 This is for a smaller turkey breast package.
And it's lovely.
I actually liked it. (I've been known to share in the past that I don't like turkey. Well, I kinda like it. And now, I really like the kind made in the Instant Pot.)
Your turkey breast will be packaged up in a few pieces. And I've got the step by step for you below…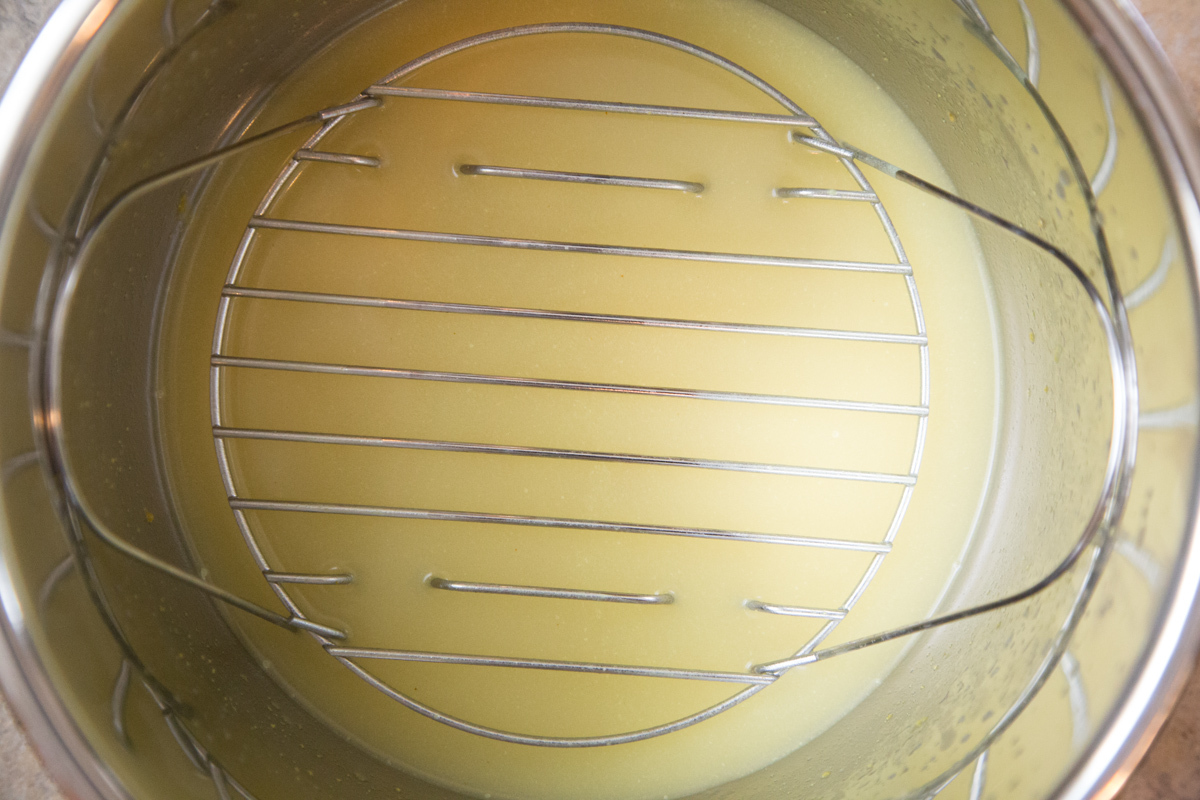 Add chicken stock in the base, then place the rack or another steam rack in.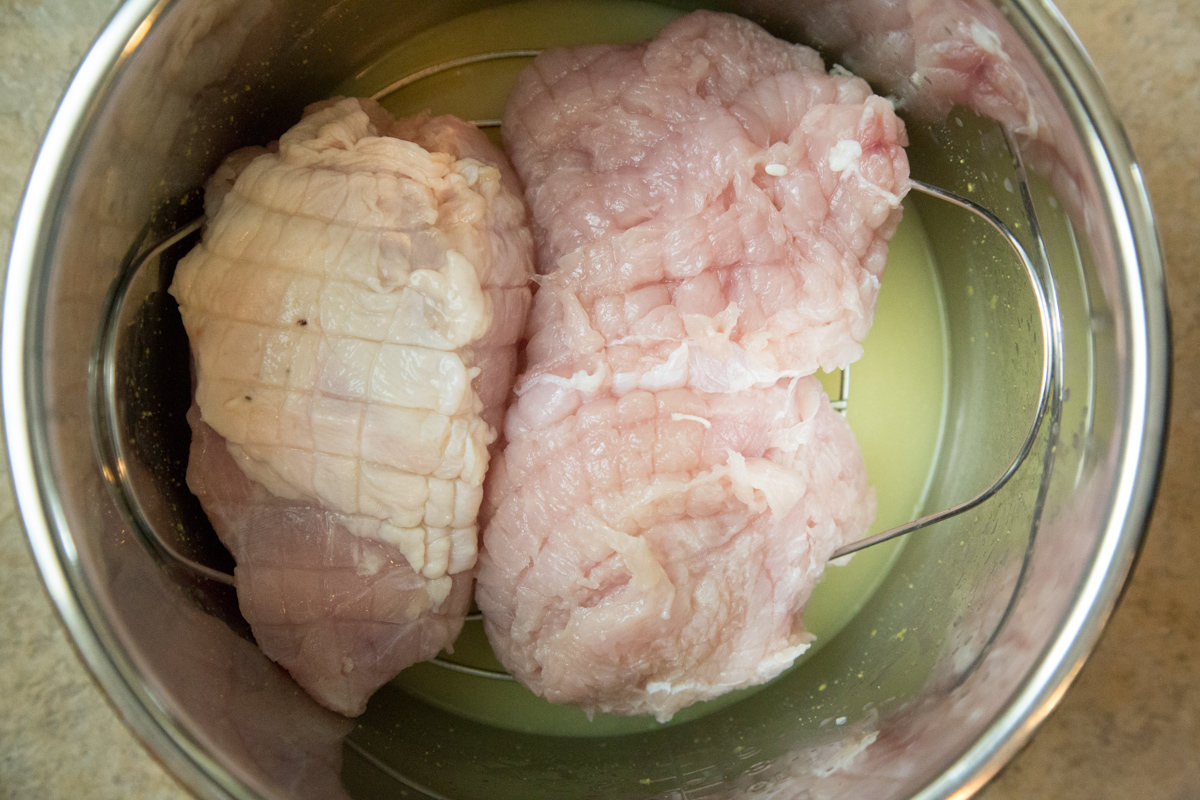 Nestle the turkey breast pieces onto the rack…skin side up (if there is skin).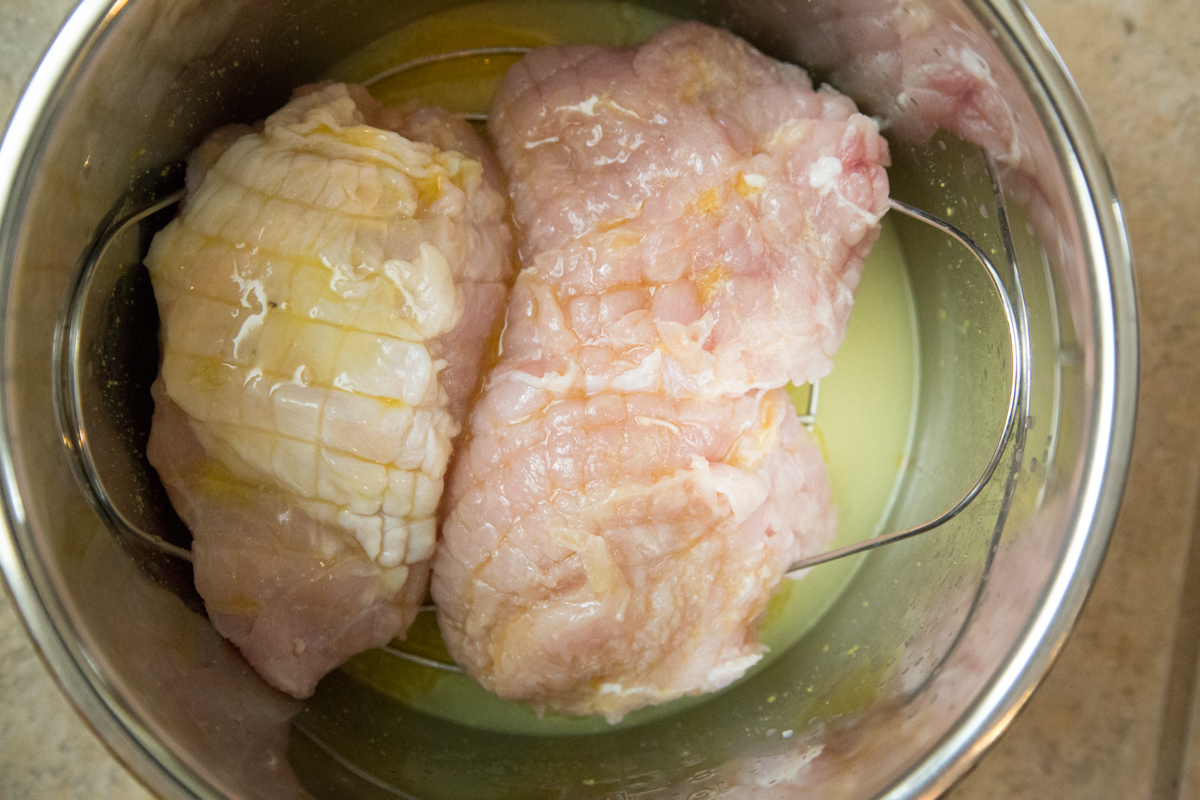 BUTTER.
Because. Butter.
Be generous.
Herb seasoning blend.
Whichever you prefer.
Lots of it.
Coat it on.
Close the lid and pressure cook as directed.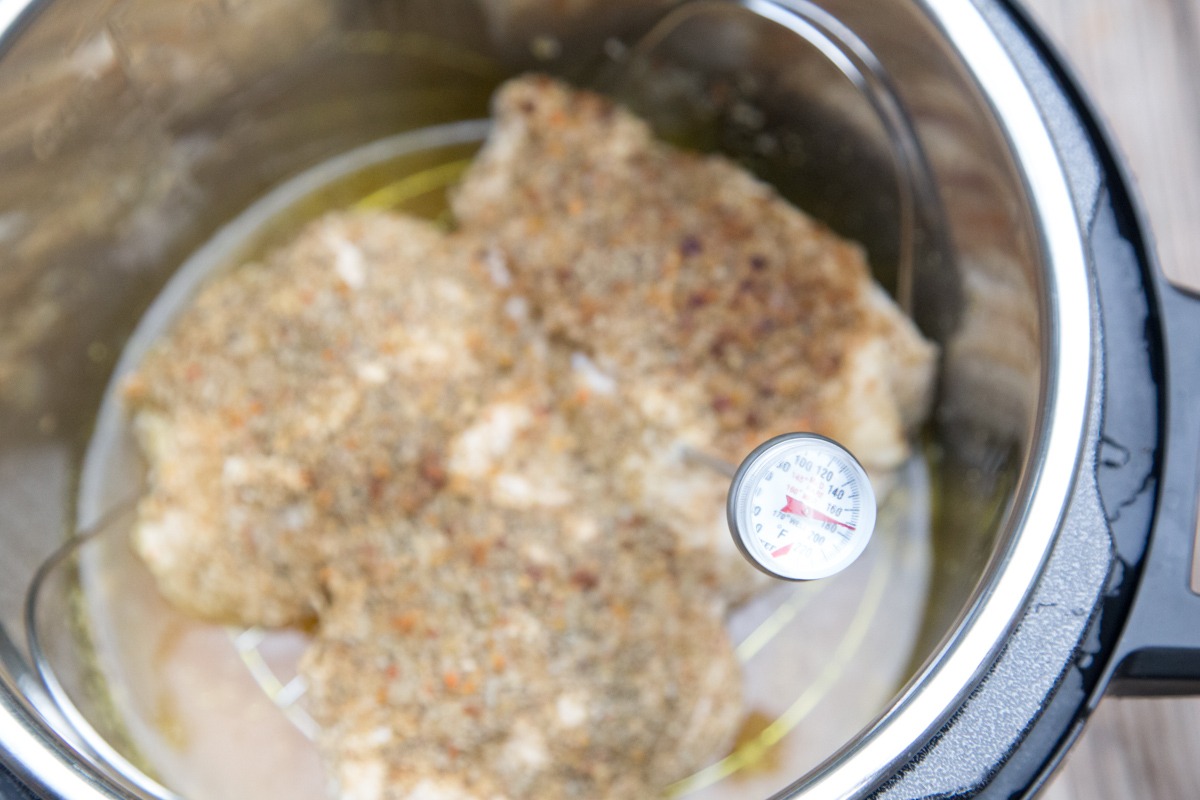 Meat thermometer should read at least 170 F.
If it doesn't, put the lid back on and pressure cook a few more minutes.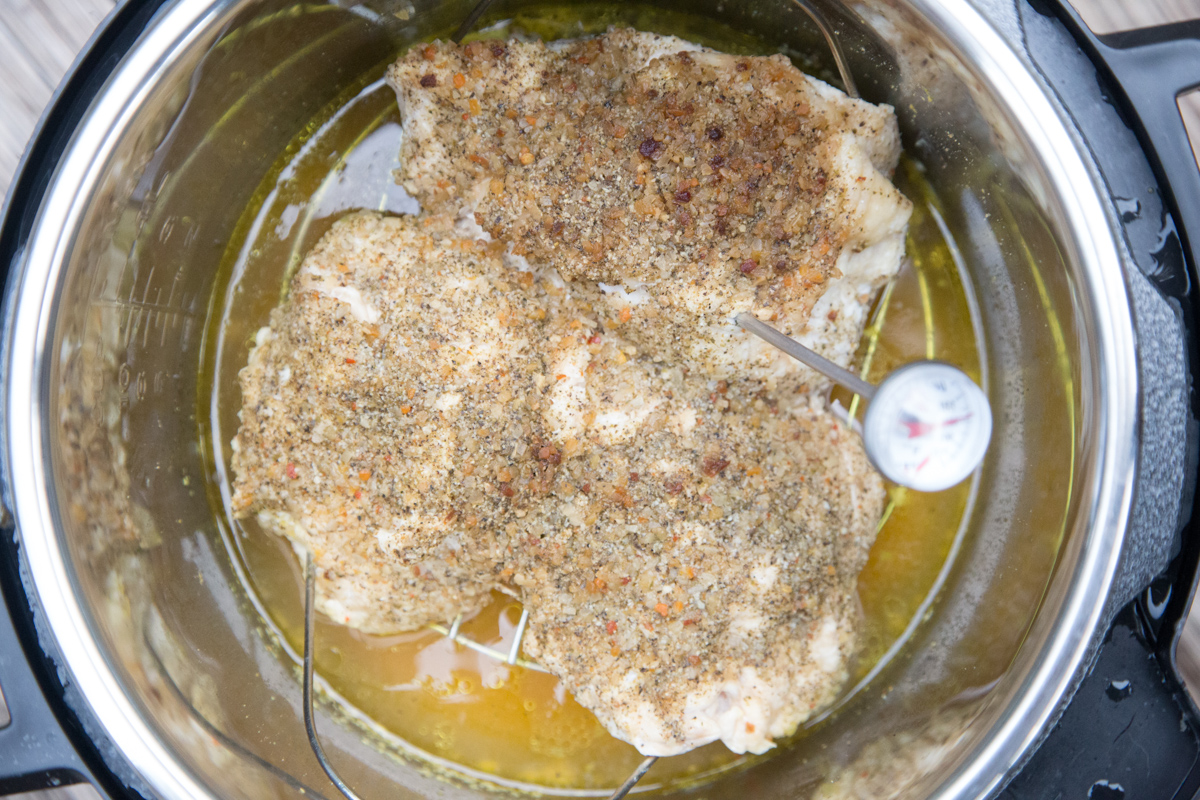 Perfectly coated turkey breast.
Slice and serve!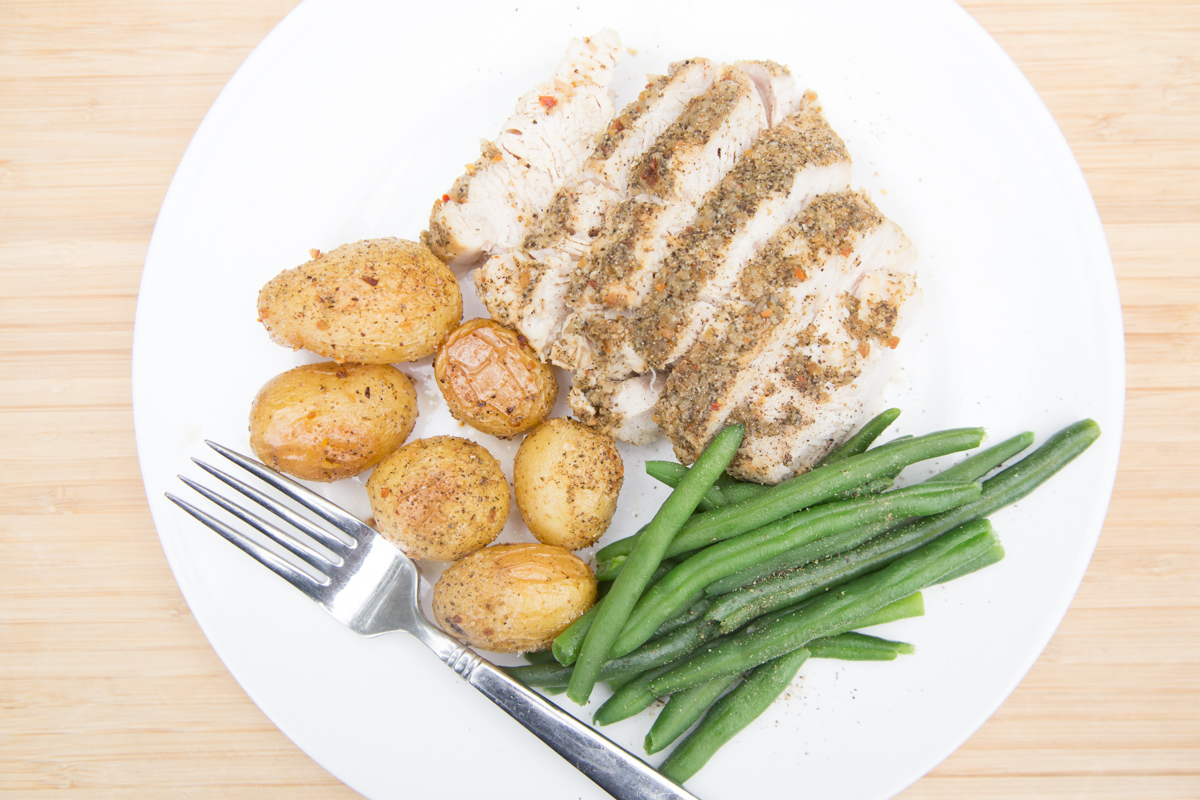 This would be wonderful to serve with your regular turkey.
Or perhaps as a "turkey contest" – blind taste testing…see who likes which turkey better.
Or great for a weeknight, using up the turkey breast that you scored on super sale during Thanksgiving week.
Or perfect for a cozy, small feast with 4 people or less!
This 3 lb. turkey breast fit easily into my 6 quart Instant Pot DUO. If you had another rack, you could do a double decker…just be make sure that the herb coating isn't disturbed on the bottom layer, if you double up. You might be able to nestle 2 – 3 lb. turkey breasts into an 8 quart Instant Pot.
Helpful Resources
Alright…now for the recipe!
Enjoy!
Ingredients
1

cup

chicken stock

3

lb.

boneless turkey breast

4

Tbsp

melted butter

Salt and pepper

2

Tbsp

herb seasoning blend
Instructions
Add the chicken stock to the Instant Pot insert. Place the rack that came with the appliance or a steam rack into the insert.

Season the turkey breast with salt and pepper on both sides. Place onto the steam rack in the insert. Spread the butter over the turkey, then sprinkle the herb seasoning blend directly onto the turkey breast, covering and coating it well.

Close the lid and set to Sealing.

Cook on High Pressure, Manual Mode for 8 to 10 minutes. For thinner breast fillets, cook for 8 minutes and for thicker fillets, cook for 10 minutes.

Quick release the pressure and remove the turkey breast and slice to serve.

Optional: Ladle out the juices from the base and skim off the fat and then whisk in some flour or cornstarch to make a gravy.

Serve Instant Pot Herbed Turkey Breast with favorite holiday side dishes.