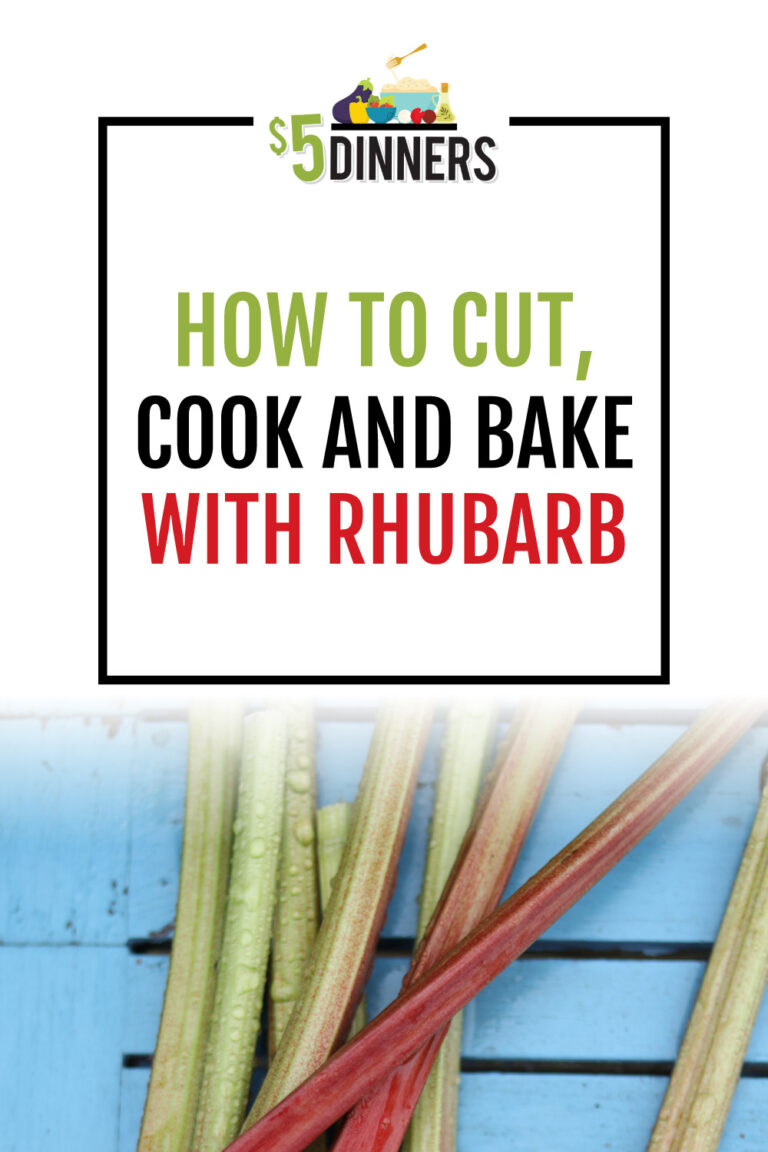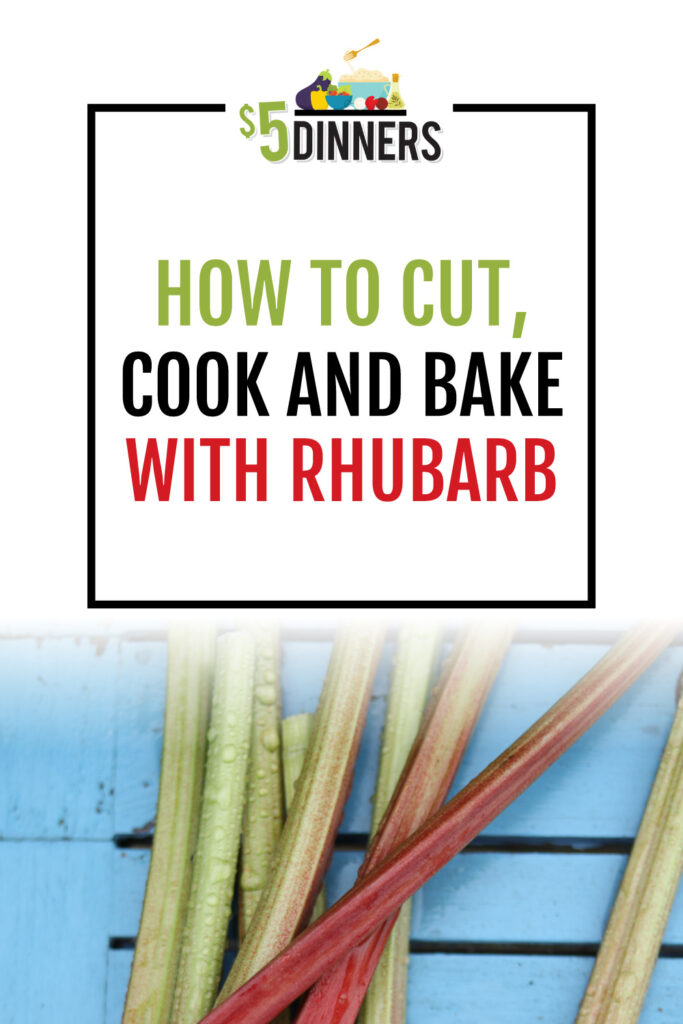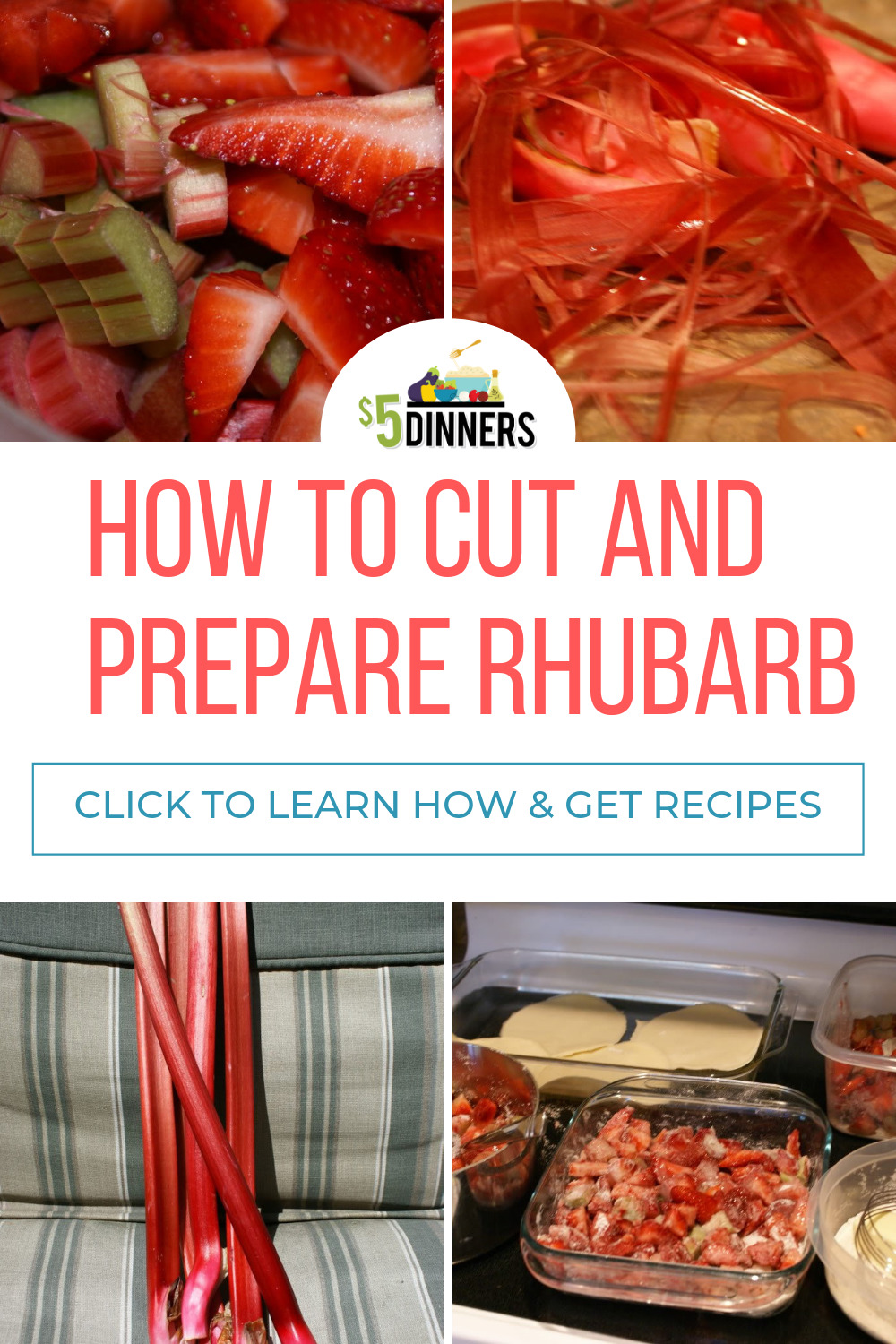 Got Rhubarb? But Not Sure How to Cut the Rhubarb? Or How to Cook Your Rhubarb?
Rest assured, I can help with that…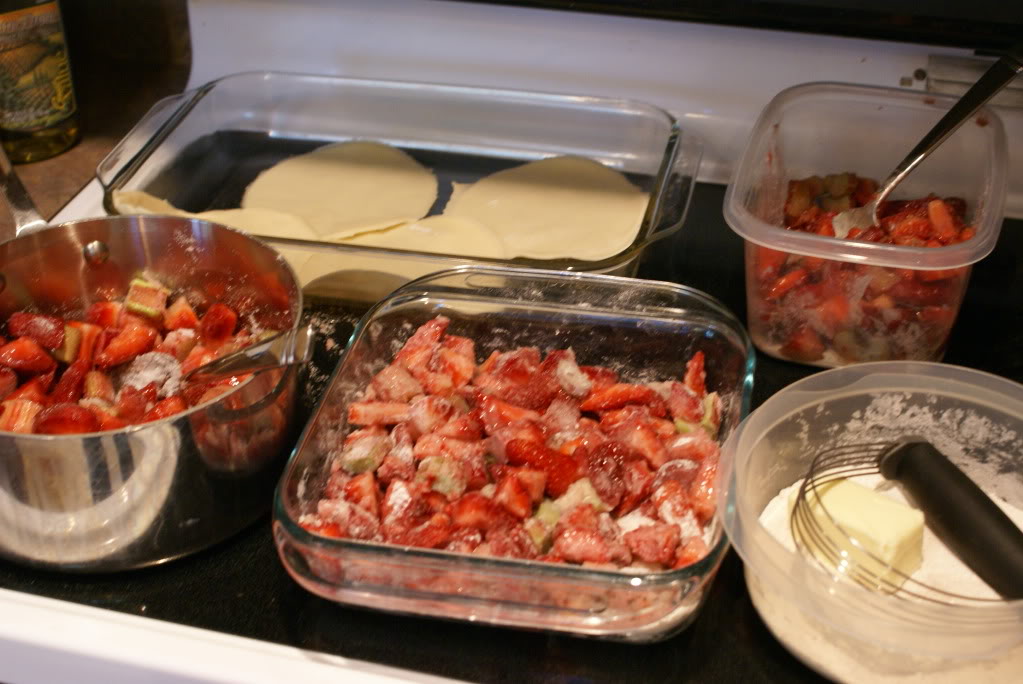 A friend recently gave me some rhubarb. And well, there's just but one thing to do with rhubarb…and that is make Strawberry Rhubarb Pie.
But wait. Perhaps there is more you can do with rhubarb!
While on a hunt for the best pie recipe, I ran across a few other recipes that called for rhubarb that I wanted to try. I had enough rhubarb and strawberries to make 1 pie, 4 mini tartlets, an 8×8 crumble, and a batch of jam!
After some cutting and prep work, the strawberries and rhubarbs were ready for action!
How to Cook Rhubarb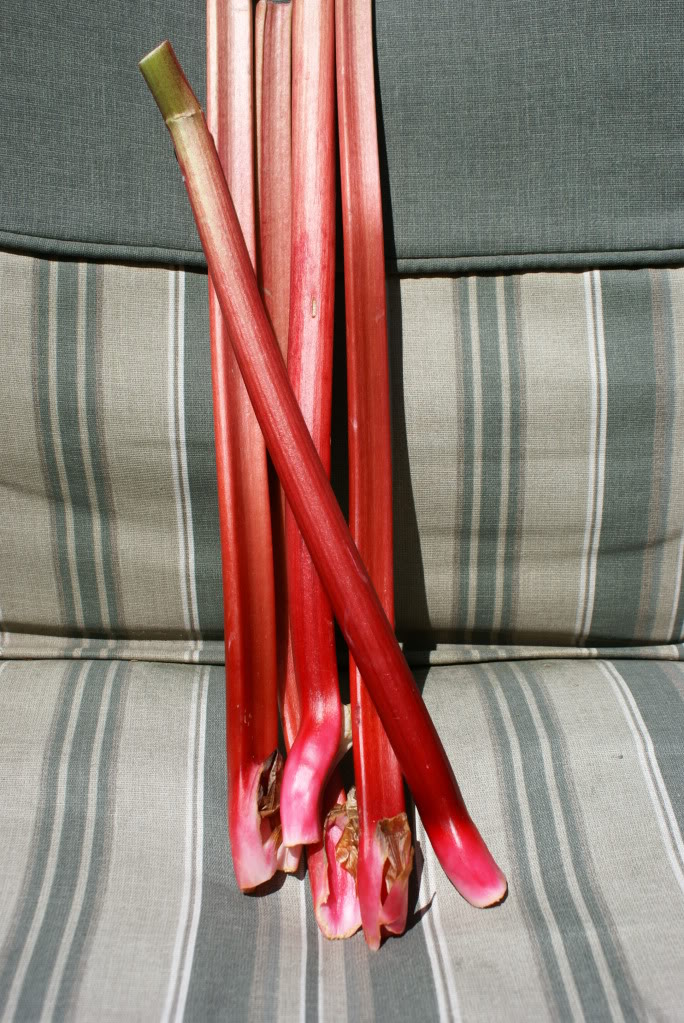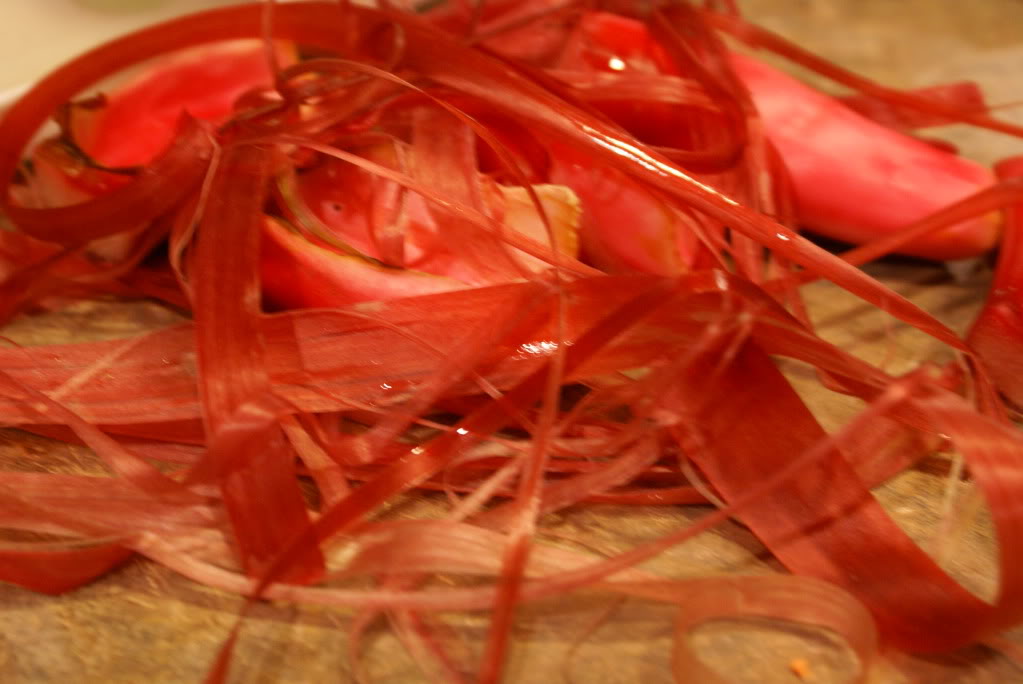 Peeling rhubarb is not necessary, but I peeled some of the skin off each stalk, just as you would peel the strings out of a celery stalk.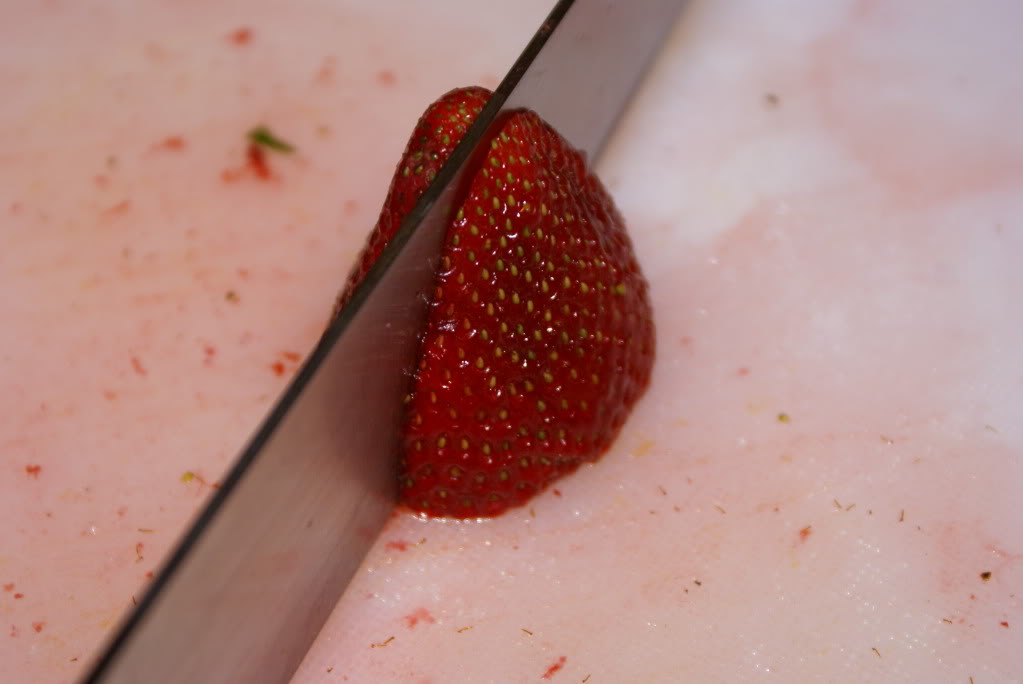 Quarter the strawberries. Place the strawberries on their heads, after cutting off the stems. Cut a cross into each strawberry. Quick and easy!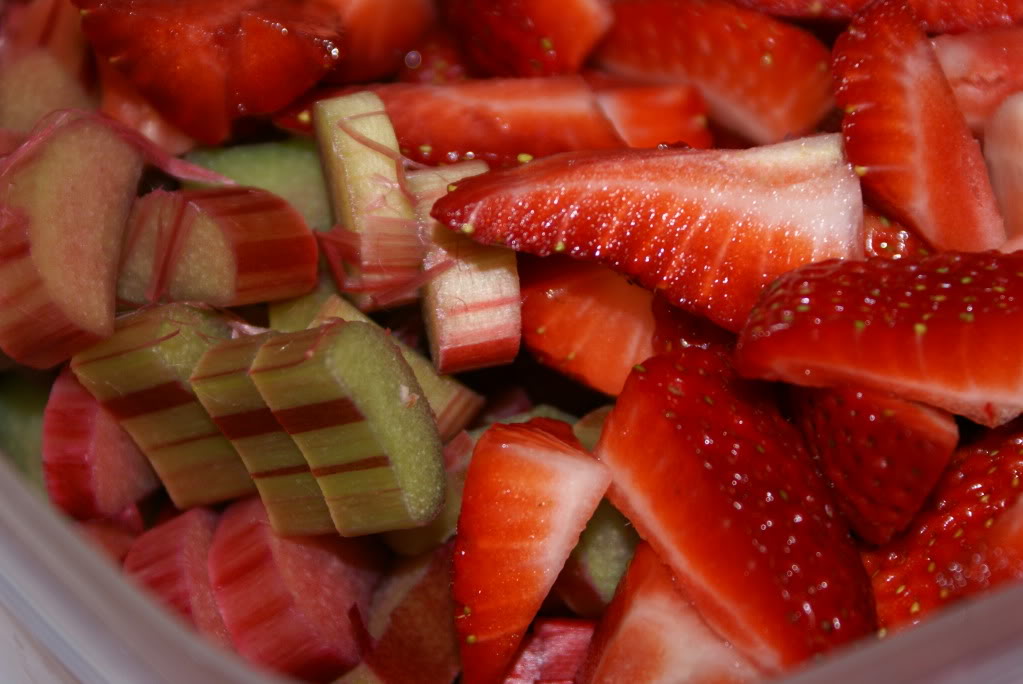 4 quarts of strawberries and 5 stalks of rhubarb ready to go!
Strawberry Rhubarb Pie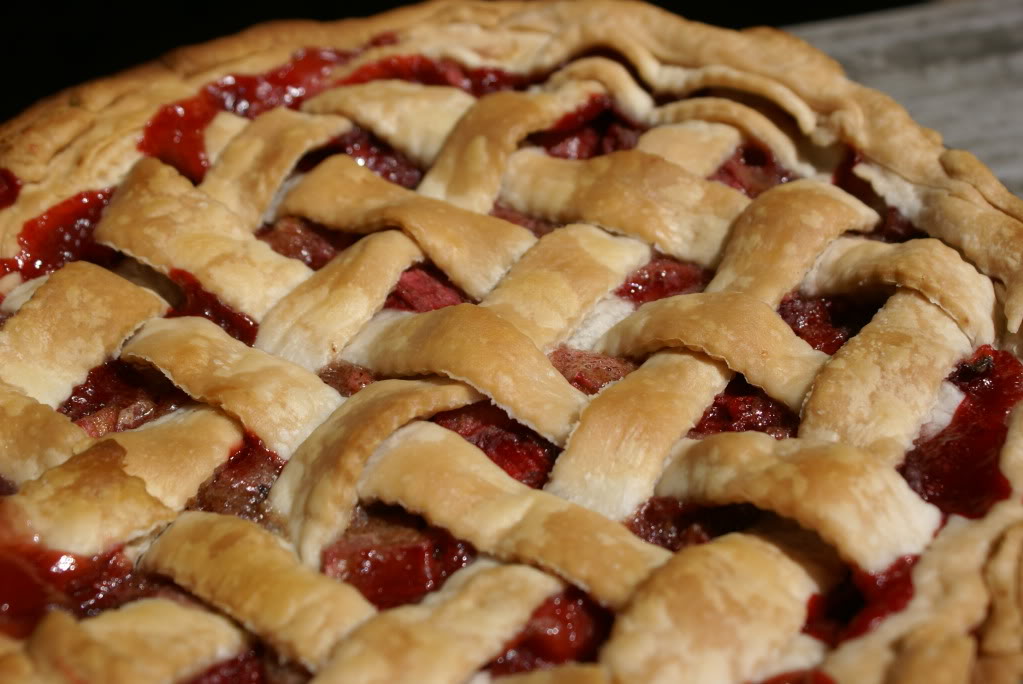 So the first pie I ever made was just after I graduated from college. I saw an Oprah episode where someone made a strawberry rhubarb pie…so I jumped in the car, ran down to the store to get the ingredients and came home to make it. And it was delicious! I jumped on Oprah.com, knowing that that recipe from 8 years ago would still not be there, but figured she had another one and she did! It was Cindy Crawford's favorite Strawberry Rhubarb Pie recipe. So if it's her favorite, it must be low cal, right? Ha!
UPDATE: since then I've made my own version of Spiced Strawberry Rhubarb Pie here!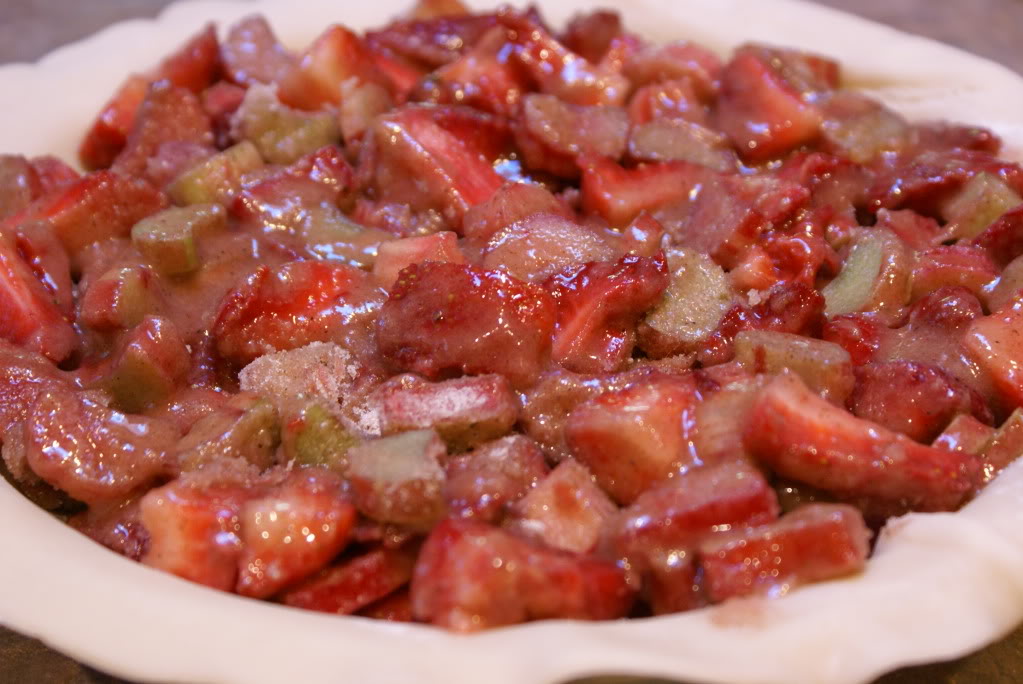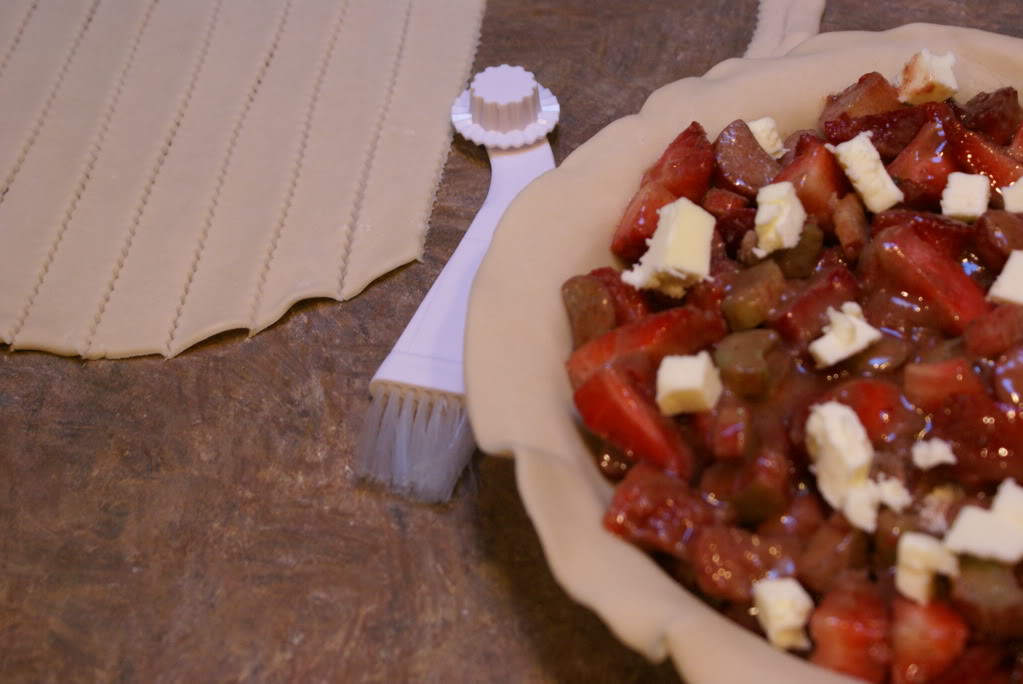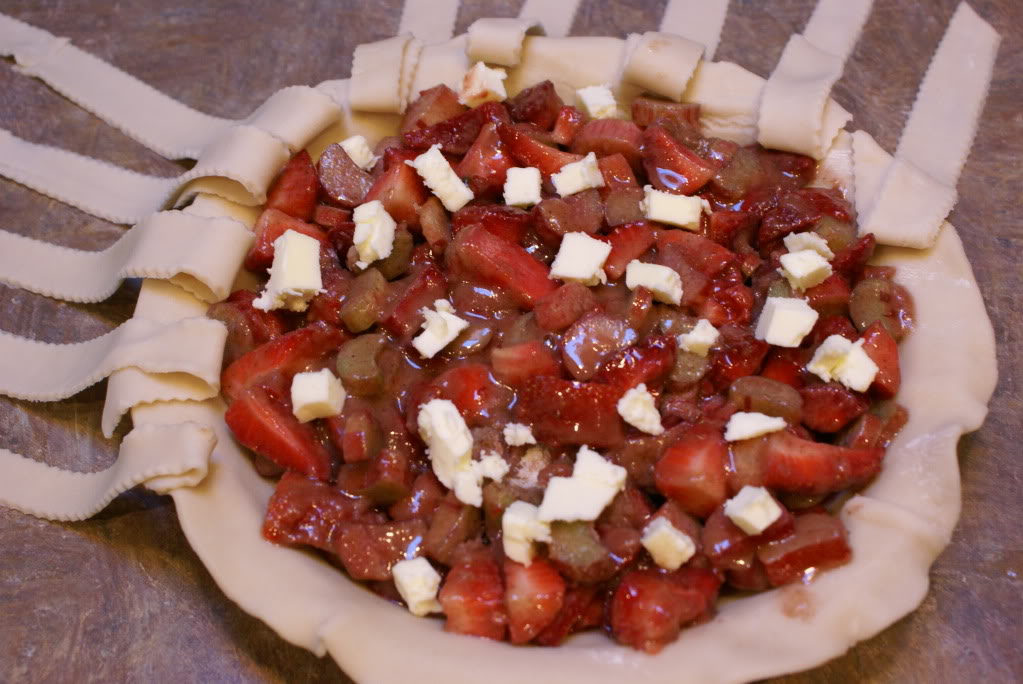 This pie will be frozen and brought to our Memorial Day BBQ and Party this weekend with our dear friends!
Strawberry Rhubarb Mini Tartlets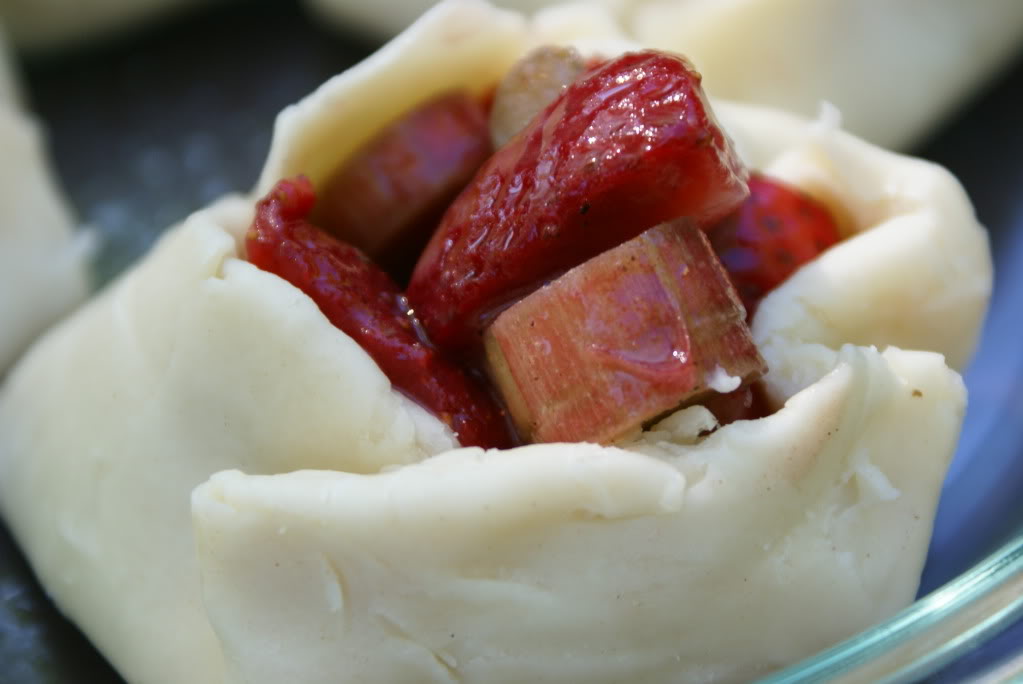 For these little pieces of heaven, I used the same filling recipe from Cindy's recipe and just wrapped the filling up in smaller cirlces of pie crust.
Here is a Raspberry Rhubarb Tart recipe I would have used, had I had some raspberries!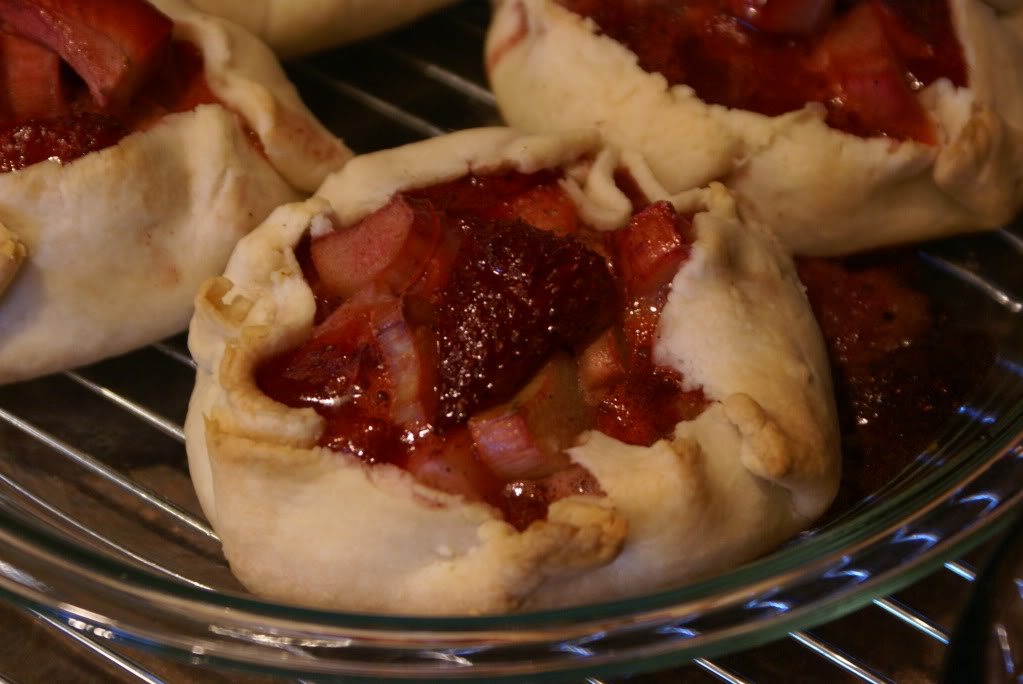 These will be eaten with dinner tonight!
Strawberry Rhubarb Crumble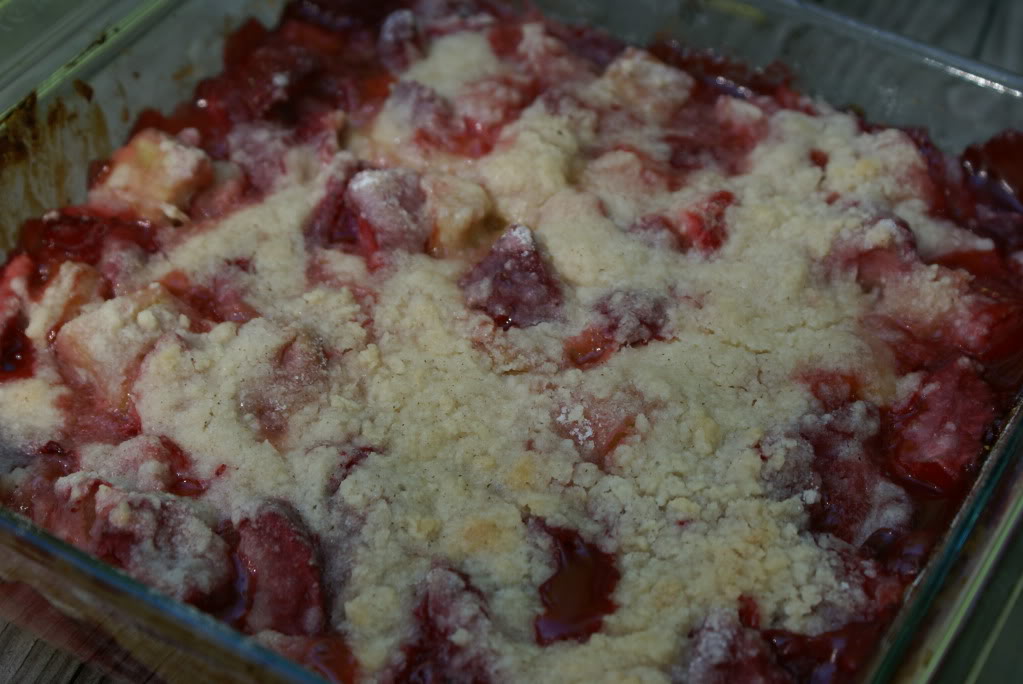 While browsing around, I found a crumble recipe that called for just rhubarbs, but since I didn't have enough rhubarb pieces left, I threw in the rest of the strawberries, and oh boy! Delish!!! I never eat dessert after lunch, but I did today!
Strawberry Rhubarb Crumble with vanilla ice cream.
The baby was really begging to have a taste 😉
Strawberry Raspberry Rhubarb Jam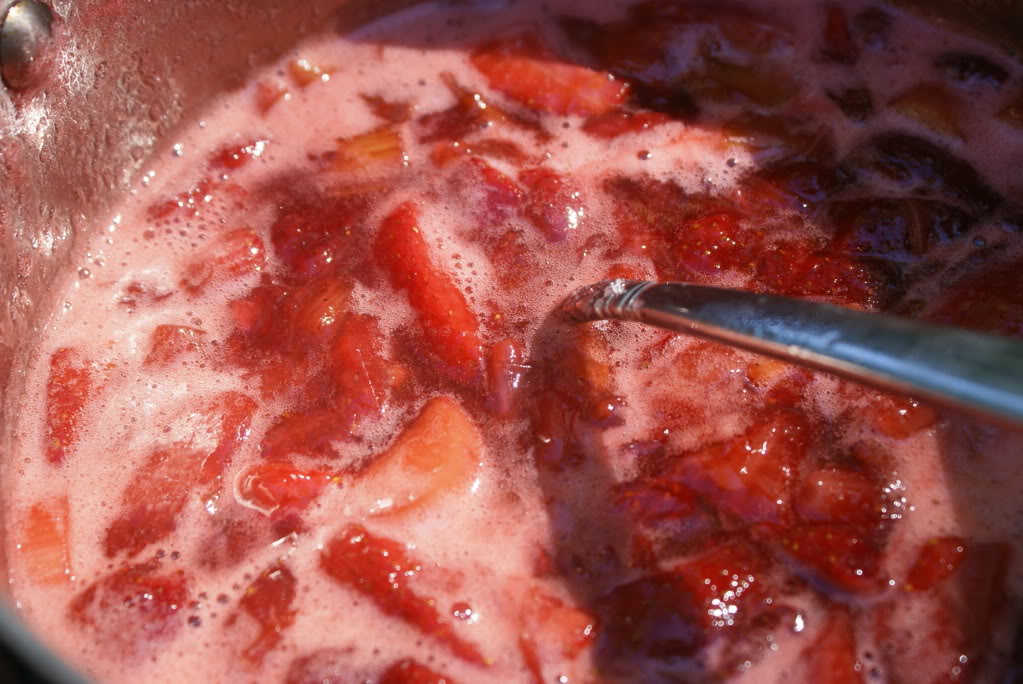 Get my recipe for Strawberry Raspberry Rhubarb Jam here!
There you have it. A morning up to my elbows in strawberries and rhubarbs!
Now we can enjoy every bite of these delicious treats!