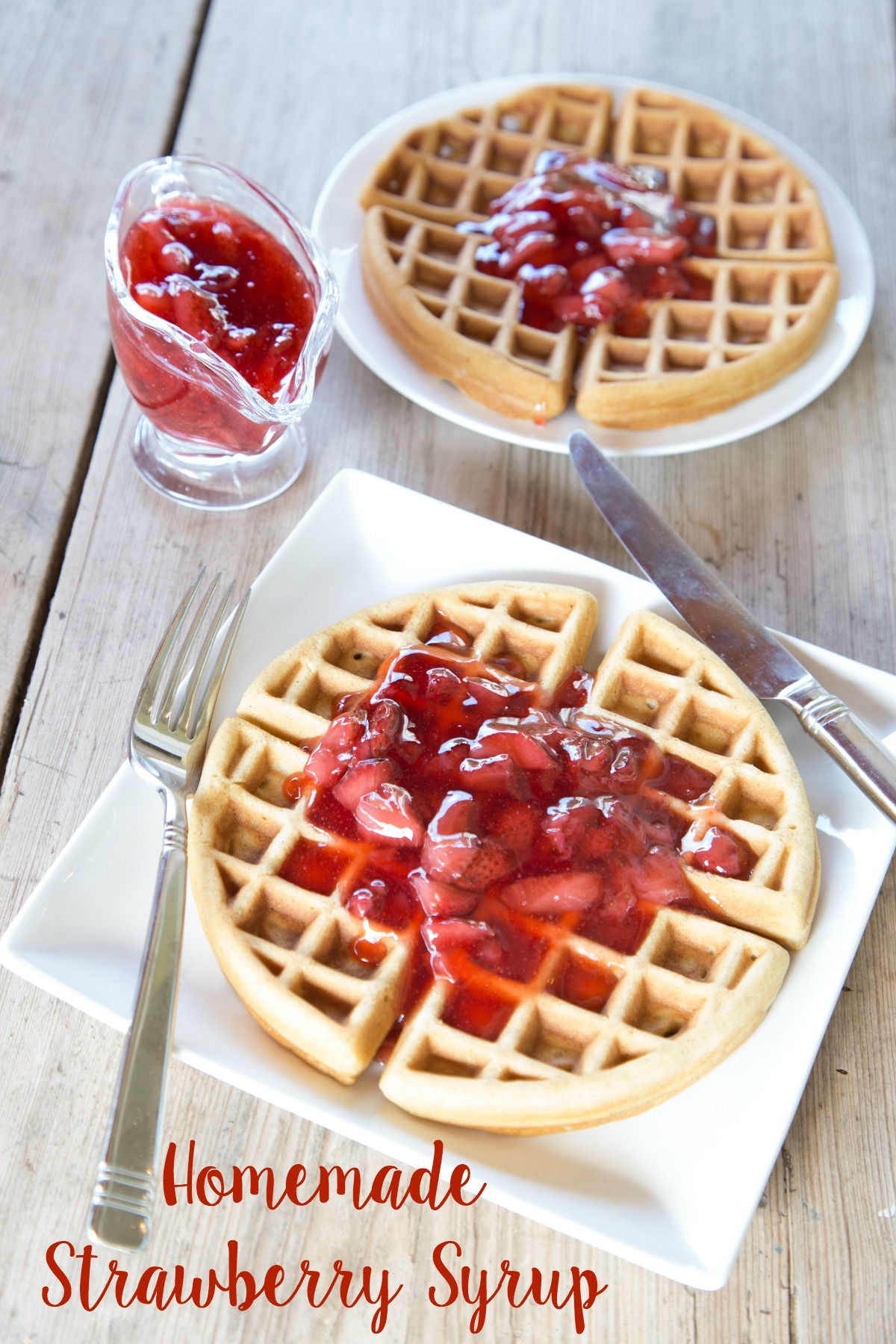 Breakfast for dinner…always popular and always fun!
If you ask any of my older boys what their favorite meals are, "brinner" would be in the top 5 for each of them. And this strawberry syrup…so so so so tasty. So fresh, so sweet, so perfect.
I make this syrup with fresh strawberries, maple syrup, sugar and some cornstarch to thicken it up a bit. (You could use all sugar, but I like to divide up the sweetness with a more natural sweetener like maple syrup, to go with the sugar.) We prefer the sweetness from half sugar-half maple.
One of my boys' favorite things about waffles is to get syrup into each of the little holes/pockets/wells. While I didn't show this in the photo above, each boy had a touch of red, strawberry sweetness in each of their waffle holes!
Dinner (or breakfast or 'brinner') perfection!
So fresh, so sweet, so perfect.
Ingredients
1/4

cup

sugar

1/4

cup

maple syrup

Water (1 cup+1 Tbsp)

1

tsp

cornstarch

16

oz

strawberries, hulled and halved

Favorite waffle or pancakes recipe
Instructions
In a small saucepan, add 1 cup of water, 1/4 cup sugar and 1/4 maple syrup. Bring to rolling boil and add in the strawberry pieces and return to boiling over medium high heat.

While the strawberry syrup bubbles, whisk together 1 Tbsp water and 1 tsp cornstarch in a small bowl.

After the syrup has been boiling for 8 to 10 minutes, stir in the cornstarch-water mixture and reduce heat let bubble or simmer for another 5 minutes to allow it to thicken.

Remove syrup from the heat and pour into serving dish. Let cool about 10 minutes. (The syrup will thicken as it cools.)

Pour warm Homemade Strawberry Syrup over hot pancakes or waffles.

Leftovers: cover serving dish with plastic wrap and keep in the fridge up to 5days.