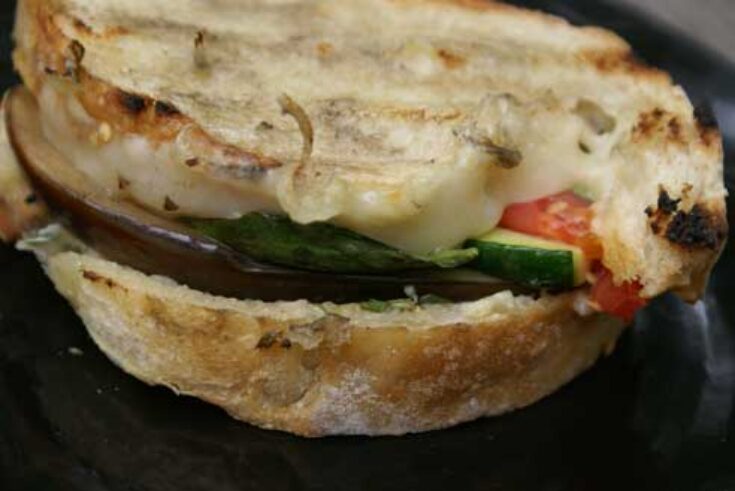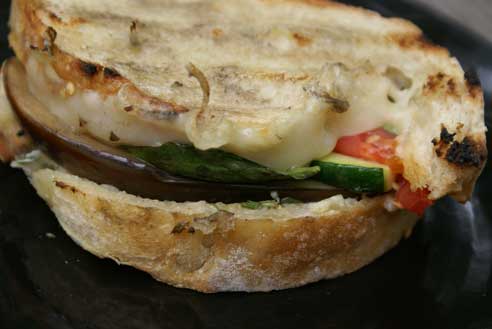 So that has GOT TO BE the fanciest recipe title I've come up with yet!
Because I used so much from the garden for this meal, I was able to be a little more creative and made up a delicious rosemary-garlic aioli sauce for these paninis!
These were "UH-MAZING," according to the Hubs!
So if you've got an eggplant in the garden, or come across a great deal on eggplants…I highly recommend these paninis!!!!
Ingredients
1 eggplant (from the garden)

Dashes of salt

1 loaf pugliese bread, sliced ($2.50) I would have used ciabatta, but the loaf at my store had milk, so I opted for the dairy free option!

1

large

ripe heirloom tomato (from the garden)

1 zucchini, thinly sliced ($.64) a little less than a lb...on sale this week $.77/lb!

1/4

cup

mayo ($.20)

2

Tbsp

lemon juice ($.05)

1 tsp olive oil ($.05)

2 garlic cloves, crushed ($.05)

Palm full of fresh rosemary (from the garden)

Salt/Pepper

4

slices

of swiss cheese ($.75)

Handful basil leaves (from the garden)

2-3 tsp olive oil, for sauteing ($.10)

2-3 tsp olive oil, for brushing bread before grilling ($.10)

4 corn cobs ($.76) On an unadvertised sale for $.19 an ear!
Instructions
Slice eggplant into 1/4 or smaller slices.