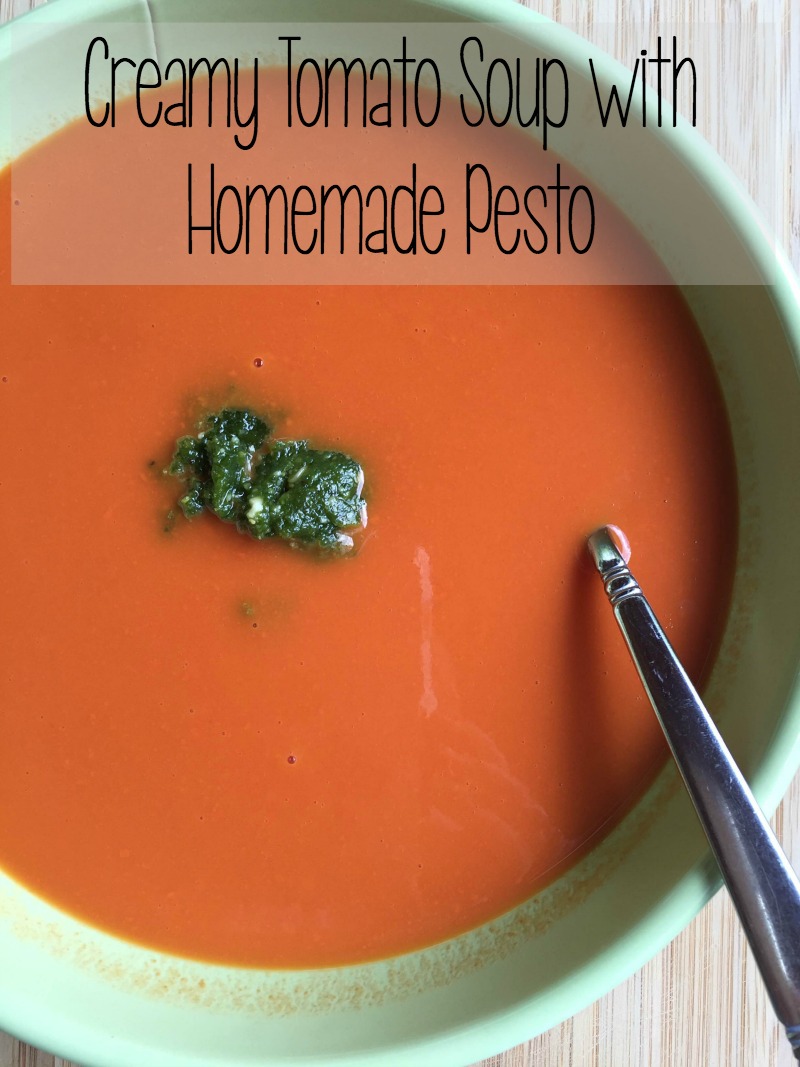 So it's hot. And you might think that I'm a little silly for sharing a soup recipe in the summer.
But I'm having this soup chilled.
Although, you could certainly warm this up.
The homemade basil pesto is an absolutely lovely complement to the chilled tomato soup.
As I took each bite (do you bite soup? maybe slurp? but that sounds so un-lady like?), I would grab a tiny bit of pesto, fill the spoon with soup and sip on it all together. A little later as the soup was diminishing from the bowl, I would use a small hunk of bread to sop up the soup and what was left of the pesto.
Absolutely delicious!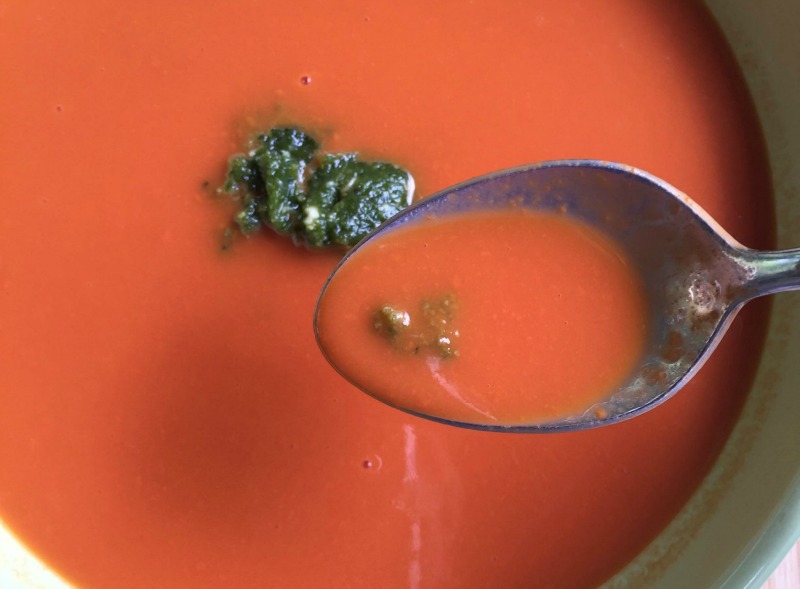 This is simple to make…
Prepare the soup as directed. If you are warming it up as you thin it out, then you can serve it warm or put it in the fridge to chill and serve later.
Add a couple dollops of pesto into the soup.
Devour.
Creamy and packed with flavor!
Ingredients
2

11 oz. cans creamy tomato soup

or 1 quart tomato soup

2

Tbsp

pine nuts

2

Tbsp

Parmesan cheese

10

leaves fresh basil

2

cloves garlic

3

Tbsp

olive oil

Salt to taste

Bread, as side dish
Instructions
Pour the tomato soup into serving bowls. (You can warm it up if you like, but I prefer to eat this cold in the summer months.)

In a food processor or blender, add the pine nuts, Parmesan cheese, fresh basil, garlic cloves and 2 to 3 Tbsp olive oil. (I prefer a 'thicker' pesto for this, but you can add more olive oil to thin it out.)

Once the pesto is prepared, add a dollop or two to each serving bowl.

Warm bread.

Serve Creamy Tomato Soup with Homemade Pesto and side of bread.