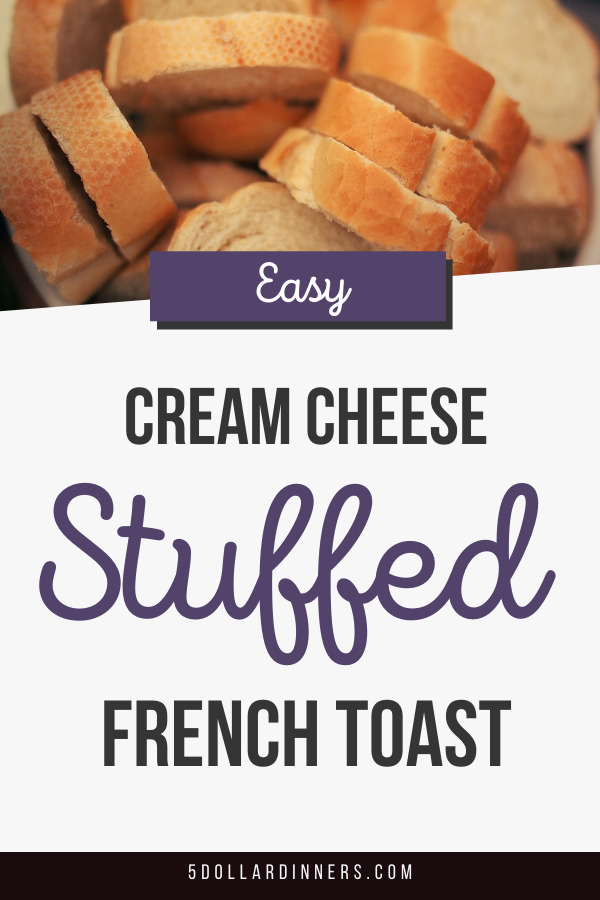 When eggs are on sale for $.88/dozen for the Easter holiday and you score a LARGE loaf of pre-sliced French bread for less than $1, you just can't pass up making a stuffed French toast dish! And with milk on sale for $1/half gallon and cream cheese recently marked down. Plus, there have been some great fruit sales lately…so we'll add some $.25 apples to this meal!
A "simple"-y delicious meal!
Level up your next French Toast breakfast!
Ingredients
10

eggs

1

cup

milk

1/8

cup

favorite syrup

1/2

tsp

cinnamon

12

slices

French bread

2

spotty bananas

4

oz

cream cheese

4

granny smith apples

Syrup
Instructions
In large bowl, whisk eggs and milk. Whisk in syrup and cinnamon.

In KitchenAid or using hand mixer, blend bananas and cream cheese until smooth and creamy. (I had frozen some cream cheese a few weeks ago. It doesn't thaw out into its original creamy texture, so I thought this would be a good meal for "thawed cream cheese." I used brown spotty bananas that were really ripe. Gave it a nice flavor!)

In 8x8 baking dish, pour about 1/2 cup of egg mixture into the bottom of the dish, just enough to cover the bottom. Place bread on top of egg mixture to cover as much of the dish as possible.