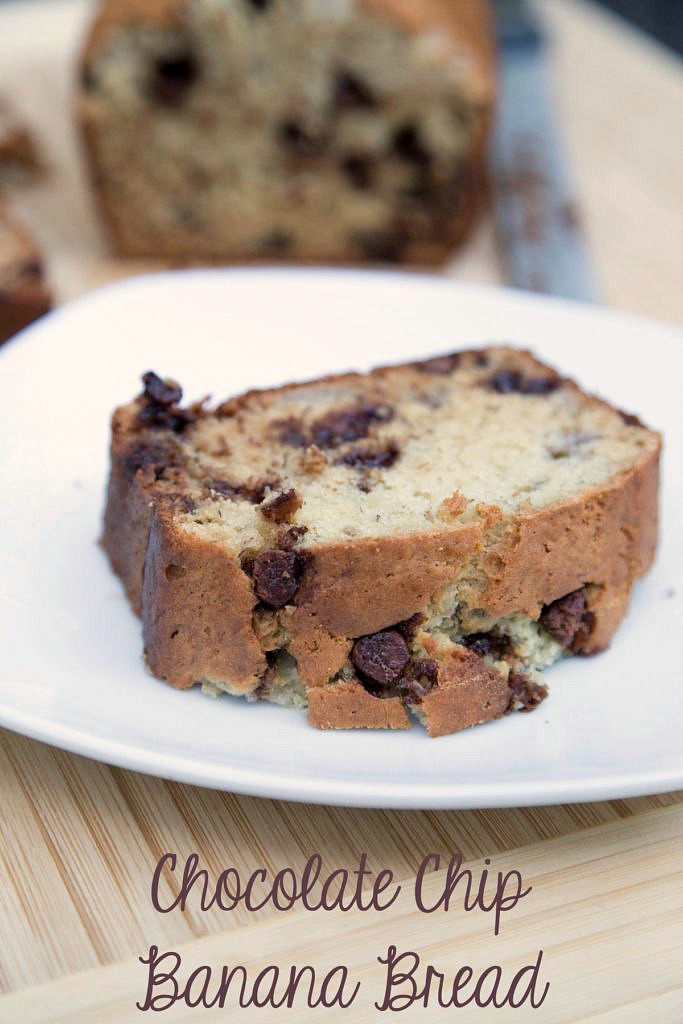 This is one of those snacks or lunches that I have to double up on if I want any to end up in the freezer. I do a.l.o.t. of baked breads and muffins like this for my boys' lunch boxes because they don't love sandwiches. So I often resort to these kinds of goodies.
If I'm adding chocolate chips, then I bring the sugar down in the recipe so it's not too much. (Not any more than a PBJ sandwich!)
Because I find myself doing so much baking like this…I've found myself in a few situations where "OMG, I need more banana bread RIGHT NOW…as in before we head off for school, or as an afternoon snack and I don't want the boys bugging me for a whole hour with "when will it be ready?"
So I thought, if this is happening to me, it might be happening to you…and you might not know this.
BUT.
You can cut the baking time in half by making the banana bread in a 9×13 baking dish. Same amount of batter, half the time. And it ends up more like "banana cake." But it all tastes just the same…just as perfect! AND same amount of batter will make 12 muffins too!
I have done this on mornings when we are 1-2 slices short for lunch boxes, and on afternoons for snacks.
In the recipe below, I've added suggested times and notes for all 3Â baking options!
ENJOY!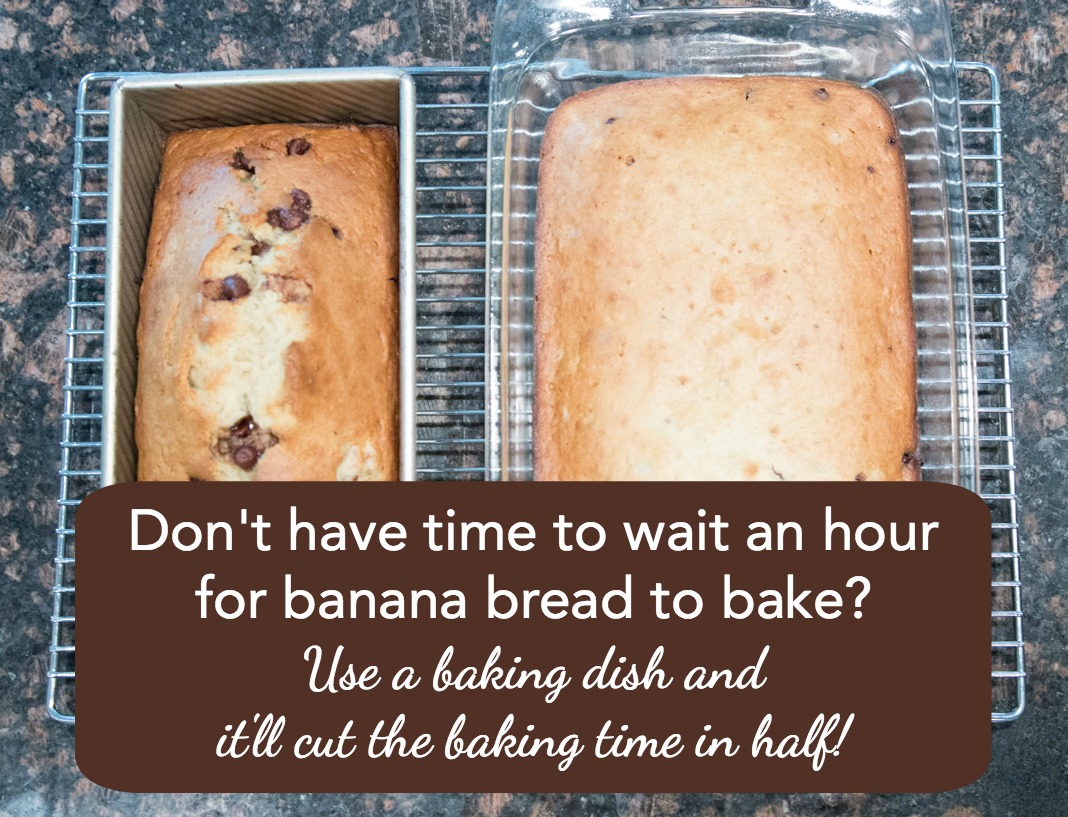 Level up your banana bread with chocolate chips!
Ingredients
3

ripe bananas, mashed with fork

2

eggs

1/4

cup

applesauce

1/4

cup

oil

1/2

cup

milk

1

tsp

vanilla

1 1/2

cups

flour

1/4

cup

sugar

1

tsp

baking powder

1

tsp

salt

2

cups

chocolate chips
Instructions
Preheat the oven to 375 F. Lightly greaseyour baking dish of choice with non-stick cooking spray.

In a large mixing bowl, combine the wet ingredients in the order listed and mix well. Add the dry ingredients and form the batter. Gently stir in the chocolate chips.

Pour batter into the prepared baking dish of choice.

Loaf pan: Bake in the preheated oven for 55 to 65 minutes.

9x13-in baking dish: Bake in the preheated oven for 25 to 30 minutes.

Muffin tin: Bake in the preheated oven for 22 to 24 minutes.