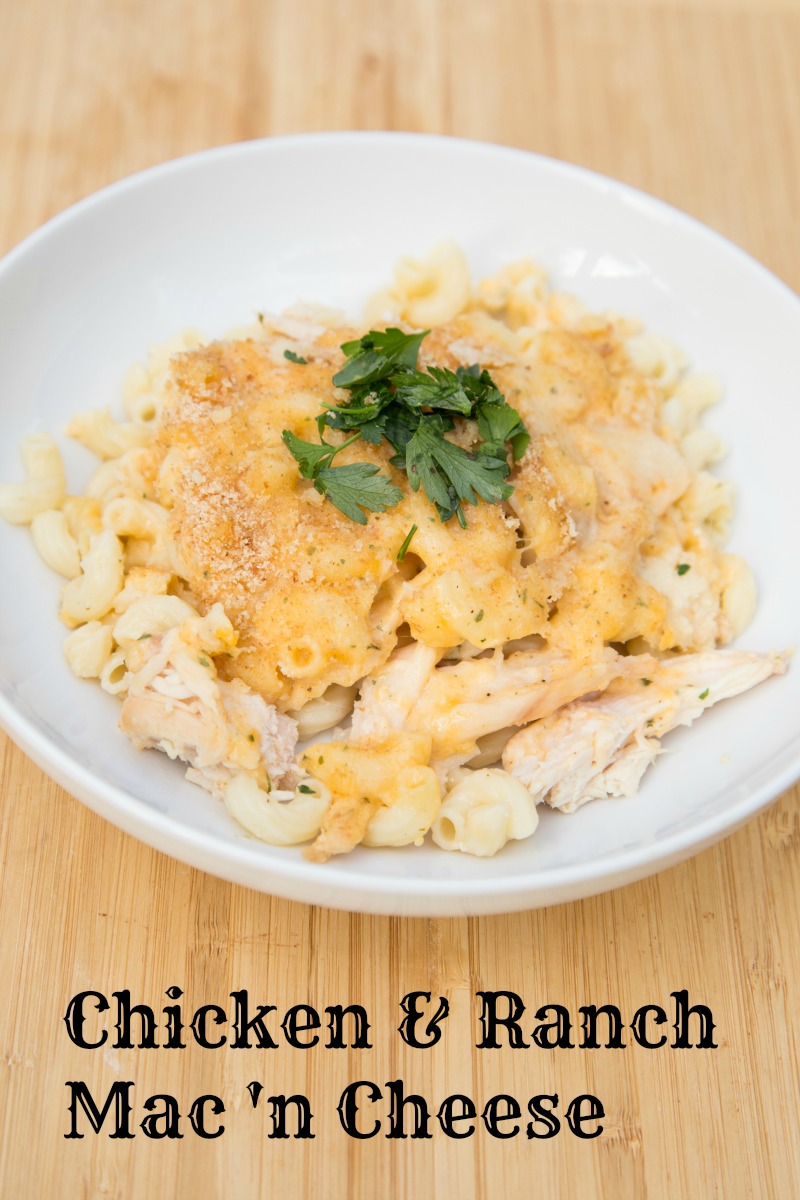 How 'bout we just call this what it is?!?
Crack Mac n Cheese.
Like, you're gonna be addicted.
Consider yourself warned.
This is SO SO SO SO Delicious!
It's a homemade cheese sauce with all the best dairy combined with Ranch to make the creamiest, tastiest cheese to toss with the mac.
Mac n Cheese.
Mac and Cheese.
Mac in Cheese.
(Because the mac mixes so beautifully in the cheese.)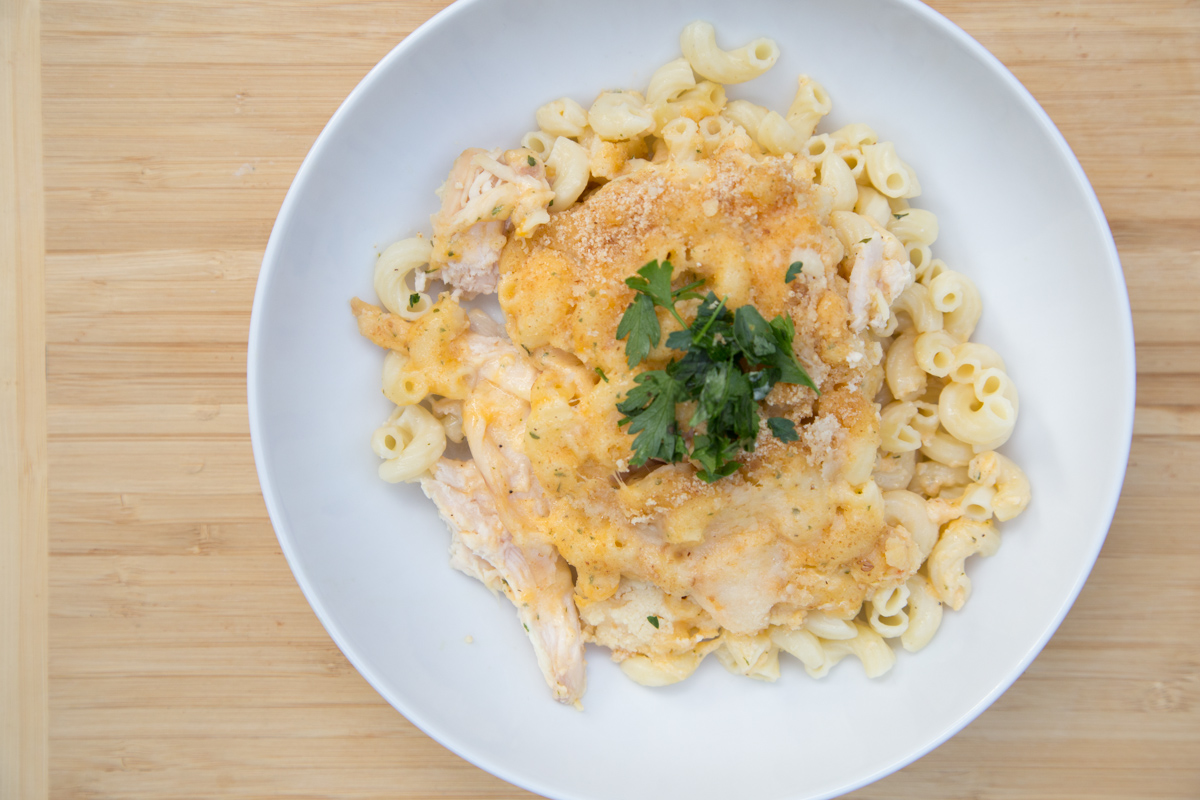 Here's the quick breakdown for ya…
Cook the pasta.
Make the cheese sauce in a skillet, then toss in the rotisserie chicken.
Combine and add to baking dish, then top with more cheese, breadcrumbs and cheese.
Did someone say cheese?!?
Bake and serve!
Also, rotisserie chickens are very convenient as you can just pull off the meat and be on your way to getting dinner ready. BUT…they are more expensive that 'making your own rotisserie chicken.' So, here are some helpful tips for you for both of these options:
Hope you enjoy this amazing homemade mac n-and-in cheese!
Ingredients
12 oz. box elbow pasta noodles

1

cup

milk

1/4

cup

butter

1

cup

sour cream

1 packet Ranch dressing mix

2

cups

shredded rotisserie chicken

2

cups

shredded mild cheddar cheese

1/2

cup

breadcrumbs

1/2

cup

grated Parmesan cheese

Fresh veggies, as side dish
Instructions
Preheat oven to 400 F. Lightly grease a 9x13-inch baking dish with non-stick cooking spray.

Cook the pasta, al dente. Drain and pour into baking dish.

In a large saucepan, whisk together the milk, butter, sour cream, Ranch dressing mix and shredded cheese. Once cheese sauce thickens, stir in the shredded chicken. Pour the cheese-chicken mixture over the pasta in the baking dish and toss gently. Sprinkle the breadcrumbs and grated Parmesan cheese over the top.

Bake in the preheated oven for 20 to 25 minutes, or until breadcrumbs golden on top.

Prepare veggies.

Serve Homemade Chicken & Ranch Macaroni with veggies.

To Freeze: Prepare the macaroni and cheese sauce and combine together into disposable baking tray. Add shredded cheese, breadcrumbs and Parmesan cheese. Cover with foil and freeze up to 6 months in fridge freezer and 12 months in deep freezer. To cook, thaw completely and bake as directed.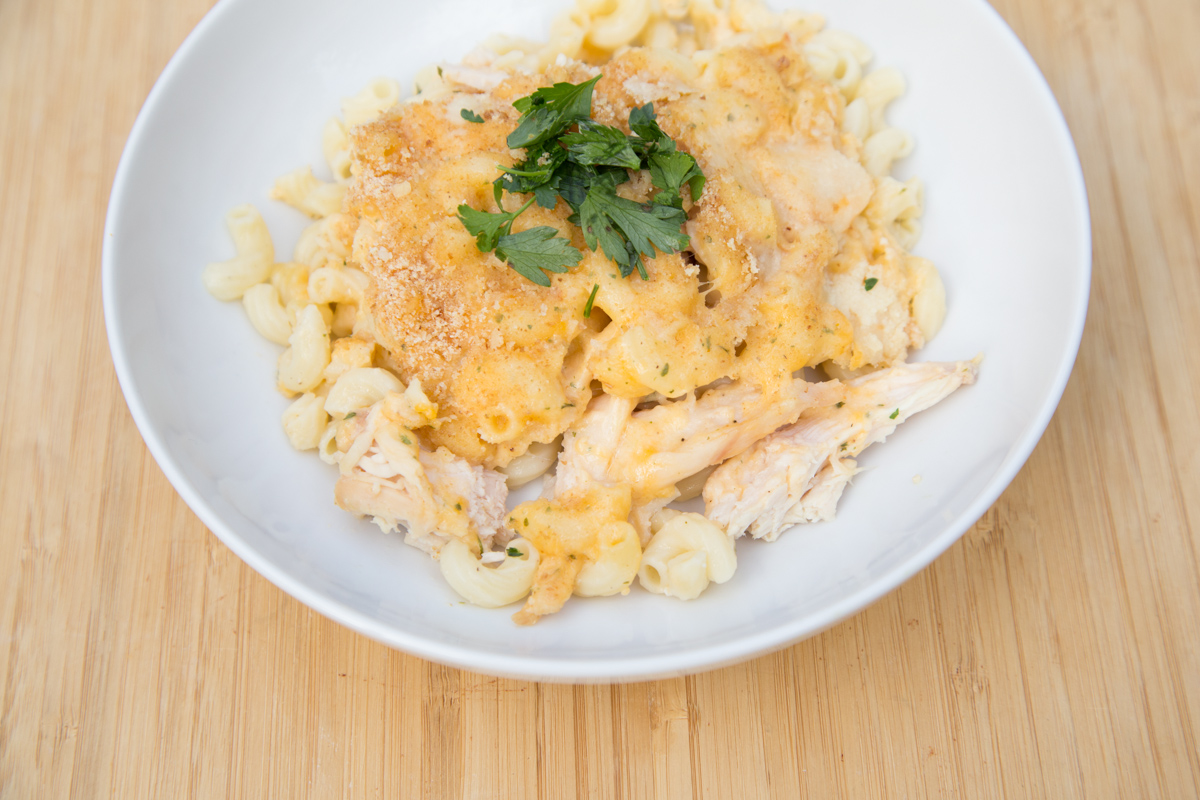 This recipe is featured on SouthernPlate.com's Meal Plan Monday #81.