A homemade caramel glaze makes this the best banana bread recipe ever – you'll never make homemade banana bread without this glaze again!
It's time to level up your favorite banana bread recipe with a caramel glaze.
You'll never make it without the glaze again!
With this recipe, I'm sharing 3 different ways to bake this bread. No matter how you bake it, you'll definitely want to glaze it!
Glaze it well!
Glaze it strong!
Glaze it thick!
lol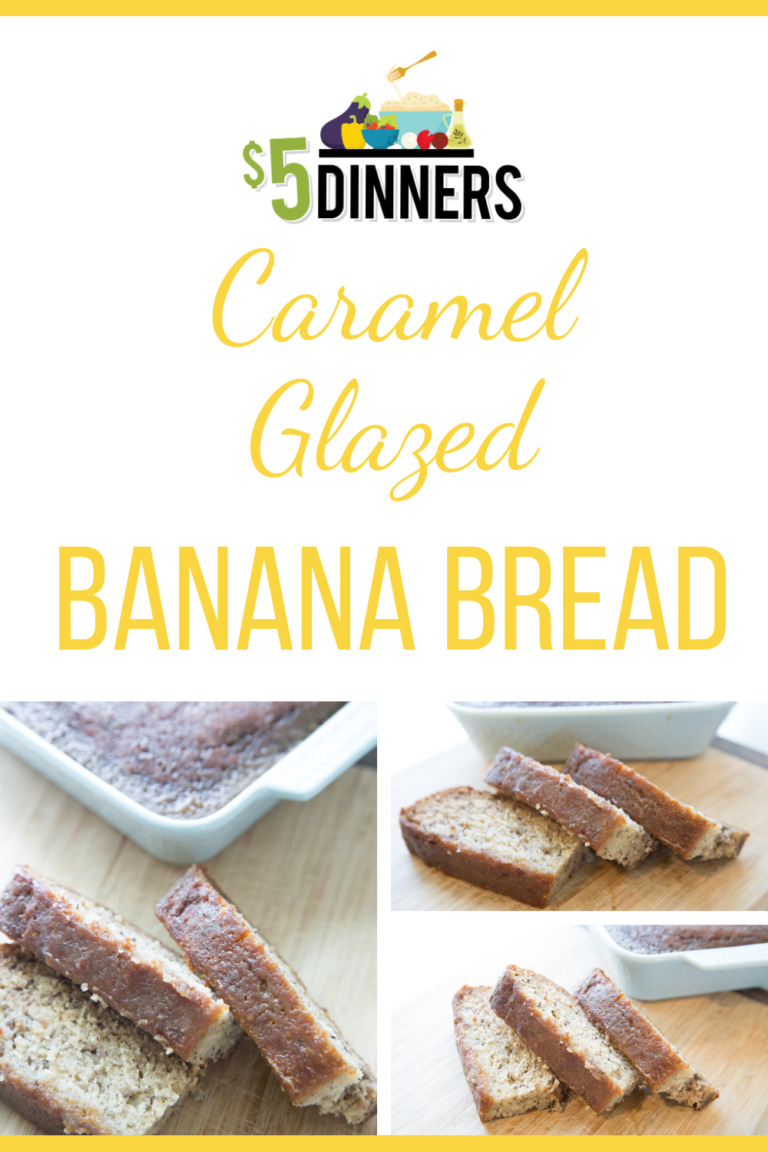 IMPORTANT NOTE: Read the directions carefully – this is baked in a rectangular dish, not a loaf pan. 🙂
Ways to Bake Banana Bread
You mean you don't have to bake banana bread in a loaf pan?!?!
Nope – you can take a basic banana bread batter and bake it in many different pans – you just have to adjust the baking time.
Traditionally, it's baked in a 9×5-inch loaf pan, but it can also be cooked in a 9×9-inch rectangular baking dish, 8×8-inch circle baking dish, as well as jumbo muffins, regular muffins, mini muffins, and mini-loaves.
Check out the baking time options for a single batter's worth of banana bread below.
Loaf pan – 55 to 65 minutes
9×9-inch rectangular dish – 30 to 35 minutes
8×8-inch circular dish – 35 to 40 minutes
Jumbo muffin pan – 32 to 36 minutes
Regular muffin pan – 22 to 24 minutes
Mini muffin pan – 16 to 18 minutes
Mini-loaves pan – 25 to 28 minutes
Bake through until toothpick comes out clean in center of the pan.
Other Best Banana Bread Recipes from $5 Dinners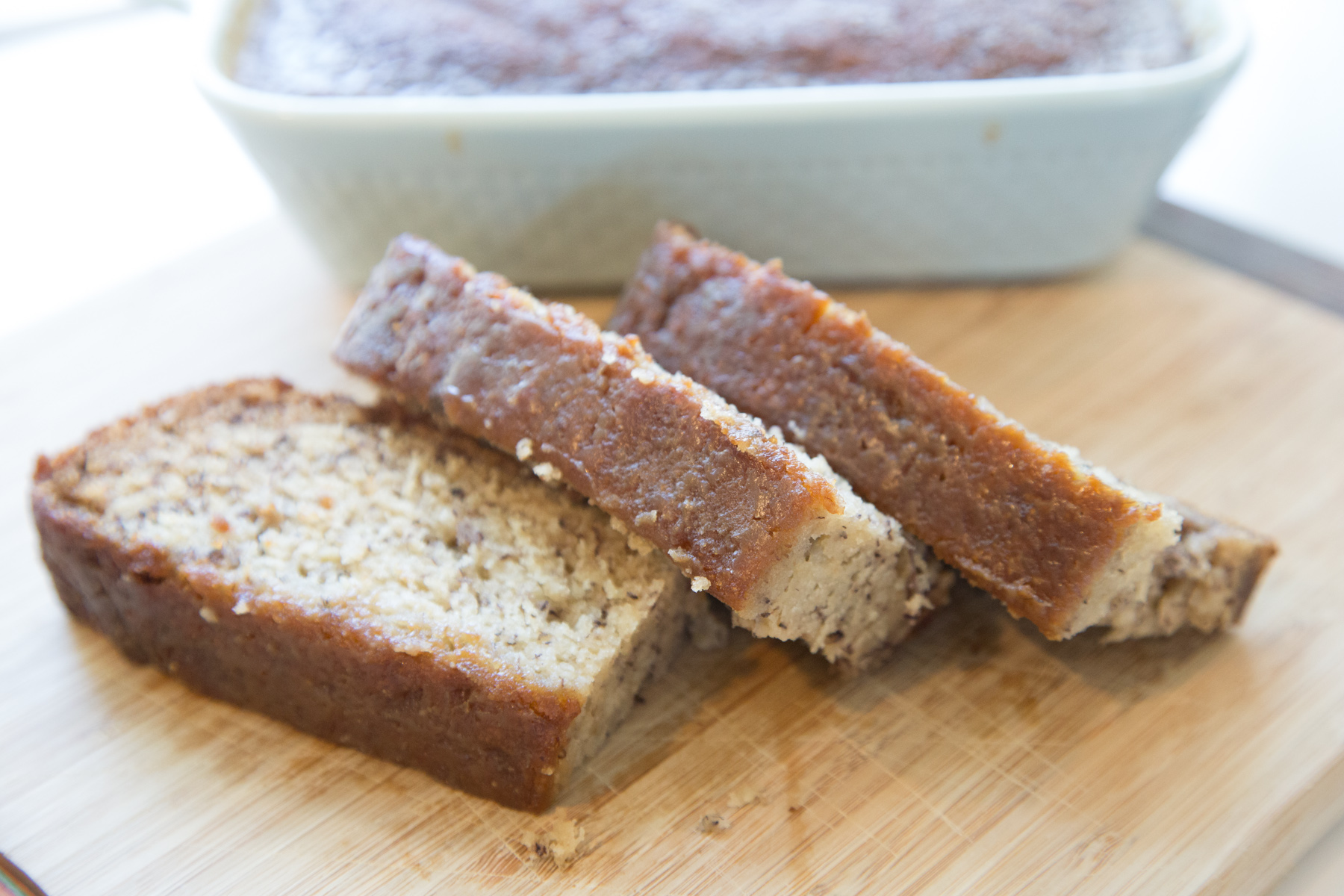 Up level your favorite recipe to become the best banana bread recipe with a caramel glaze coating. It's FANTASTICAL!!!
Ingredients
3

ripe bananas

mashed with fork

2

eggs

1/4

cup

applesauce

1/4

cup

oil

1/2

cup

milk

1/4

cup

sour cream

1

tsp

vanilla

1 3/4

cups

flour

1/4

cup

sugar

1

tsp

1 tsp baking powder

1

tsp

1 tsp salt

3

Tbsp

butter

for glaze

3

Tbsp

heavy cream

for glaze

1/4

cup

brown sugar

for glaze

1/4

tsp

vanilla

for glaze

pinch of salt

for glaze
Instructions
Preheat oven to 350 F. Lightly grease 2 – 8×8 or 9×9-inch baking dishes with non-stick cooking spray. **You can use 2 – 9×5-inch loaf pans, but you'll need to cut the glaze in half. Also, cut glaze in half if making as muffins.

In a large mixing bowl, combine the wet ingredients in the order listed and mix well. Add the dry ingredients and form the batter.

Pour batter into the prepared baking dish of choice.

Loaf pan: Bake in the preheated oven for 55 to 65 minutes.

9-inch baking dish: Bake in the preheated oven for 30 to 35 minutes.

Muffin tin: Bake in the preheated oven for 22 to 24 minutes.

With about 10 minutes left in the baking time, make the glaze as follows.

In a small saucepan, melt the butter over low heat and then stir in the heavy cream, white and brown sugars, and then the vanilla. Stir until the sugar dissolves and then let simmer for 1 minute. Remove from heat immediately…do not over cook or it will not "glaze" properly.

Once the bread is finished baking, remove from oven and place pan on cooling rack.

Pour the glaze immediately onto the cooked bread and spread evenly. Let cool for at least 10 minutes before slicing and serving.

Enjoy this delicious Caramel Glazed Banana Bread for breakfast or snack!