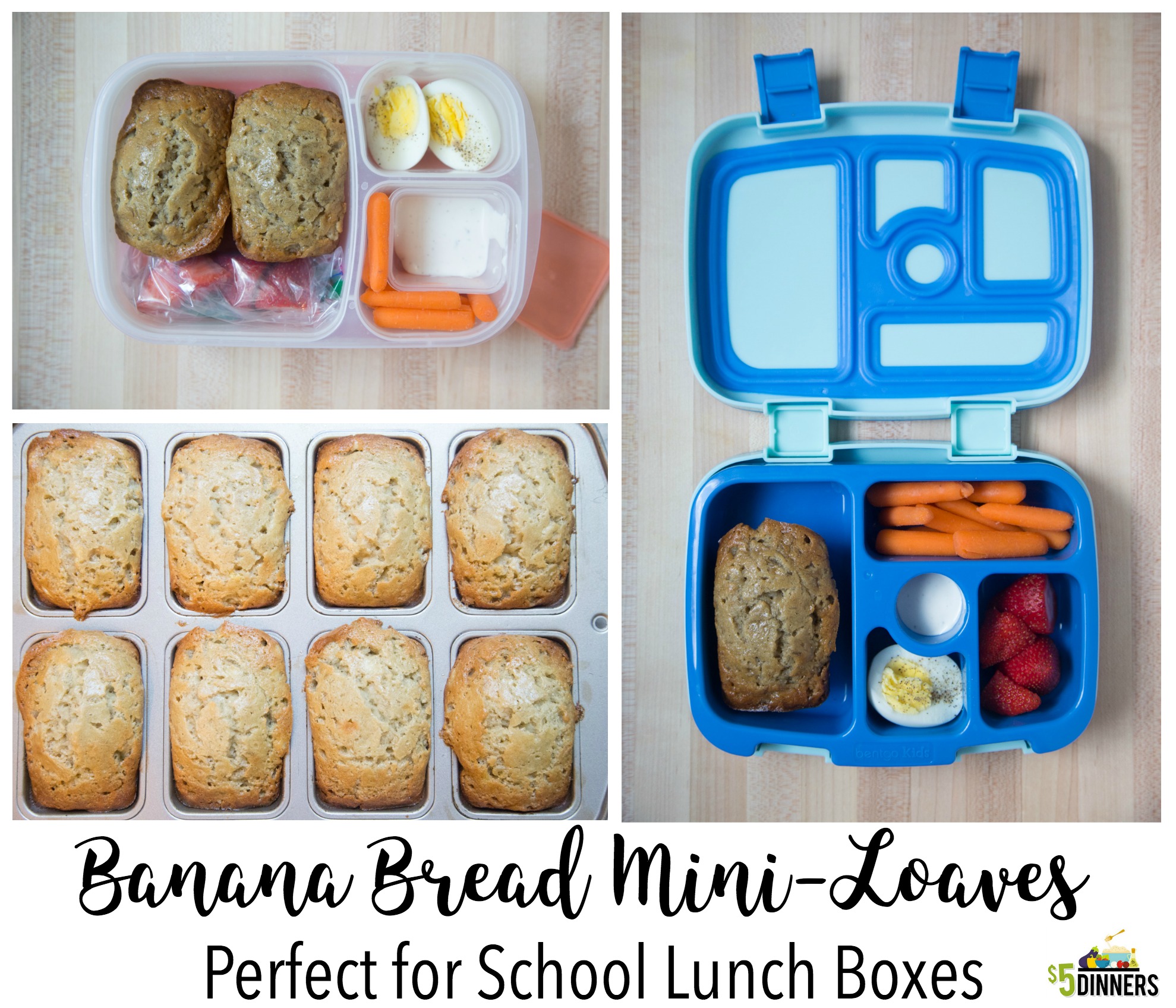 A few weeks ago, I found a new bento style lunch box on Lightning Deal and decided we would give it a shot for our preschooler. I adore Easy Lunchboxes and still use them daily, but wanted a different option with more and smaller compartments for my littlest eater.
So this one arrived.
And he immediately fell in love. And so did boy #3. So I ordered a second one.
And he loves it…but a sandwich doesn't fit in that largest compartment…at least not without cutting it up. (Which is a no-no for him.)
(Boy, I am making my boys out to be high maintenance eaters…which they really aren't…but maybe they are?!)
Anywho…I often bake muffins and banana/pumpkin/zucchini bread for their lunch. When I was pulling out the loaf pan this past weekend, my "mini-loaf pan" basically jumped out of the cabinet at me and I ended up making these, instead.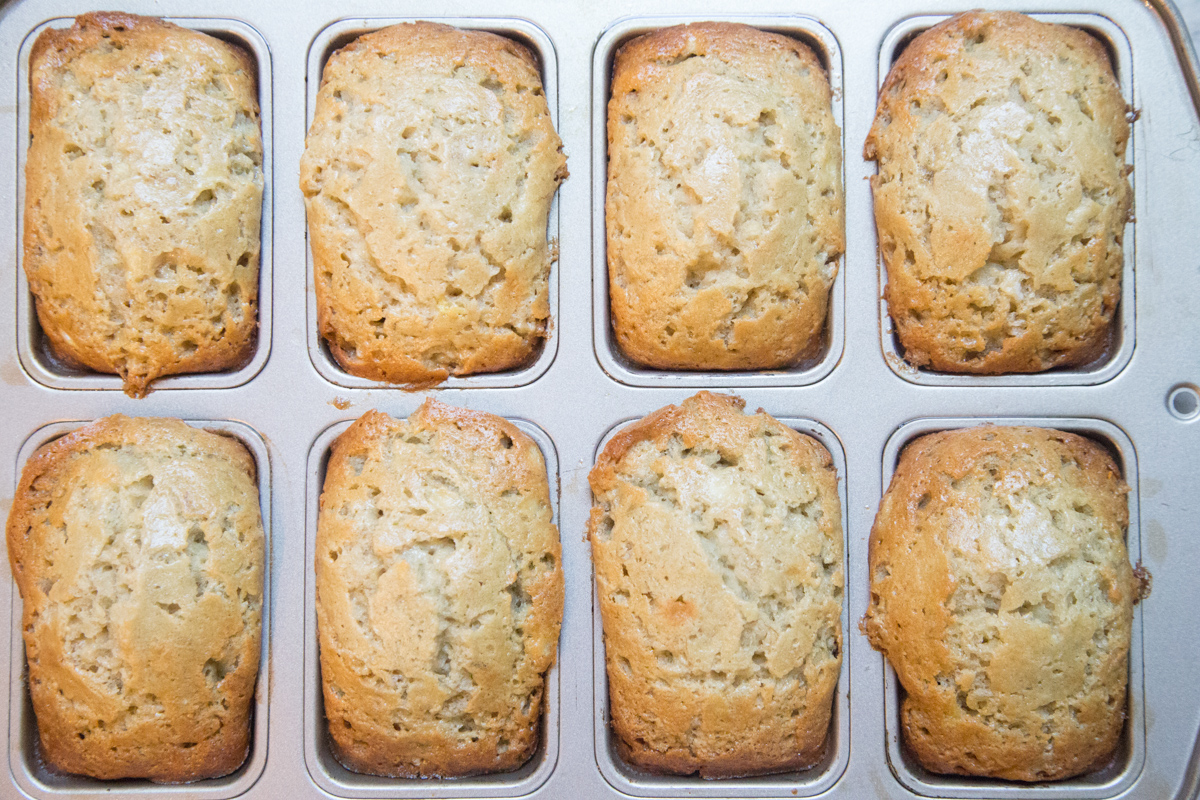 And look how perfectly they fit into the smaller bento compartment… Â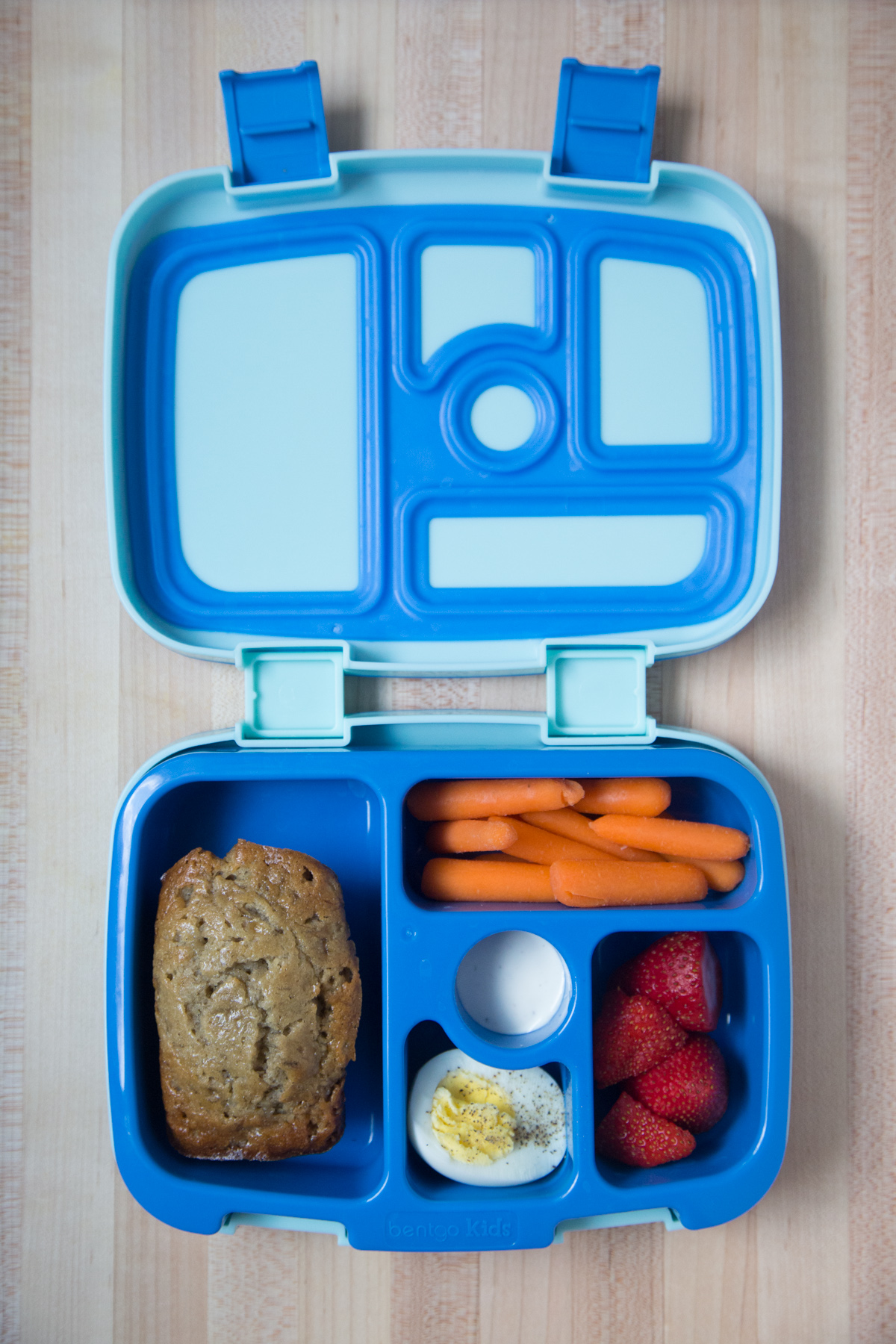 He gets his dip, his veggies, his fruit and his protein. Right along side the best ever banana "mini-loaf" muffin.
Like, seriously…BEST EVER. Perfectly moist, not dried out at all. Just perfect.
(Recipe below.)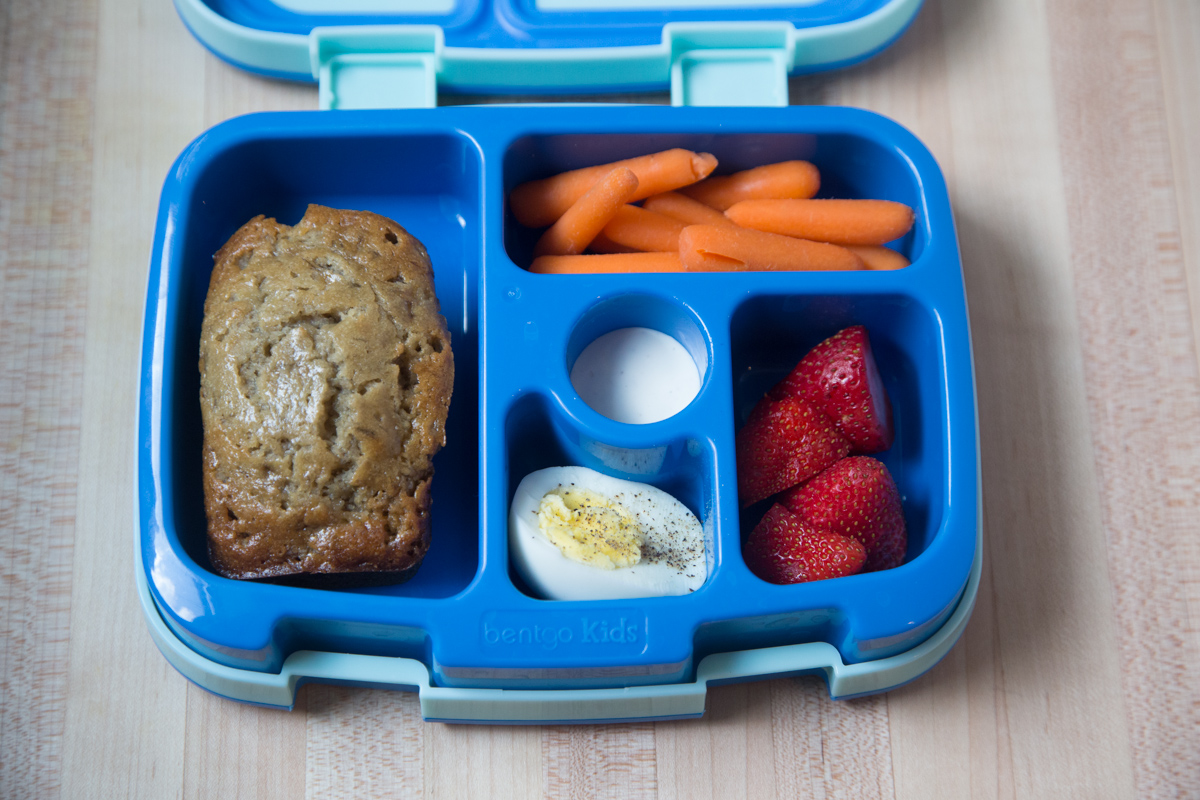 (Here's where you get this bento box.)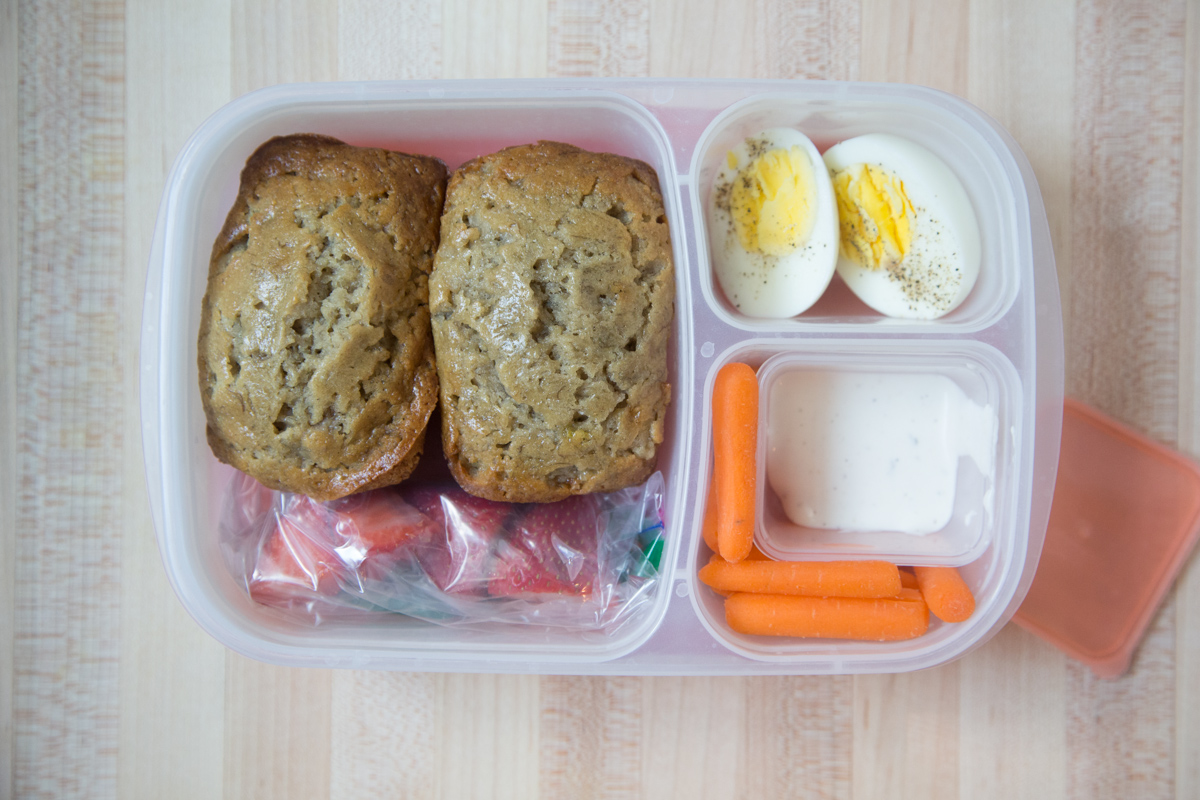 Now, for the older boys…they need to eat more with all their activities and their crazy high metabolisms, so they get 2 mini-loaves and they both fit snugly into the Easy Lunchboxes.
Bam – Kaboom – KaZam – I am winning at lunchboxes with these mini-loaves!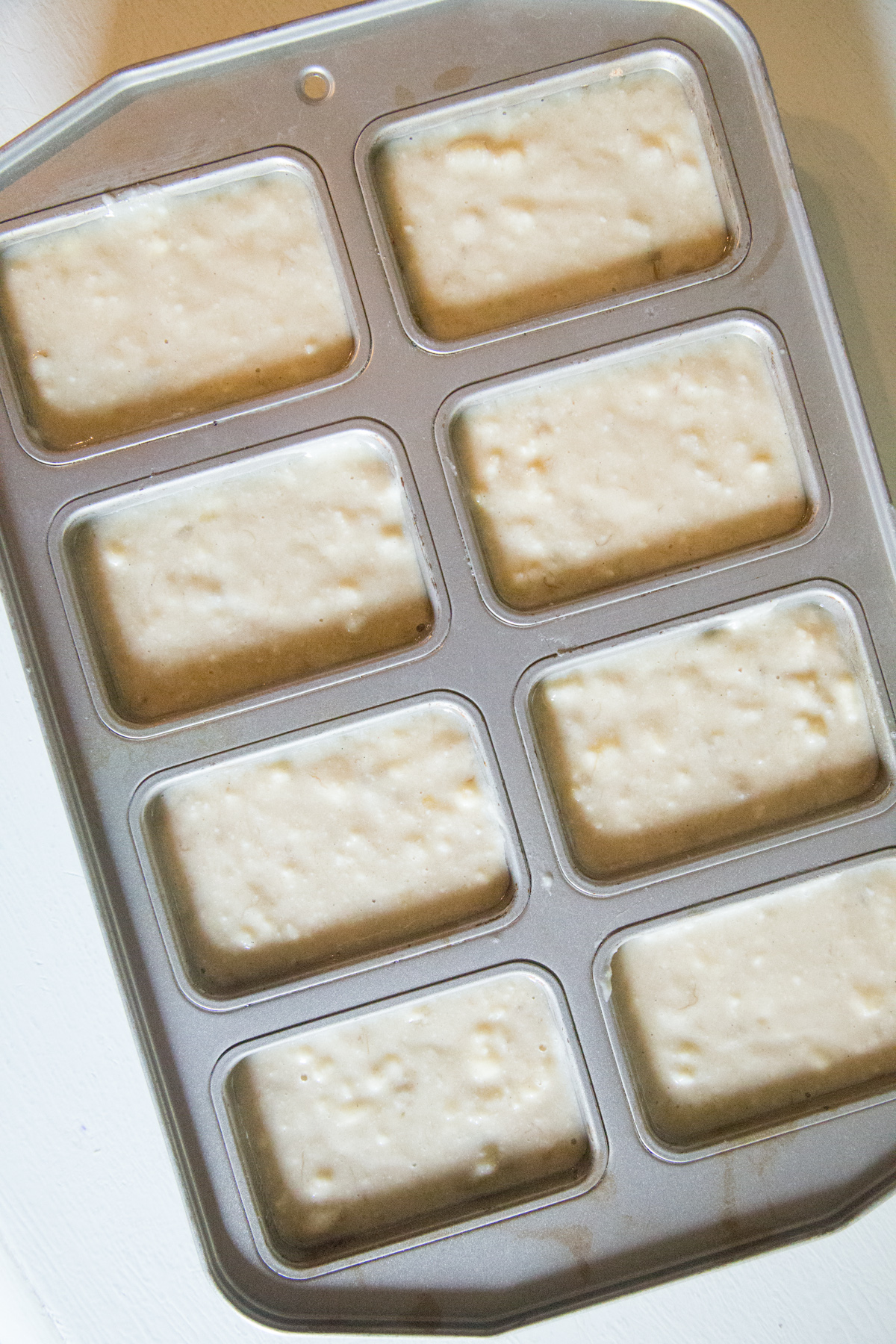 Here's what you need to know about this…it's silly simple:
1 – 9×5 loaf pan's worth of batter will fill up the 8 mini-loaves pan.
No need to alter recipes. No need to recalculate tsp of this and cup of that. Silly simple, just use your favorite banana bread loaf recipe to make these mini-loaves. (I'll argue that the best recipe is below!)
Bento Lunchbox Problem Solved. Hungry, Growing Boy Problem Solved.
Now, I'm off to make more…because the last batch only lasted 1 day 😉
These mini loaves are perfect for lunchboxes and afternoon snacks!
Ingredients
1/2

cup

butter, softened

1

cup

sugar

2

eggs

3

ripe bananas, mashed

2

Tbsp

milk

1

tsp

1 tsp vanilla

1 1/2

cups

white flour

1

tsp

baking soda

1/2

tsp

salt

Dash of cinnamon
Instructions
Preheat the oven to 350 F. Lightly grease the mini-loaves wells with non-stick cooking spray.

In a stand mixer or large mixing bowl, cream together the butter and sugar. Then mix in the eggs, mashed bananas, milk and vanilla. Blend until smooth.

Carefully add the flour, baking soda, salt and cinnamon to the wet ingredients. Blend until batter forms.

Evenly divide and pour into the mini-loaves pan and bake in the preheated oven for 25 to 28 minutes, or until cooked through in the center.

Let cool slightly before eating.

Keep in sealed container or baggie for up to 2 days on the counter, 5 days in the fridge, or 3 months in the freezer.

Serve Banana Bread Mini-Loaves in lunch boxes, or for snacks.
Recommended Products – Available on Amazon
Easy Lunchboxes
Bentgo Lunchbox for Kids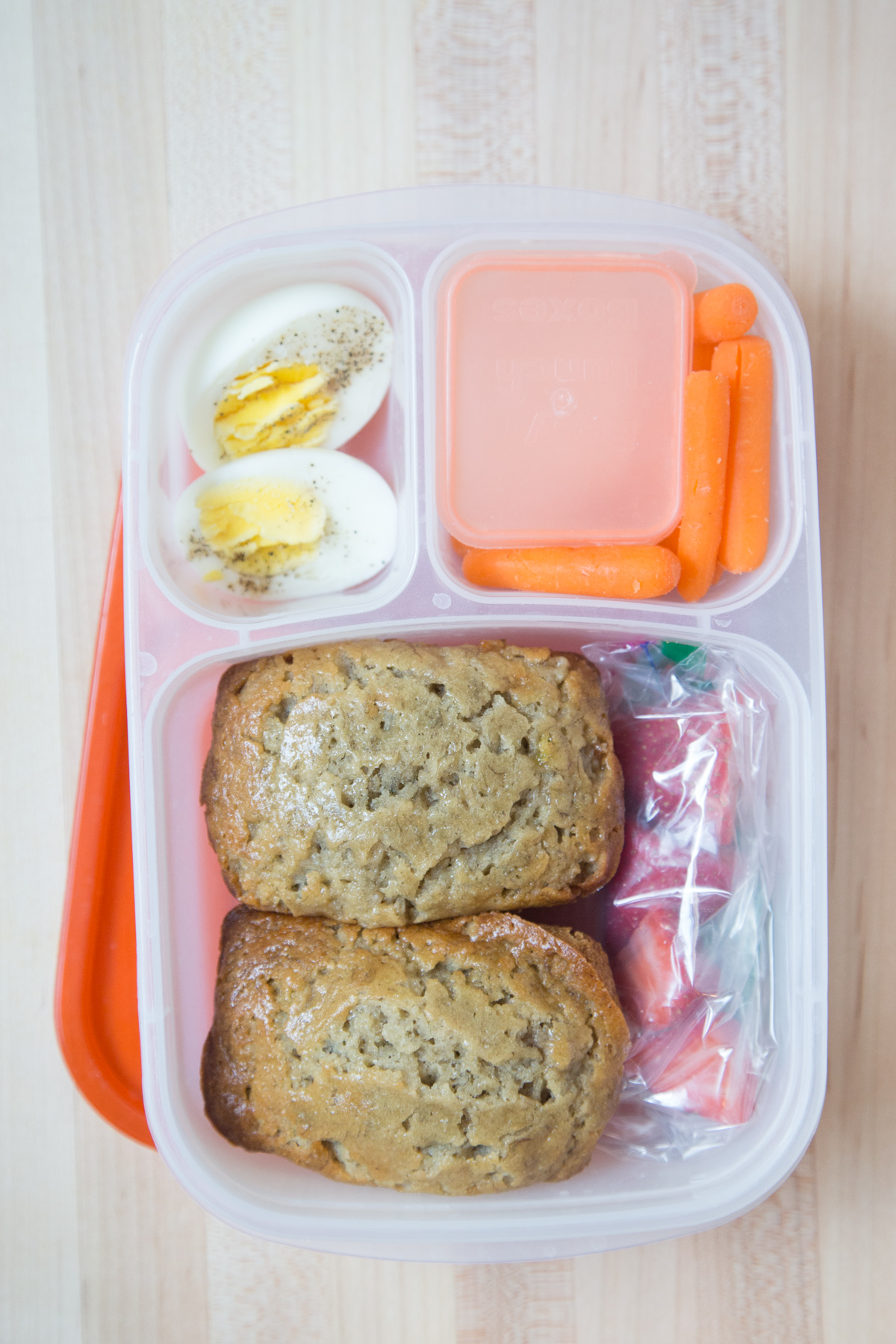 Disclaimer: As an Amazon Associate, I earn commissions on qualifying purchases. Reviews, opinions are my own.