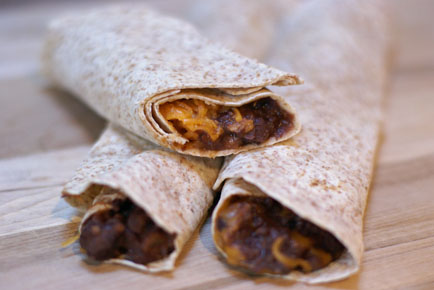 4 Ingredients.
4 Minutes.
You could have these ready in the same amount of time it takes the kids to unload their backpacks, change into play clothes and geth their homework lined up on the table.
I'll show you how it's done!
Minute 1: Get out a can of black beans, open it, drain it and dump it in a bowl. Reach into the fridge for the salsa, shredded cheese and tortillas from the fridge.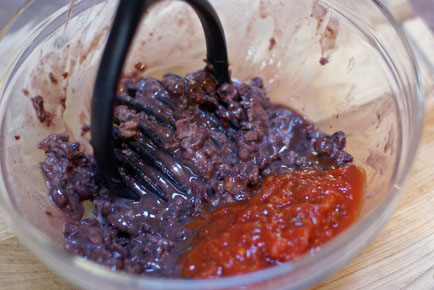 Minute 2: Mash the black beans, add the salsa. Mix together and spread evenly onto 4 large tortillas.
Minute 3: Roll up each of the tortillas and arrange them seam-side down on a microwavable plate.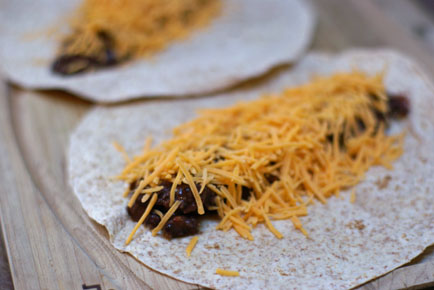 Minute 4: Microwave them for a minute…maybe 2. However long it takes to melt the cheese.
Serve them to the hungry little people before they have a chance to whine and complain about how hungry and tired they are from being at school all day. Beat the crank before it starts!
Best part isn't the 4 ingredients. Or the 4 minutes.
It's that the kids get a fiber-filled, protein rich, whole grain after-school snack that is sugar-free!
(This is the part where you get to snicker on the inside.)
*snicker*
*snicker* *snicker*
(Oh, and these would freeze beautifully as well. Definitely consider adding them to your next batch cooking or freezer cooking day!)
Ingredients
1 15 oz. can black beans, drained ($.63)(Or learn how to cook your own beans here.)

1/2

cup

salsa ($.25)

1/2 cup-ish sharp cheddar or Mexican blend shredded cheese ($.60)

4 burrito size whole wheat tortillas ($.40)
Instructions
Mash the black beans in a mixing bowl, then add the salsa. Combine until smooth-ish.

Spread evenly onto the tortillas and top with shredded cheese.

Microwave for 1-2 minutes, or until cheese has melted to your liking.

Serve. Beat the crank-y!