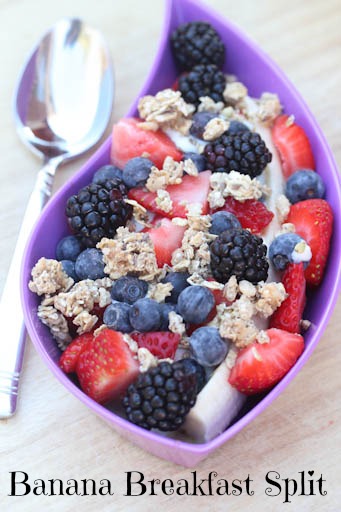 Put a new spin on your yogurt, granola and fruit breakfasts…this also makes for a fantastic, filling and uber healthy after school snack. (Ask me how I know!)
I saw this on Pinterest and knew it would be an instant hit with this crowd. For my dairy-free little people, I dropped a small scoop of coconut milk ice cream instead of Greek yogurt…so their's was more of a 'Banana Snack Split.' Whether for breakfast with yogurt, or with ice cream for a snack, you can't go wrong with this Banana Breakfast Split!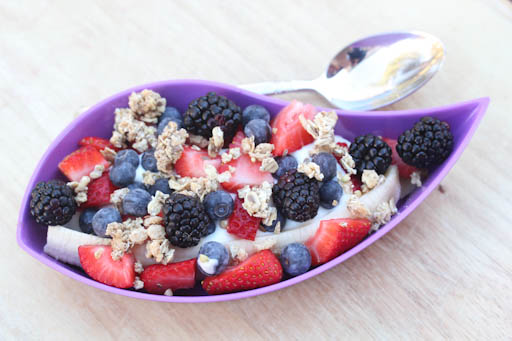 I sure wish I could have this delivered to you right now 😉
(P.S. I'm already seeing great prices on blueberries and blackberries in my stores. This will be perfect later in the spring, early summer when berry prices are at their lowest!)
Fresh, delightful, and fun for the family to add their own toppings they like!
Ingredients
4

bananas, peeled and halved lengthwise

4

spoonfuls of Greek vanilla yogurt, or preferred flavor

Fresh blueberries, strawberries, raspberries and/or blackberries, about 2 cups total

1/2

cup

granola (try my nut-free and no-added sugar homemade granola recipe)
Instructions
Place the bananas in a long bowl or plate. Spoon the yogurt over the top.

Sprinkle the berries and granola onto the bananas and yogurt.

Serve Banana Breakfast Split, as breakfast or afternoon snack.