This could be my most favorite flavor combination from this summer.
From the bold balsamic to the tangy feta to the sweet basil and the perfect taste of vine ripened tomatoes. It's so raw. And fresh. And delicious!
A few weeks ago (before the squirrels took over), I made this recipe with the striped tigerella tomatoes…a new variety for me this year, thanks to my friend Lucy! We had these as a side with some grilled chicken. #nom
It's fairly simple…slice, drizzle, sprinkle, let sit, eat…
Fresh and colorful side dish!
Ingredients
6

small

or 3 medium tomatoes, sliced

4

Tbsp

balsamic vinegar, drizzled

2

Tbsp

olive oil, drizzled

3

oz

feta cheese

2

Tbsp

fresh basil, chopped

Salt and pepper, to taste
Instructions
Lay the tomato slices on a large plate or serving platter.

Drizzle the balsamic vinegar and olive oil over the top and then sprinkle with salt and pepper.

Place in the refrigerator and let "marinate" for at least 30 minutes, but not longer than an hour. If you do plan to marinate them longer than an hour, cover loosely with plastic wrap.

When ready to serve, sprinkle the feta cheese and fresh chopped herbs over the top.

Serve Balsamic Tomatoes with Feta and Fresh Herbs as side dish.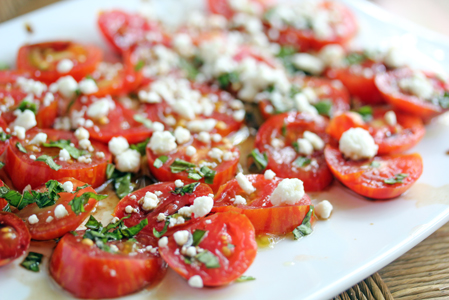 Got a favorite recipe that calls for garden tomatoes?! We'd love to check it out!