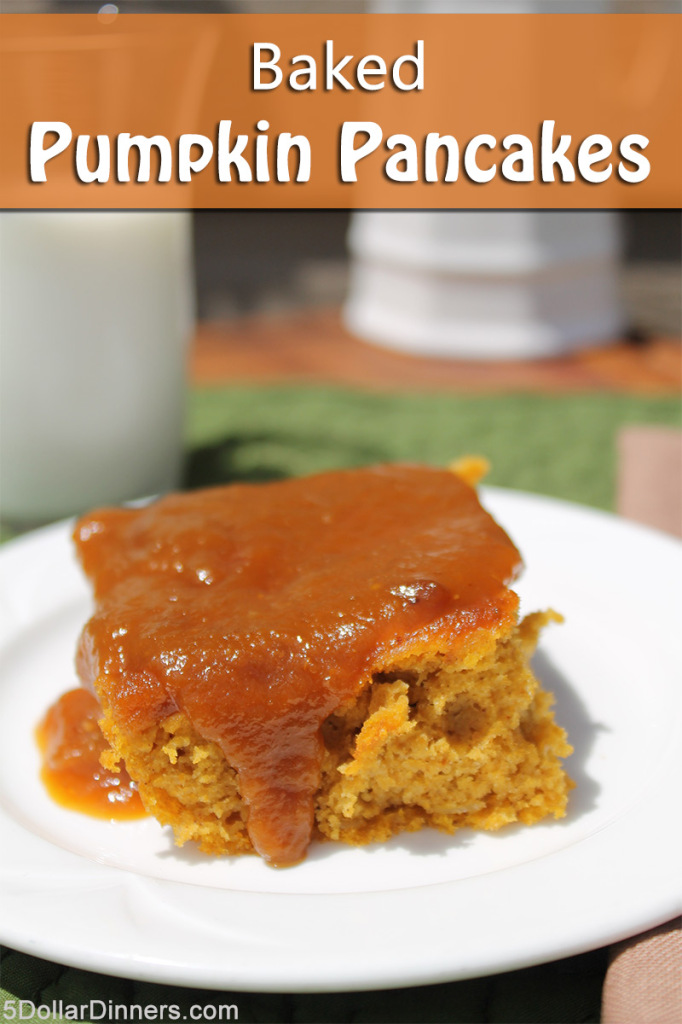 The pumpkin insanity continues. From my Spiced Pumpkin Latte to my beloved Pumpkin Pie French Toast…we are adding this to list of Erin's best pumpkin recipes.
Y'all.
Holy Pumpkin-Moly.
Y'ALL.
Seriously.
You have to make these. If you're part of our $5 Meal Plan, you'll be trying these soon. And it's going to be REALLY hard for me not to add them to the plans every week from now until February.
Because really…
These pancakes just win at everything. They win because they are baked and you don't have to stand over a hot griddle. They win because pumpkin…in the pancakes AND in the syrup. They win because maple syrup.
(A quick note about maple syrup…best price I've ever seen for Grade B 100% Maple is at Costco. You can also find deals on occasion on Amazon. Get it from the grocery store and you'll be overpaying. But if there is one ingredient that I'm willing to spend more for…it's maple syrup!)
Winning pancakes here my friend. Try them. Today. Or this weekend. Just don't never try them!!!Â
Ingredients
1 - 1/2 cups all purpose flour

4 teaspoons baking powder

1/2 teaspoon salt

1 teaspoon ground cinnamon

1/2 teaspoon ground nutmeg

1/4 teaspoon ground cloves

1/4 teaspoon ground ginger

1/2 can of pumpkin puree (NOT pumpkin pie filling - Save remainder of 15 oz can contents for syrup.)

2 tablespoons brown sugar

3/4

cup

milk

1/4

cup

butter

1/4

cup

coconut oil

1/2

cup

quick cooking oats

2 eggs, room temperature

1 teaspoon vanilla extract(or use homemade vanilla extract!)
Instructions
1/2 cup maple syrup (Grade B has a richer flavor, but any grade will work)

Remaining can of pumpkin puree from pancake ingredients

1/4 cup brown sugar

1/4 cup butter
Disclaimer: As an Amazon Associate, I earn commissions on qualifying purchases. Reviews, opinions are my own.