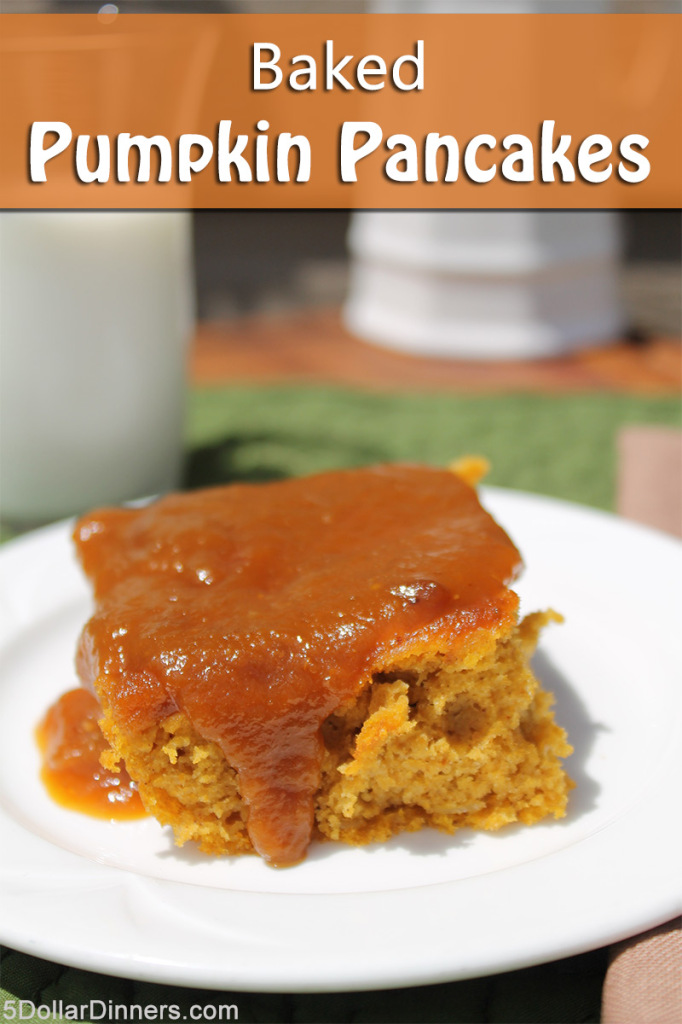 The pumpkin insanity continues. From my Spiced Pumpkin Latte to my beloved Pumpkin Pie French Toast…we are adding this to list of Erin's best pumpkin recipes.
Y'all.
Holy Pumpkin-Moly.
Y'ALL.
Seriously.
You have to make these. If you're part of our $5 Meal Plan, you'll be trying these soon. And it's going to be REALLY hard for me not to add them to the plans every week from now until February.
Because really…
These pancakes just win at everything. They win because they are baked and you don't have to stand over a hot griddle. They win because pumpkin…in the pancakes AND in the syrup. They win because maple syrup.
(A quick note about maple syrup…best price I've ever seen for Grade B 100% Maple is at Costco. You can also find deals on occasion on Amazon. Get it from the grocery store and you'll be overpaying. But if there is one ingredient that I'm willing to spend more for…it's maple syrup!)
Winning pancakes here my friend. Try them. Today. Or this weekend. Just don't never try them!!!
Ingredients
1

cup

all purpose flour

4

tsp

baking powder

1/2

tsp

salt

1

tsp

ground cinnamon

1/2

tsp

ground nutmeg

1/4

tsp

ground cloves

1/4

tsp

ground ginger

1/2

can of pumpkin puree

(NOT pumpkin pie filling - Save remainder of 15 oz can contents for syrup.)

2

Tbsp

brown sugar

3/4

cup

milk

1/4

cup

butter

1/4

cup

coconut oil

1/2

cup

quick cooking oats

2

eggs, room temperature

1

tsp

vanilla extract
Syrup Ingredients
1/2

cup

maple syrup

(Grade B has a richer flavor, but any grade will work)

remaining can of pumpkin puree from pancake ingredents

1/4

cup

brown sugar

1/4

cup

butter
Instructions
Heat oven to 350 degrees and coat 9X13 glass or metal pan with butter.

In a large bowl, combine flour, baking powder, salt, cinnamon, nutmeg, cloves, and ginger. Stir until blended and set aside.

In medium sauce pan, heat pumpkin, brown sugar, milk, butter, and coconut oil just over very low heat just until coconut oil is melted and brown sugar is completely dissolved.

Stir oats into pumpkin mixture and remove from heat. Let the pumpkin mixture cool until it is no longer hot to the touch. (If it is too hot the eggs will cook as soon as you stir them in so make sure that it's only warm.)

Stir eggs and vanilla into pumpkin mixture until integrated completely.

Pour pumpkin mixture into large bowl with flour mixture. Stir until flour is completely integrated into the batter. Pour batter into 9X13 pan.

Bake 25 minutes or until toothpick inserted into center comes out clean. Using a fork, poke holes over the entire surface of the pancake. Cool on cooling rack.

While pancake is cooling, combine maple syrup, remaining pumpkin puree, brown sugar, and butter in a sauce pan.

Stir over medium low heat until syrup comes to a gentle boil.

Remove from heat and pour over pancake. Cut into squares and serve immediately.

Easy Cooking Tip: You can use a food processor to grind regular oats to use vs quick cooking oats.
Disclaimer: As an Amazon Associate, I earn commissions on qualifying purchases. Reviews, opinions are my own.