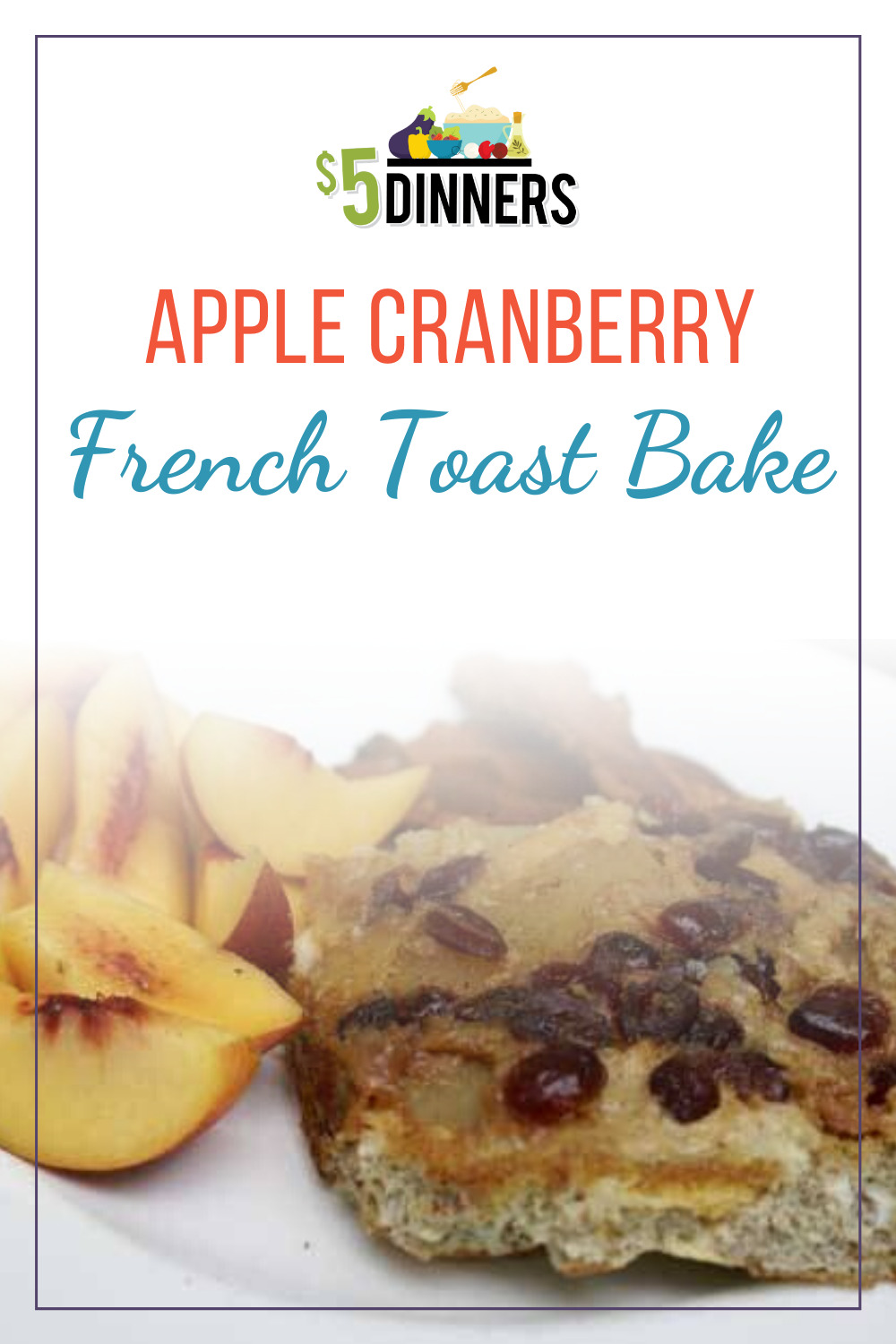 I*heart* French Toast Casseroles! I love how you can take SUPER STALE french bread and turn it into a breakfast (or dinner) masterpiece! By soaking the bread overnight in a fruity, egg-milk mixture, stale french bread can be completely transformed and redeemed!!! When Andrea sent this recipe, I HAD to try it!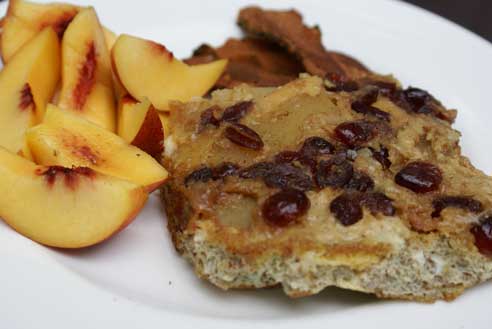 Note: The marked down french loaf bread that I *knew* was in the freezer was not to be found 🙁 So I used some burger buns from the freezer instead! This was sweet enough in and of itself that it did not need any syrup!
This French Toast casserole is easy and delicious!
Ingredients
1/2

cup

brown sugar ($.15)

1

tsp

ground cinnamon ($.03)

1/2

cup

melted butter or margarine ($.40)

3

apples ($.99)

peeled, cored and sliced

1

cup

dried cranberries (FREE!) From Walgreens trip two weeks ago!

1

French Loaf ($.79) Look for these when they are marked down and then freeze if you don't eat right away!

cut into 1 inch slices

6

eggs ($.60)

lightly beaten

1 1/2

cups

milk (I used rice milk!) ($.15)

1

tbsp

vanilla extract ($.10)

(or use homemade vanilla extract!)

2

tsp

ground cinnamon ($.05)

Favorite fruit: bananas, cantaloupe, berries or Fruit Salad ($1)

6-8

slices

bacon ($.75)

We rarely eat a whole package of bacon because it's not a part of our regular diet, so I freeze what we don't eat right away! Just separate it into however many slices you wish to eat so that you can just thaw what you need!
Instructions
In a large bowl, mix together brown sugar and 1 teaspoon cinnamon. Mix in melted butter or margarine. Stir in chopped apples and dried cranberries until evenly coated. Pour into prepared pan.

Arrange french loaf slices in an even layer over apples.

In same bowl, whisk together eggs, milk, vanilla and 2 teaspoons cinnamon. Pour over bread, making sure every slice is fully soaked. Cover with aluminum foil and refrigerate over night. THIS IS KEY!

Preheat oven to 375 F. Remove dish from refrigerator while the over is heating. Bake covered for 40 minutes. Remove cover, and bake 5 minutes. Let stand 5 minutes before serving.

Prepare your favorite fruit or turkey bacon.

Serve Apple Cranberry French Toast Bake with Fruit and/or Bacon!