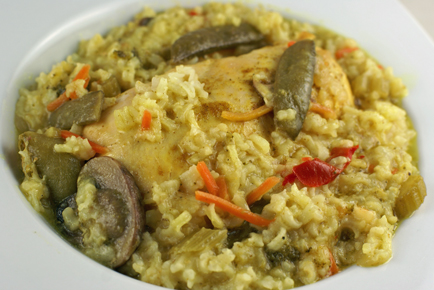 This past weekend, I was in Portland and dined out at an Indian restaurant. I might have drooled while I ate my Tandoori. But mostly because it has thinly julienned pieces of ginger. I really could have just eaten a bowl of julienned ginger and the mango chutney and been happy. But the Tandoori was amazing too.
While I'm not a trained Indian food chef, I can tell you that the flavors of the curried coconut chicken dish…all made for $5 can come closer than you think. Add some fresh ginger, perfectly julienned, to this slow cooker chicken with curry and coconut and you might be surprised 😉
Get the full recipe for Slow Cooker Curried Coconut Chicken here.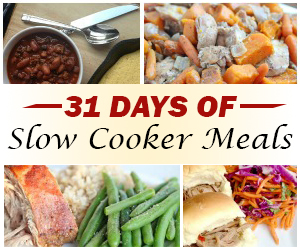 Welcome to our 31 Days of Slow Cooker Meals! July is a HOT month for most of us and one of my favorite ways to keep the kitchen cool in the summer is by using my slow cooker. Each day for the next 31 days, we'll be sharing tasty and easy slow cooker recipes with you. Be sure to bookmark this page as all of the recipes will be automatically added each day.
Enjoy and be sure to share all of our favorite Slow Cooker meals with your friends and family!